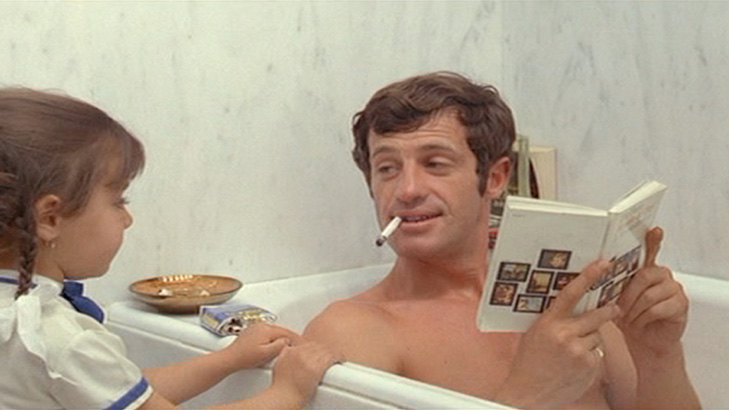 Matthias Brunner – The Love Affair Between Movies and Literature
Mitten in den Trubel der laufenden Berlinale hinein, schafft die Galerie Nolan Judin einen ruhigen Gegenpol, mit der Eröffnung der Videoinstallation MAGNIFICENT OBSESSION des Künstlers Matthias Brunner. Diese erinnert durch die Sprache des Films selbst, an dessen ruhigen und unaufgeregten Ursprung: das Wort.
Für MAGNIFICENT OBSESSION hat Matthias Brunner Szenen sowohl aus Schlüsselwerken der Nouvelle Vague als auch dem amerikanischen Film der 50-er Jahre ausgewählt und zusammen gebracht. Gemeinsam ist ihnen eine versteckte und gleichzeitig ganz offensichtliche Fluchtlinie in die Stille der Literatur.
Dass der Ursprung des in bewegten Bildern erzählenden Mediums Film im Wort zu suchen ist, das kein Tempo diktiert und damit unweigerlich zur Entschleunigung führt, symbolisiert Brunner, indem er immer vier Szenen zeitgleich laufen lässt. Und das auf unterschiedliche Weise: Zum einen indirekt konzeptionell, da er explizit Szenen aus bekannten Literaturverfilmungen wählt. Zum anderen arbeitet er mit Filmsequenzen, in denen das Wort an sich –  in Form von Schreiben (Malle), Lesen (Sirk), Druck (Truffaut), durch eine schicksalshafte Begegnung in der Bibliothek (Edwards) oder die sanfte Liebkosung eines Gedichts durch die Kamera (Godard) – zum Gegenstand gemacht wird.
Vor diesem Hintergrund erscheint es sowohl einfühlsam als auch konsequent, dass Nolan Judin die Ausstellung fernab von aufgewühlten und lauten Abendveranstaltungen an einem ruhigen Sonntag als elegantes Matinée eröffnet.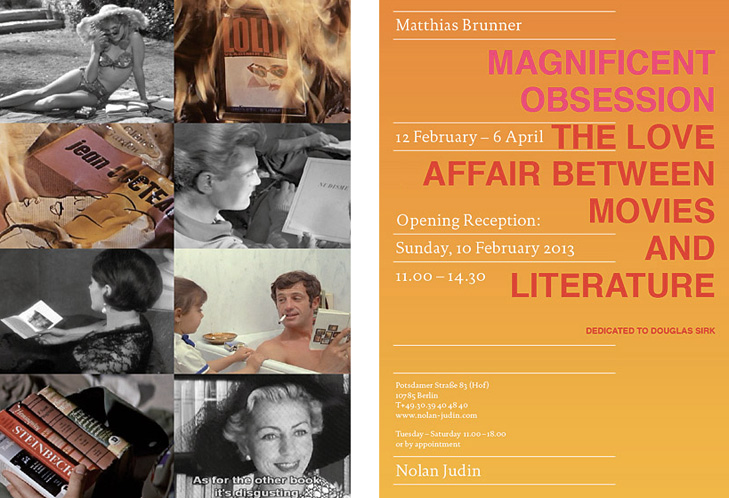 Alle Fotos: Reto Guntli
Nolan Judin: Magnificent Obsession – MATTHIAS BRUNNER

Opening: Sonntag, 10. Februar 11 – 14:30 Uhr
Ausstellung: 12. Februar – 06. April 2013
Potsdamer Strasse 83 // Berlin
Nolan Judin
ARTberlin stellt jede Woche ausgewählte Ausstellungen und Openings in Berlin vor