Jerome Lagarrigue, VYACHESLAZ MOLOTOV, 2012
Jerome Lagarrigue, VYACHESLAZ MOLOTOV, 2012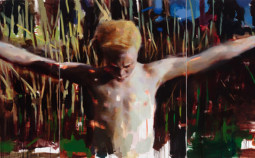 Art scene NY
We interview NY-based artist Jerome Laggarrigue and his muse supermodel Shaun Ross talking about how is feels to be alien and the solo exhibition "Visible Man"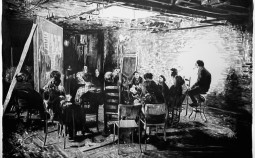 Eh? March? Yes, ARTBerlin is rushing forward into spring (or is this wishful thinking?) and bringing you our art recommendations from the exiting to the intriguing. Also we have have our team galavanting around New York at Volta and The Armory Fair to come back with fresh, sparkling news and inspi...
dOCUMENTA 2012
Die dOCUMENTA läuft noch in Kassel. Ihre Kunst hat uns tief beeindruckt. Eine Reise in Bildern und eine Empfehlung: schnell hin bevor der Kunstherbst in Berlin beginnt. Laufzeit der dOCUMENTA: 16. September 2012.
Kunstmesse
Die Stroke Urban Art Fair ist so etwas wie der Gradmesser für das, was gerade in der internationalen Street Art Szene geschieht. Der junge Künstler Raphael Mathes war für ARTberlin auf der Kunstmesse unterwegs, um einzufangen, was sein Auge festhielt und ihn zum Nachdenken brachte.
Online Kunstmesse
Das Opening der VIP Art Fair 2011 war Erfolg und Disaster zugleich. Nach 2 Tagen stürzte der Server der ersten digitalen Kunstmesse ab. Der Grund: 40 000 Sammler aus 196 Ländern sahen sich 7,65 Millionen Mal Kunst an. Vom 3. bis zum 8. Februar 2012 findet die VIP Art Fair nun zum zweiten Mal statt...
Gallery Weekend Guide: Teil 1
Am Donnerstag startet das Gallery Weekend Berlin: 50 Galerien, 50 Ausstellungen, 3 Tage und Nächte: Kunst. Wo anfangen und wo morgens aufwachen? ARTberlin hat Kunstkenner nach Tips zu Openings, Restaurants, Parties und zur Bedeutung des Gallery Weekend für Berlin gefragt. Für die Klarheit im Kuns...