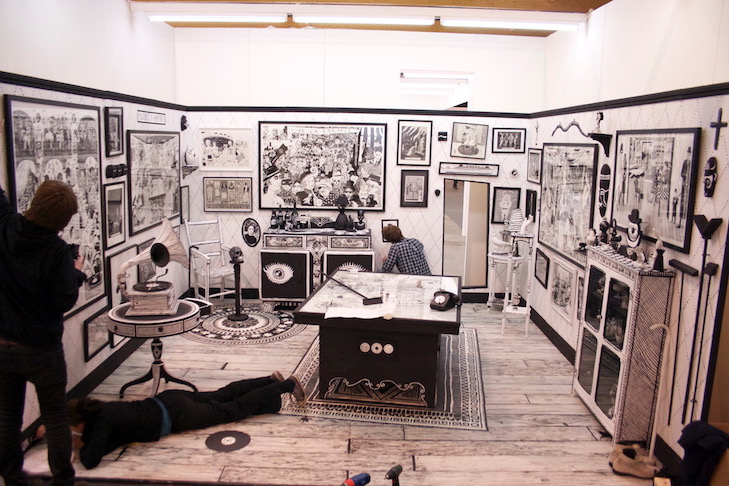 A successful kick-starter campaign later to finance the issue, their site is now open for artist submissions from "anyone, anywhere", describing the magazine as: "an art project somewhere between art object and pulp fiction. A large format, independently published compendium of narrative art, featuring a riotous array of work by international artists, designers, and writers, celebrated and unknown."

Please tell us about the origins of LE GUN, how did it all start?
We met at the Royal College of Art in London where we were on the Communication Art and Design Course. It was an interesting group of people there that year brought together by the tutor Andrzej Klimowski. People were doing strange and unusual drawings. We decided it would be great to try and get this work seen by the outside world, with a magazine. We raised the money to print the first one by throwing parties at the RCA bar, and at the parties we would cover the walls in paper and all draw together. There was a lot of alcohol involved and our collaborative drawings evolved out of those parties in a way. At first we would take the magazine around shops in a purple suitcase and then end up dancing with the suitcase and giving away all magazines in bars in Soho.
But it was in one of those bars called The Colony Room that we met a couple of members of the band Madness, who helped us fund the next issue and we kept going from there.
While sitting over the LE GUN interview I was also "coincidentally" reading about the painter and illustrator Stuart Davis, whom MoMa describes as one of the first American artists to incorporate elements of European modernism in his work, taking his inspiration from the now legendary 1913 Armory Show in New York. In 1931, following travel abroad, he produced five black & white lithographs that have lost none of their rich and fresh texture and three-dimensional feel to this day. On seeing Stuart's "Barbershop Chord" in particular, I immediately had to think of LE GUN's three-dimensional rooms and their delightful scary and alluring illustrations. 
Well, talking of synchronism!
Naturally, while Stuart Davis worked alone, LE GUN is a collective that has established a degree of synchronicity in their illustrations that makes it easy to forget that the group is made up of individual persons; indeed, their work displays a powerful level of unity without detriment to the sharp-edged perceptions of the individual members. 
So who is LE GUN?
We are five artists/illustrators- Neal Fox, Steph von Reiswitz, Robert Rubbish, Bill Bragg, and Chris Bianchi, and two designers, Matthew Appleton and Alex Wright… but our magazine is open to submissions from anybody and features maybe thirty of forty artists in each issue.
What is your general approach or is there something particular you want to transport with your art and LE GUN?
With our art we are interested in the idea of a group of people working together as one brain. We make collaborative drawings which look they are made by one artist but it's actually five of us. We also like to make installations – life size, three dimensional drawings that you can walk into, that transport you into some sort of narrative.
Our last show in Berlin (at Galerie Bourouina) was a crazy room, three dimensional but entirely hand drawn, in which you could explore the fictionalised belongings and adventures of legendary jazz pirate George Melly.
Ideally the magazine should be a freewheeling visual poem, which combines dozens of artists and writers work in some kind of narrative.
How did the idea develop to bring out a new issue of the magazine at this point of time?
We haven't made one since 2011, mainly because we were busy doing loads of art shows for a while. But the crazy things going on in the world at the moment provoked us to try to publish something which responds to the madness. Drawing is a unique and powerful way to get ideas out there in these troubled times. The German satirical magazine Simplicissimus is an influence on us.
Past, present, future. Name us your highlights as LE GUN!
We've had some great times making shows around the world…  Berlin, Beijing, Paris, Tokyo, Istanbul to name a few… Dancing in the moonlight by the Hutong Bell Tower, driving around town with a hitman in Skopje, and scandalizing a Thai Karaoke bar in the Turkish quarter of Munich are some of our favourite hazy memories.
CALL FOR ARTISTS!

You can submit your work for LE GUN #6, till 10th of September 2017 on their page:
https://www.legun.co.uk/
or just preorder the magazine: