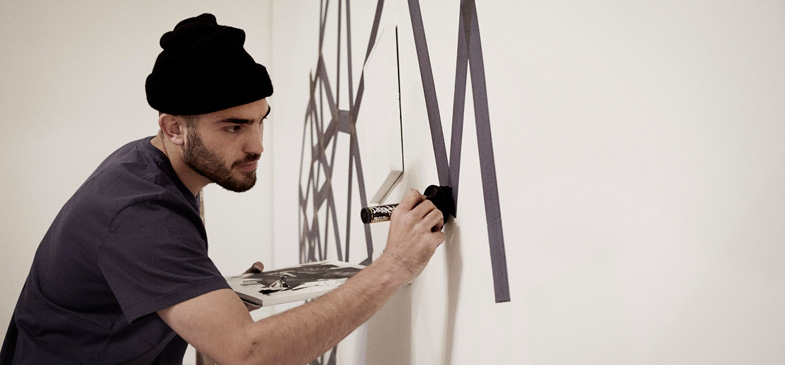 Meeting young British artist Arran Gregory at Kaufhaus Jahndorf
Arran Gregory is sitting surrounded by Berlin friends on the flight of stairs that connects the two floors of the unique concrete beauty Kaufhaus Jahndorf. I place myself next to the young UK based sculptor and illustrator and we spend some moments gazing at the big scale paintings that are hanging from the high ceilings. Done on demin they are the artist's interpretation of the geometric designs of the latest Denim & Supply collection from the brand Ralph Lauren. The young British artist did team up with them to bring their Project Warehouse to Berlin.
I  never painted before. It was pretty challenging.
He tells me.
Would you do it again?
Well…..Yes.
Arran Gregory's entry in the art world – his mirror bear and wolf
I remember 2012, when for the first time I was connecting with Arran Gregory's mirror sculptures of wild animals. He had just opened his solo show WOLF in London. Fascinated by his talent to translate the wilderness of wolves, rhinoceros and bears into sharp edged, geometrical sculptures and black and white illustrations I became a fan of the 27 year old artist who lives in London and organizes all his art shows, so far, by himself.
I am interested in the predatory forces of nature and wild animals. They are the connection to nature that we have lost. Even though we are living in it.
With "Mirror Bear" Arran entered the art world in 2009 after graduating in graphic design at Chelsea College of Art & Design in London. With his interpretation of a 2D concept, he opened up a new way to explore sculpture. Part of his unique approach in working with glas, mirror and steal might be due to the fact that Arron does see the world in black and white as he his color blind. Focusing on habitat and existence, his wild animal series explore on an animal's relationship with its environment –  playing with chameleon-like transitions.
His love for transformation was also part of Project Warehouse, that opened for just 12 hours. The artist covered one white corner of the space with black geometrical illustrations that did provide the canvas for the guests of this night to create their own interventions on it.
An eagle for Berlin
So, no traces of wilderness this time? But of course: yes! Earlier in the week Arran Gregory had created a giant eagle on a wall at Torstrasse 86 by painting a Denim & Supply design. The eagle, representing freedom, stands some 30 feet high and is up for public viewing until end November 2014.
One thing is for sure: we will not miss Arran Gregory's upcoming 5th solo show in London in May 2015.
Photo credtis: Michelle Beatty // Sponsored article