Berlin Art Week is opening tomorrow
It's that time of the year again – the summer gallery pause is over and Berlin Art Week is back! Starting tomorrow on Tuesday 16th September and running all week until Sunday 21st, this will be the third year BAW has taken place, a fruition between two of Berlin's major art fairs and a collection of renowned Berlin contemporary art institutions. 
Don't miss the grand Opening reception of Berlin Art Week
Don't miss the grand opening of Berlin Art Week which is taking place in one of Berlin's art epicentres for upcoming talent: the Akademie der Künste. A joint celebration also marking the opening of the exhibition 'Vertigo of Reality' at the venue, the night will kick off at 7 pm with talks by the curators of the show as well as some of the key figures behind Berlin Art Week. This will be followed by a number of music concerts and performances throughout the evening as well as the chance to explore the exhibition, a mixture of closed circuit installation, game art and performances including work by art heavyweights such as Marina Abramović and Olafur Eliasson. A great chance to meet participating artists and the art partners behind Berlin Art Week; admission is open to everyone and free. 
Location:  ADK / Hanseatenweg 10, 10557 Berlin  / Opening 7 pm
The Art Fairs: abc & Positions Berlin
No Berlin Art Week experience would be complete without a trip to the two art fairs behind the event. The first of which, art berlin contemporary (abc) will be held at Station-Berlin every afternoon from 18th-21st September, and will include stalls with around 50 galleries accompanied by a full programme of talks, sounds pieces, films and theatre productions. This year abc will also present abc Gallery Nights with participating gallery openings on Wednesday (Kreuzberg & Mitte galleries) and Friday (Schöneberg and Charlottenburg galleries) evening.
For our pick of these exhibitions see below! Just some of the great galleries at abc include Aanant & Zoo, Sprüth Magers, Arndt and Galerie Neu. 
Location: abc – Station-Berlin / Luckenwalder Straße 4 – 6, 10963 Berlin / Opening 18th September
The second art fair behind the event is Positions Berlin, the successor to Preview Berlin Art Fair. Presenting around 50 international galleries in a former department store, Positions opens between 6-10pm on Thursday 18th September and runs until Saturday 21st. Presenting a number of both established and upcoming artists, emerging Berlin galleries at the fair include pavlov's dog, AJL Art and Loock Galerie.  
Location: Positions Berlin – Kaufhaus Jandorf / Brunnenstraße 19 – 21, 10119 Berlin / Opening 6pm  18th September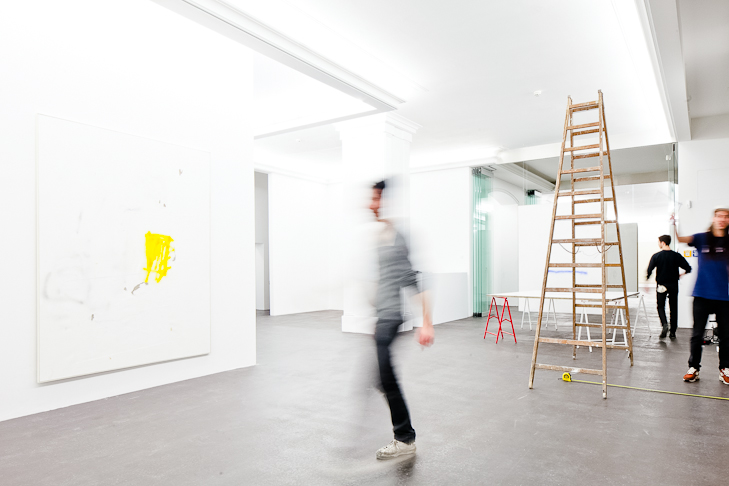 Peres Projects
Exhibition & Openings: Highlights
PERES PROJECTS: The sheer amount of exhibition openings on offer during Berlin Art Week can make the task of setting your itinerary a difficult one, so here we bring you our top exhibition choices. Number one is Mike Bouchet's 'Power Lunch' at Peres Projects,which opens on Wednesday 17th September between 6-10pm. Consisting of large scale oil paintings the exhibition will explore the notion of the 'Double Bind', the predicament we find ourselves in when viewing information with conflicting messages, i.e. most of the advertising we are fed on a daily basis. 
Location: Peres Projects / Karl-Marx-Allee 82, 10243 Berlin / Opening Wednesday 17th September between 6-10pm
CAPITAIN PETZEL: For Kippenberger fans left wanting more after the mammoth show on the artist at Hamburger Bahnhof, exhibition number two, 'Window shopping' at Capitain Petzel will not disappoint. A collection of paintings previously not shown together, the works are some of the last Kippenberger completed, and focus on a set of fashion photographs shot by his wife for a French magazine. The opening will also take place on Wednesday 17th, and is a mere stone's throw away from Peres Projects.  
Location: Capitain Petzel // Karl-Marx-Allee 45, 10178 Berlin  
SPRÜTH MAGERS / GALERIE NEU / KRAUPA-TUSKANY ZEIDLER: For our third recommendation we were torn between several exhibitions and so are going to be greedy and include them all: Guan Xiao, 'Something Always Happens, Keeps Happening' at Kraupa-Tuskany Zeidler (opening 17th Sept), Thomas Scheibitz, 'Radiopictures' at Sprüth Magers (opening 18th Sept) and finally Marc Camille Chaimowicz's, 'Forty and Forty' at Galerie Neu (opening 17th Sept) which is rumoured to include 40 live birds. 
Locations: Sprüth Magers / Oranienburger Straße 18, 10178 Berlin
Galerie Neu / Linienstraße 119, 10115 Berlin
Kraupa-Tuskany Zeidler / Karl–Liebknecht–Straße 29, 10178 Berlin
Artist Studios & Happenings  
Jorinde Voigt
One of the best things about Berlin Art Week is not only the chance to take part in big openings and events, but also smaller, more unusual events which aren't usually on offer. Our favourite of these this year has to be the open studio with international German artist Jorinde Voigt, who will present her latest work and book launch 'Codification of Intimacy / Works on Niklas Luhmann/ Liebe als Passion' at her Treptow studio complete with Kaffee, Kuchen and Processco. The event takes place Friday 19th September, 4 till 6 pm.
For those of you fond of unusual events further highlights include yoga at mansion turned art institution Haus Am Waldsee, which is currently exhibiting the works of Michael Sailstorfer (17th & 20th September, 9-10:30am), and the chance to take part in a mass walk along with 'walking artist' Hamish Fulton (registration required) down Straße des 17. Juni on Saturday 21st September. 
Locations: Jorinde Voigt open studio / Karl-Kunger-Straße 48, 12435 Berlin
Haus Am Waldsee / Argentinische Allee 30, 14163 Berlin
Hamish Fulton: Walking East – Walking West / Straße des 17. Juni, 10623 Berlin