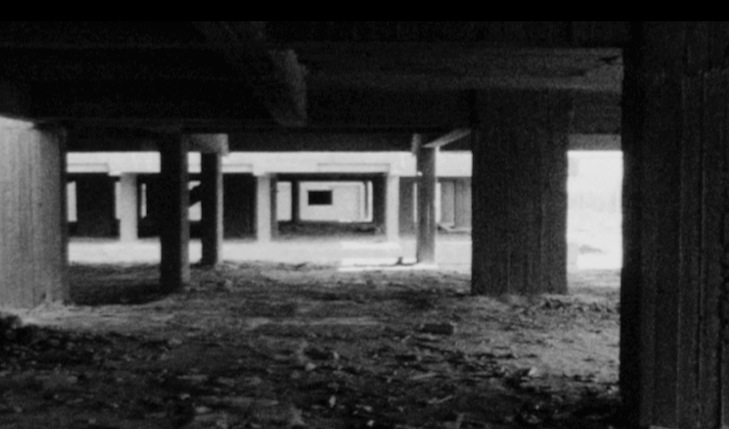 When viewed alone, the shattered windows, broken monuments and solitary towers have no local context. But as vessels holding on to haunted memories, they feel familiar and timeless.
Two days after the January 25 Revolution that led to the fall of President Hosni Mubarak's regime in 2011, access points to the Internet were shut down across Egypt. Within days, a group of programmers launched Speak2Tweet, an empowering and impassioned platform that allowed people to call a number, tell their stories, and have their voice messages posted to Twitter.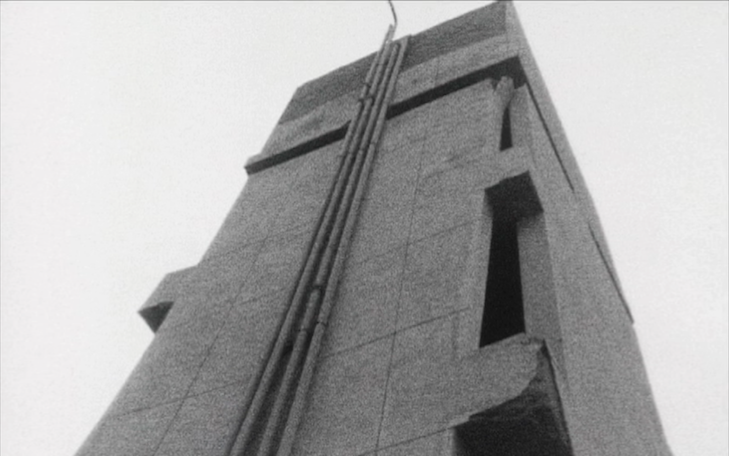 Amin, who was away from Egypt at the time, was deeply moved by the project. She began recording the Tweets and later reached out to the developers to gain full access to the archive of more than 2,000 voice recordings. In an effort to preserve and locate the messages, both spatially and emotionally, Amin layered voice messages over films of architectural remnants, many of which were left to rot during Gamal Abdel Nasser's socialist government after the 1952 revolution. The resulting videos are fraught with an emotional texture that oscillates between anxiety and hope.
In The Flag, a subdued male voice says between long pauses,
I am going to the Square, and I bid you farewell, because I don't know what could happen. Pray for me. I don't know if I'll be returning or not.
The faceless voice and English captions are paired with dark images of portals that layer and disappear, reminiscent of early horror classics. 
At the time of their making, the bygone aesthetics of the Project Speak2Tweet videos, paired with the urgency of the voices, evoked a sense of hope in the present moment. There was vital energy in the air and the footage became a way to imagine a future in which the Revolution had been successful and the voice in The Flag had survived. Six years later, authoritarian President Abdel Fattah el-Sisi continues to jail political opponents and restrict the free press. In light of this reality, it's hard not to view the same videos that initially conveyed so much hope, with deep mourning today.
Although Amin had no way of knowing the outcome of the Revolution, and thus how the meaning of Project Speak2Tweet would evolve, it's fitting that the videos have inadvertently taken on the quality of time travel. Much of Amin's work uses the tactic of combining disparate narratives – historical, literary and mythical – to create new stories. This method of working proposes alternatives that are able to highlight silenced narratives. It's also a way of linking the present to the past in order to explain contemporary issues that are too often spoken of as unique to the twenty-first century, whilst actually having far-reaching precedents and deeply entrenched historical contexts.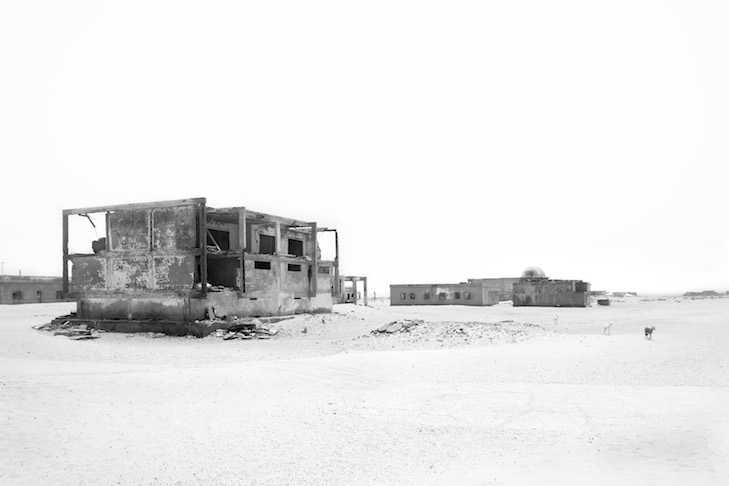 The Black Athena Collective, Amin's new collaborative project with artist Dawit L. Petros, is one such example of this. Together, Amin and Petros examine citizenship within the histories and contemporary narratives of migration in the Red Sea region, which stretches between the artists' respective homes of Egypt and Eritrea. Amin explains that beyond their personal affiliations with the region, she and Petros are interested in how narratives involving the Red Sea region have largely been ignored or written out of history altogether, despite the region's dominant role in histories of trade, migration, and war. 
Black Athena Collective builds upon the work of late British scholar Martin Bernal, who in his three-volume work of the same name as the collective, argues that Classical Greece inherited many of the values absorbed into Western civilization from Africa and the Semitic Phoenicians of the modern Middle East. The aim of Bernal's study was to assert that orientalist, racist, and anti-Semitic attitudes of colonising Europe erased Egypt and Phoenicia from narratives of Western civilization. As anyone who watches cable news will know, these nineteenth-century sentiments are very much alive today.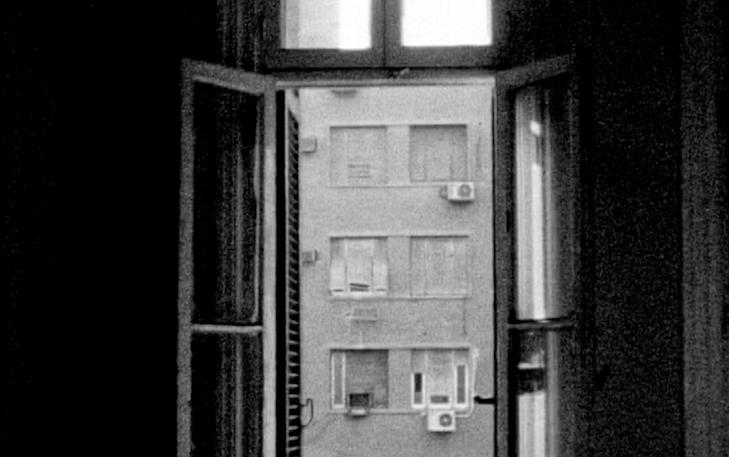 Amin and Petros take Bernal's platform and expand upon it, albeit with a twist. While the artist duo occasionally work in the mode of archivist-historian, having travelled to Eritrea to research local archives that have been left largely untouched for years, Black Athena Collective does not aim to fill out the historical record in the traditional sense. They instead look toward the future. Their project includes proposing new conventions of territory and imagining alternative modes of citizenry beyond the nation-state.
Amin, who is currently a doctoral fellow in the Berlin Graduate School of Muslim Cultures and Societies at Freie Universität, sees her artistic and academic practices working in tandem and in tension with one another.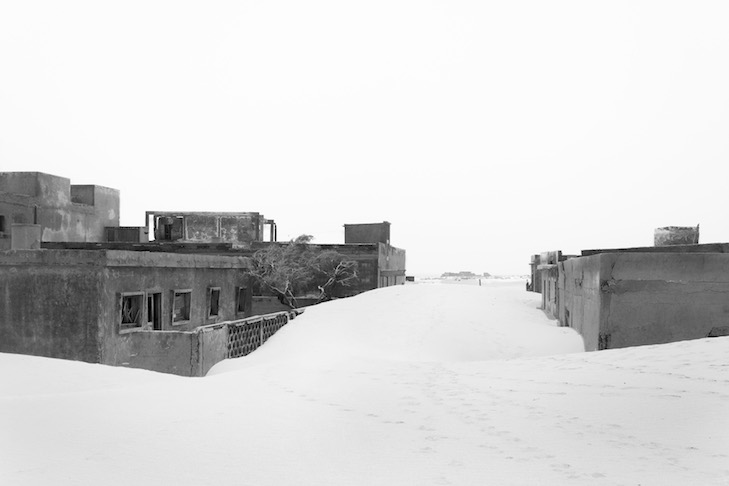 In speaking about the advantages of presenting historical material as an artist, as opposed to as an academic, Amin says,
I don't have to be an expert and I can make things up… You can take these written histories, you can take these scientific studies, and then you can mangle them all together and create something that kind of makes no sense in reality, but it brings up a discussion that wouldn't happen otherwise.
So while Amin adheres to the strict rules of academia in her scholarly work, as an artist, she warps much of the same historical information to confront urgent contemporary issues, effectively multiplying and amplifying her knowledge production.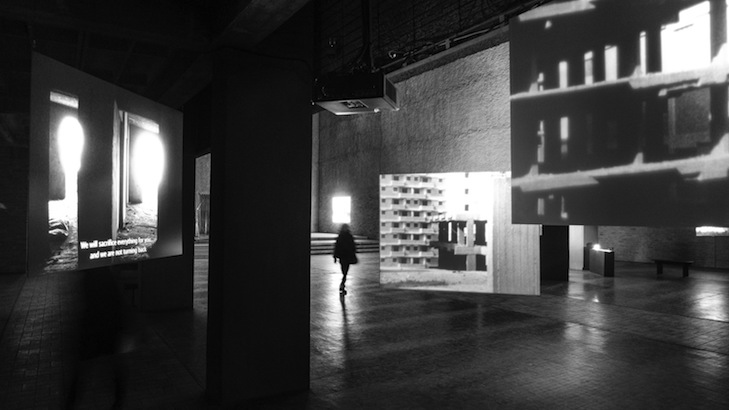 As an artist-scholar, Amin plays the part of the outsider in both professions. It's a position in which she's most comfortable, having been educated at an American school in Cairo and then spending eleven years in Minnesota, where she earned her BA and MFA. Embracing the 'outsider gaze' has uniquely positioned Amin to be both fluent in and critical of two cultures and two disciplines. It's also encouraged her to take her work to far-flung places to gain different perspectives and to ultimately reach a wider audience. "I try to put myself in situations or environments that are not my own with the hope that it'll spark a different mode of interest, a different dialogue," Amin explains. "I'm interested in how scientists speak, how tech people speak." In practice, this means presenting Project Speak2Tweet at tech conferences and showing the work of Black Athena Collective in the form of performance lectures as opposed to traditional art objects.
Another indicative example is a subversive infiltration, in which Amin and collaborators Caram Kapp and Don Karl, falsely claiming to be a street artist collective called 'The Arabian Street Artists', were hired by U.S. TV series Homeland to add 'authentic Arabic graffiti' to the Berlin set of what was supposed to be a Syrian refugee camp. To critique the show for its willful ignorance, and the media more broadly for the role it plays in promulgating negative stereotypes of the Middle East, the artists blanketed the set in such phrases as "Homeland is racist," and most famously, "Homeland is watermelon." The 2015 intervention went viral and within days of airing, Amin was responding to interviews from the BBC, CNN, RBB, Al-Jazeera, and other major news outlets. With more than sixty news articles from eighteen different countries, the project had extraordinary global reach achieved by few artists or activists.
Amin's is a method of working and a mode of being that goes beyond self-interest. Its power lies in its ability to not only educate, but perhaps more importantly, to connect people who may not otherwise "speak the same language," as Amin says. This in turn fosters collaboration across disciplines and communities and encourages increasingly 'out of the box' thinking.
These conversations and collaborations are ever more urgent at a time when people around the globe are questioning what's next for humanity. World politics are moving toward the fall of the nation-state while at the same time gender, racial and religious polarities are blurring. If we're to responsibly replace the nation-state and to understand what such obfuscation will mean for identity politics, it's clear that cross-disciplinary collaboration is needed at the broadest and highest levels. In many ways, Amin is spearheading these dialogues and in many cases, transferring theoretical talk into real action. She's a pivotal artist to watch and an engaged citizen of the world to follow. 
Text by Roxanne Goldberg
Images courtesy of Heba Y. Amin
Taken from PANTA Magazine issue 12