Was there a certain situation that triggered the decision to found PANTA? 
PANTA emerged and developed rather organically. Charlotte and Mario had just founded Book a Street Artist (their online artist booking platform) and I sometimes took photos of the artists for them. Because of my deep love for editorial design, I had been toying around with the idea of making an art magazine, and when I mentioned it to Charlotte, she loved the idea of connecting it to Book a Street Artist. So, for that first issue, we did everything ourselves: we chose the content, interviewed the featured artists, wrote the articles, took the photos, designed the layout – everything from A to Z.
It was a really nice issue to make, just the three of us, and I look back at it as a simpler time in this magazine-making endeavour! However I also look back and I see the progress we've made and the new team members that have jumped on board, and I'm so grateful for how this project has grown and so incredibly proud of everyone involved.
How did this concept, idea developed?
At first, we were interested in finding powerful, meaningful work from all kinds of artists and putting them together into beautiful collections. This included more established as well as lesser-known and emerging artists. However, with time, we realised that even though all the work we were featuring was interesting and worth exploring, some stories were particularly exceptional in the way they worked towards influencing people's lives for the better.
Whether it was art forms that helped the environment, art that was contributing to raising consciousness on various political and social issues in a direct way, or art that was bringing communities together – these were the stories that we were most naturally drawn to, as we began to understand that art is such a powerful tool with the potential to make people's lives better and connect us as humans.
And did you used to know each other before, how became this group of people a team an actual functioning editorial department?
Charlotte, Mario and I met in Lisbon almost six years ago. We've been good friends, partners and colleagues ever since. We're each specialised in different areas – Charlotte is in charge of production, Mario is in charge of marketing and I do the design. But we all end up doing a little bit of everything. We're also very lucky to have the other members of our crew who are in love with this project as much as we are – this shared passion and dedication makes it such a pleasure to work with each other and it truly is a dream team.
If you would describe PANTA's most important message, what would it be?
We live in an increasingly visual era, but much of our physical and technological landscapes are sated with visual fantasies based on values like ostentation and consumption.
Art has the power to guide people's dialogues and philosophies in constructive directions, and therefore has the ability to change mentalities and motivate action for change.
If we paid more attention to the inventive and provocative creative minds that are putting meaningful work out there, I think that we'd all be happier and better off. 
Artivism in our understanding is a natural development in these times, both in communities, amongst artists and as combination of two words and worlds. Can you give us your most outstanding example of its force you experienced with an artist, a concept or group?
There are many and without intentionally giving importance to ones more than others, some noteworthy examples are: Urban-Think Tank, a multidisciplinary studio dedicated to social architecture, urbanism and design practices. In issue 10, we featured a recent collaboration they made with their 'Empower Shack' housing project in a township in Cape Town with the non-profit group 'Theatre4Change', in which they teamed up with the locals to make an experimental theatre production. Just from looking at the images of the locals starring in the play, you can immediately perceive how projects like these can give people the opportunity to empower themselves through art – especially people who may not have any other means of engaging in creative, meaningful work – and ultimately improve people's quality of life. 
Another artist who we were thrilled to feature back in issue 5 was Jason deCaires Taylor, a well-known sculptor who fuses the fields of art and science to create underwater installations that are not only aesthetically magnificent, but also actively contribute to organic growth of marine life in an increasingly damaged ecosystem.
There are many more outstanding examples, including in our newest issue (#12) that we're super excited about. Also… I guess it's worth mentioning that our following issue, #13, which will come out in March of 2018, will be a very special issue as it'll look back at the most remarkable artivists that have appeared on the pages of PANTA in the past.
Why Berlin?
We started this project in Lisbon but eventually Charlotte and Mario moved their start up (Book a Street Artist) to Berlin. That being said, PANTA is not and will never be specific to one particular location. We've featured many great artists from Berlin but we've also featured artists from all over the world – including London, Damascus, Montevideo, New York, Osaka, Mexico City, Cape Town, Beirut, Melbourne, Tehran, Rio de Janiero – and the list goes on. I think we've pretty much covered all continents by now – except maybe Antarctica! I also like that we're an international crew with team members from Colombia, Germany, Uruguay, Australia, France and the Netherlands – it brings different ideas and perspectives into the mix.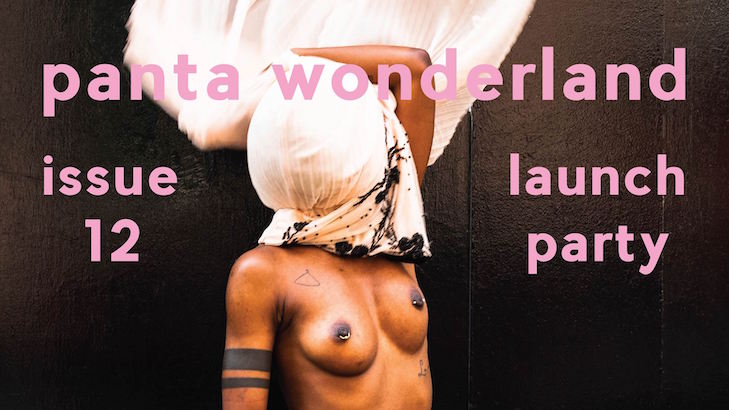 What's next for PANTA? 
Bigger and better! Besides creativity and artivism, we are passionate about all things print. So, next year, we'll be getting more creative with our paper choices and we hope to make a more exciting final print product.
The entire PANTA team is delighted to invite you into their PANTA Wonderland, the launch party of their 12th issue, this Thursday October 26 at laborgras studio, Paul-Lincke-Ufer 44A.
Come enjoy music, drinks (on them) and grasp in your hands the freshest PANTA magazine!
RSVP here: https://pantawonderland.splashthat.com/
Photo Credit: Martin Peterdamm