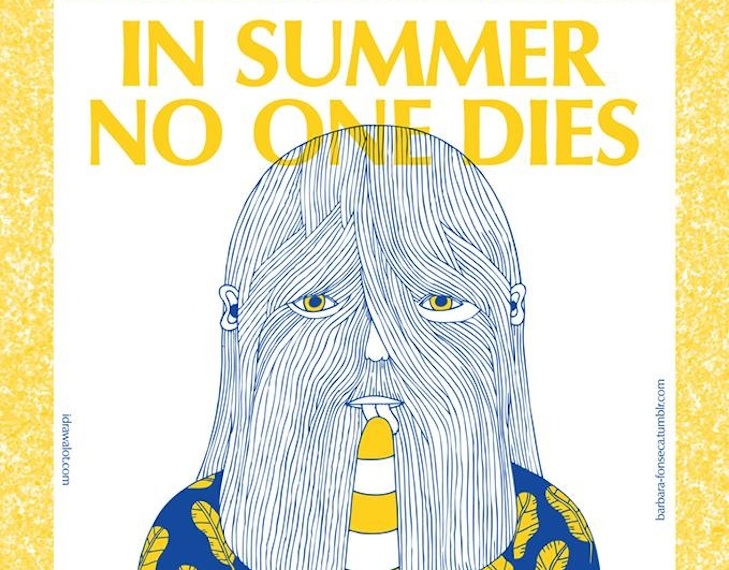 In Summer No One Dies Flyer by Barbara Fonseca
Idrawalot / Vernissage 'In Summer No One Dies'
Thursday 1st August – 7pm
We know Idrawalot were featured in our last weekend's recommendations but we just couldn't resist including them in this week's openings too. 'In Summer No One Dies' is an illustration based exhibition by Berlin newbie Bárbara Fonseca focussing on the darker side of summer – think killer parasols, runaway mermaids and dangerous pieces of swimming equipment.
Idrawalot // Boddinstrasse 60, 12053 Berlin
Node / Vernissage 'Footnotes' 
Thursday 1st August -5pm
Scouting talented student's work at any kind of show is exciting, and the exhibitions by Berlin's Node are no exception. A centre for curatorial studies in Berlin, Node's latest opening will showcase their current student's summer project, 'Footnotes', which sees students paired with different artists with the goal of creating a piece documenting the typically unseen content behind an artist's work.
Node Center for Curatorial Studies // Waldemarstrasse 37a, 10999 Berlin 
Colonia Nova / Interactive Performance 'Now! Now! Neverland!'
Friday 2nd August
There are many parallels between Berlin and Neverland, the fantastical island in childhood story Peter Pan. A place where the never ageing lost boys journey to indulge in a carefree, hedonistic lifestyle, Berlin is much the same…until your savings run out. Join a team of 13 international artists as they present 'Now! Now! Neverland!', an interactive performance based on the play and exploring its themes of innocence and danger. Booking tickets is recommended – we're expecting sparkles of fairy dust magic.
Running from 31st July – August 3rd, performances hourly 8-11pm.
Colonia Nova // Ziegrastrasse 15, 12057, Berlin 
Tanya Leighton Gallery / Preview 'Day Before This Place'
Saturday 3rd August – 6pm
Indulge in a sneak preview of Tanya Leighton's group show which opens officially on 6th August. A mysterious statement on the show describes a woman hearing a story about a Chinese lady becoming 'stuck' in an alleyway, mistaken for a ghost and then rescued seven hours later. Yes, you read correctly, you don't have sun stoke. No, we don't really know what this means either but we're hoping all will become clear.
 Tanya Leighton Gallery //  Kurfürstenstrasse 13/14, 10785 Berlin