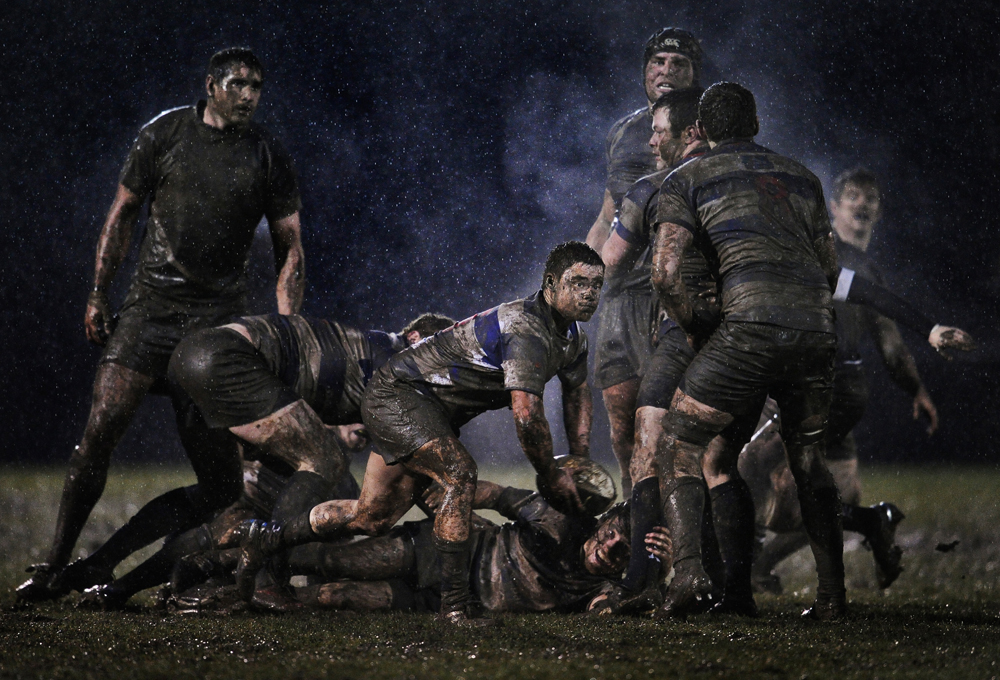 Ray McManus, Irland, Sportsfile. 2nd price Sports Singles. Rugby Game: Old Belvedere against Blackrock, Dublin, Irland, February 5.
The young Spanish photographer SAMUEL ARANDA is the winner of the WORLD PRESS PHOTO of the Year 2011. His picture shows a woman from Yemen, holding her injured son in her arms during the demonstrations against the rule of President Ali Abdullah Saleh on 15 October 2011. We met him for an interview before the opening of the WORLD PRESS PHOTO EXHIBITION tonight at 7:30 pm at Willy-Brandt-Haus.
The annual World Press Photo Award is the biggest and the most reknowned press photography contest worldwide and is presented by Freundeskreis Willy-Brandt-Haus together with publisher Gruner + Jahr as well as the magazines stern and GEO.
Samuel Aranda enters the room dressed in a dark green jacket. One of those you see in front of your inner eye if you think of his profession. He politely asks for coffee and is heartfully returning every smile I send to him. Samuel Aranda just turned 33 and is well known for his global photo documentaries of crisis, war and revolution for the New York Times among many others.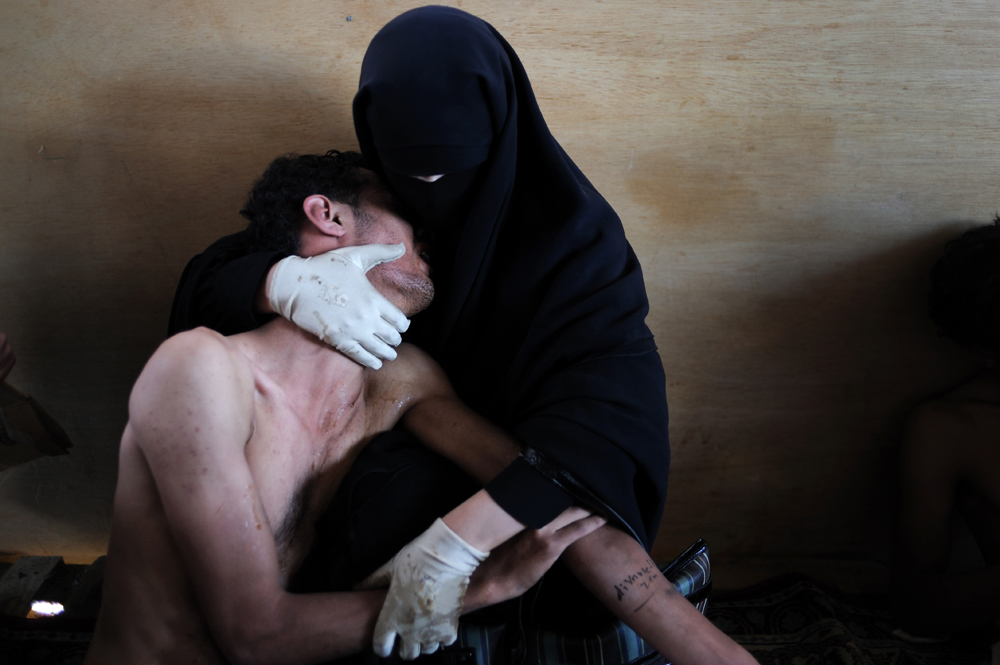 World Press Photo of the Year 2011. Samuel Aranda, Spain, for The New York Times. Sanaa, Jemen, October 15
Samuel, a sun lit flag, the grace of a Niqab: Is beauty a means of transporting news on a conflict to more people?
There's nothing beautiful in a war or in violence, but it's true what you say, if you find images that are aesthetical, that are interesting, the public will pay more attention to it than to purely violent photos.
You work a lot on the Arab spring movement: How important is it to stick to an area, an issue?
It is a principle of my way to work, I really need to get connected with the people I am documenting and to know what is going on there. When I was to go Yemen, I said to the editor' I will go to Yemen and stay there until the arousement is finished' – and he said 'Ok'. So we covered all of it.
What is Spanish about you? How has your work in the Arab spring movement changed your view on things?
Well, at the moment, my country is a total desaster. I would really like to be witness of a revolution in Spain. The situation is horible, 25 percent of the people are unemployed and  more than 50 percent of the people who are under 26 years. The banks are destroying the society, making more and more people homeless.
Speaking about the personal and the political: Are there private moments in a revolution or is everything political?
Sometimes you can see that people are not comfortable with you taking photos of them. I don't take the photo in this case. That is the way I like to work – I do not use a teleobjective for example – I like to be right in front of the people so that they can perfectly see that I am taking photos of them. With Fatima and her son it was just like this, I was standing in front of them and I could feel that they were ok with me taking the photo.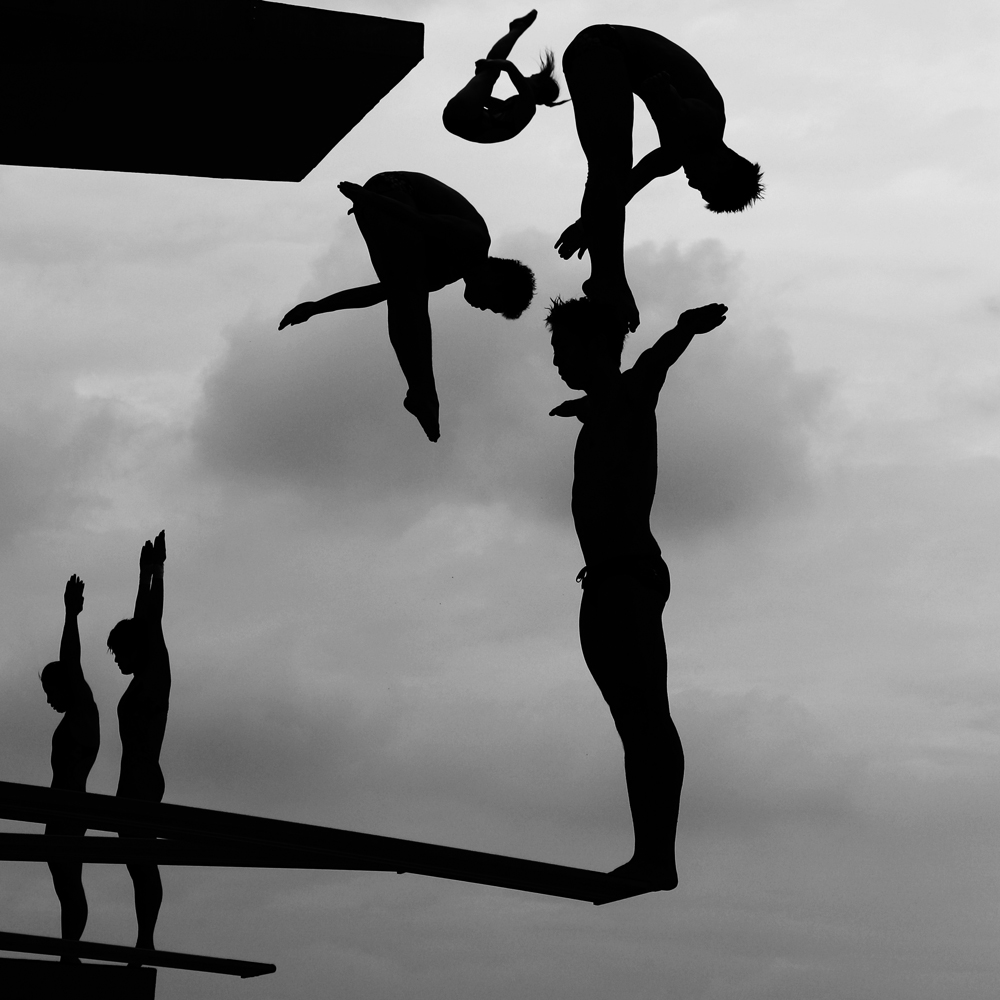 Adam Pretty, Australia, Getty Images. 2nd price Sports Stories. Oriental Sports Center in Shanghai, China, 17 July
Is that also a way to handle the conflict you see everyday?
Yes, absoluetly, to keep the energy good, so you are able to keep working.
On your blog there is a video "Visit Yemen!", quite a surprise. Would you like to see a more balanced demand for news including the positive aspects of conflict areas?
Yes. This year I am starting a new project with a foundation from New York. It is going to document the transitions in all the countries that were part of the Arab revolution last year, only from a positive point of view. For example everyday when people finish the prayer in Sanaa in the evening, they have their song to dance to – and it is Shakira. So you see all those women wearing the Niqab, dancing to Shakira. (Note: In April 2012 Twitter announces, that Arabic is the fastest growing language on the network world wide.)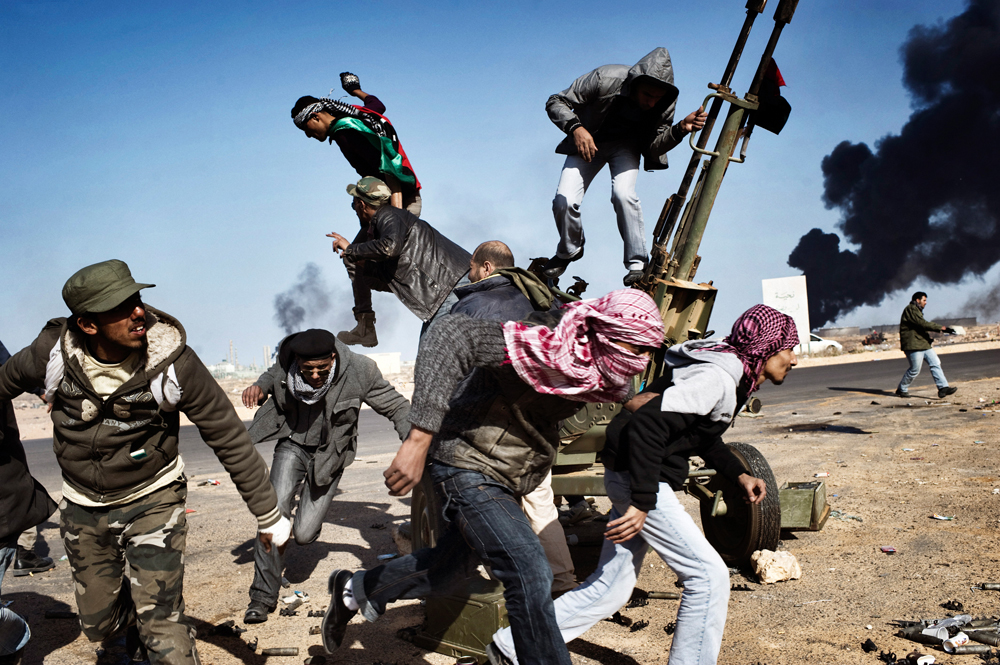 Yuri Kozyrev, Russia, Noor Images für Time. 1st price Spot News Singles
What has inspired you for your work lately?
I grew up in the south, in the suburbs of Barcelona. It wasn't really easy around there, there was a lot of repression from the police. I have been repressed by the police myself, so I feel very connected to the left wing movement, their fight. In terms of inspiration for my photography today – I think Jury Kozyrev is one of the best.
Where do you want to be when you are 40?
I am not sure but what I am sure about is that it is not going to be in a city. I would like to have a farm or a house in the countryside with some chickens, low profile.
A simple life?
Yeah…
WORLD PRESS PHOTO exhibition
Willy-Brandt-Haus
Opening Friday 8 June 2012, 7:30 pm
Exhibition until Sunday 1 July 2012
Daily 12 – 6 pm // Closed Mondays
Samuel Aranda: Biographie
Samuel Aranda was born 1979 in Barcelona. A teenager in a suburb in the south of Barcelonas, he painted graffiti and then would do photos of them. Later he started to document social conflicts in his hood such as taking over of buildings but also the daily life of the immigrants living there. Today he works as a photographer for global media, but mainly for the New York Times. His work is represented by Corbis Images. Samuel Aranda lives in Barcelona and Tunesia.
Text: Melanie Schehl
More art, artists and exhibitions in Berlin? Just go Ausstellungen