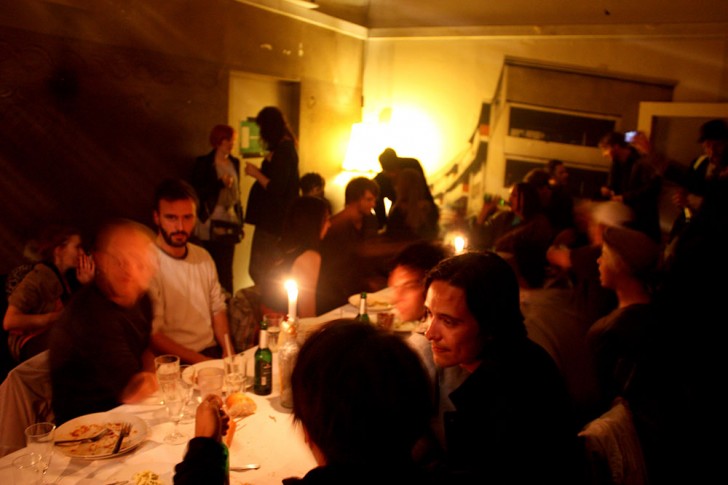 PAMPERO APPARTEMENT – dinner with Berlin's independent art scene
Every Tuesday night we used to climb the dark and shabby stairs to the PAMPERO APPARTEMENT at the old Bötzow Brewery. We would slip behind the velvet curtain and immediately bump into one, two, three friends, usually members of Berlin's arty crowd. PAMPERO APPARTEMENT was for almost 5 years one of the hubs of the Berlin independent art scene. Also because, next to strong drinks and wild music, Pampero would always serve dinner for free. I will never forget the long line where artists, musicians, writers and party people would wait patiently to finally happily grab the nicely prepared menu of the night.
If you were here then, you probably remember the energy of that time, when people thought Neukölln was a small-town in West-Germany and Brunnenstraße was considered the center of the global art world. It was a blast and sooooooooooo Berlin.

PAMPERO revival: exhibition & party
This Saturday PAMPERO APPARTEMENT will return for a one-off blast at Atelierhof Kreuzberg with a group exhibition "Neo R. Brand" – one reduced INDEX, music by Hugo Capablanca, Jianca Bagger, Jeremy Shaw, Your Body & dj Sweat, the people from then and the vibe…. Just two years after it had to close down because the Bötzow Brewery was bought by investors who just some months ago opened on the area AUF BÖTZOW.
But this won't be it. PAMPERO COLECTIVO will pick up on its mission to bring Berlins ever-changing creative scene together, supporting artistic projects and creative independence. Keep an eye out for PAMPERO COLECTIVO's upcoming edition of events, collaborations and cities (watch out Hamburg!).

PAMPERO APPARTEMENT // Saturday, October 6th
Exhibition & music / Free entry // From 8 pm till late
Atelierhof Kreuzberg / Schleiermacherstraße 31-37 / U7 Gneisenaustr.
More information about PAMPERO COLECTIVO
Sponsored article / photos: iHeartBerlin.de