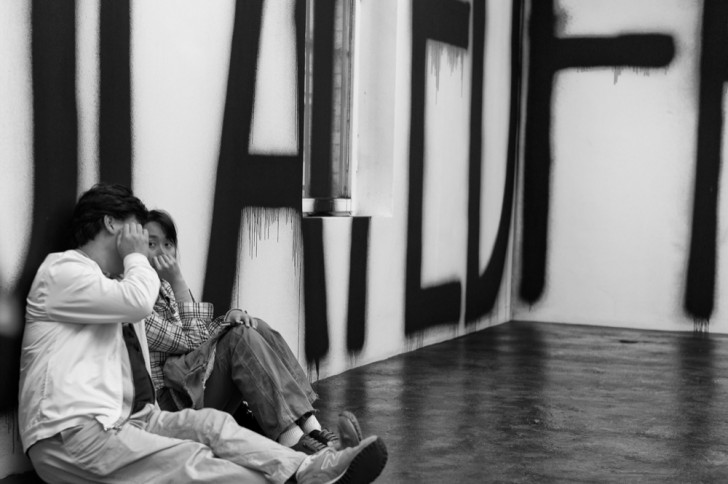 Berlin Art Week
Berlin Art Week kicks off today and that means six days and nights full of art openings, art fairs such as abc Art Berlin Contemporary, Berliner Liste or Preview, exhibitions in the most important museums, arty people everywhere in every outfit, dinner and drinks receptions and a hell lot of parties. Berlin Art Week is a new born child for the "Kunstherbst Berlin" and those of you who want to know more about the idea behind and mission, just see our Berlin Art Week article we did some days ago.
Tuesday: Gallery Openings Day at Berlin Art Week
Almost all big galleries will have their openings on this Tuesday night from usually 6 to 9 pm. We give you the whole list of all major openings but took the freedom to point out some galleries and a very nice PARTEY.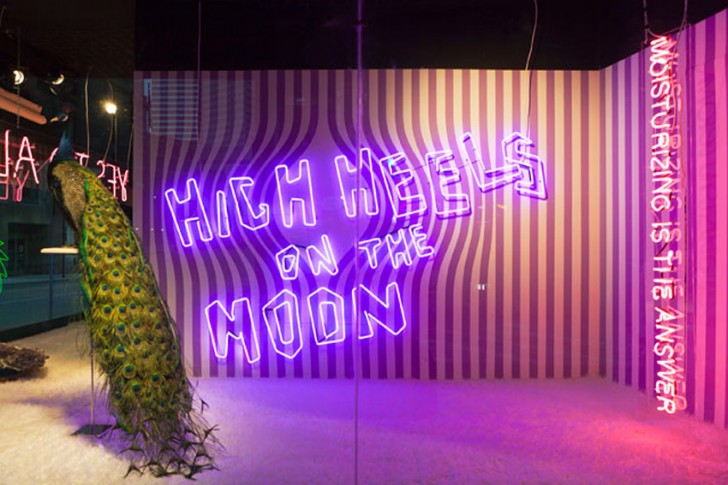 SYLVIE FLEURY @ MEHDI CHOUAKRI // 6–9 PM   
One of Berlin's most known gallerists Mehdi Chouakri will show new works from famous Sylvie Fleury. Her show wears the Do Not Think Of The Color Blue For Thirty Seconds. If you want to know more let Mehdi explain you everything around it at this night.
Mehdi Chouakri // Edison Höfe // Invalidenstrasse 117, entrance Schlegelstrasse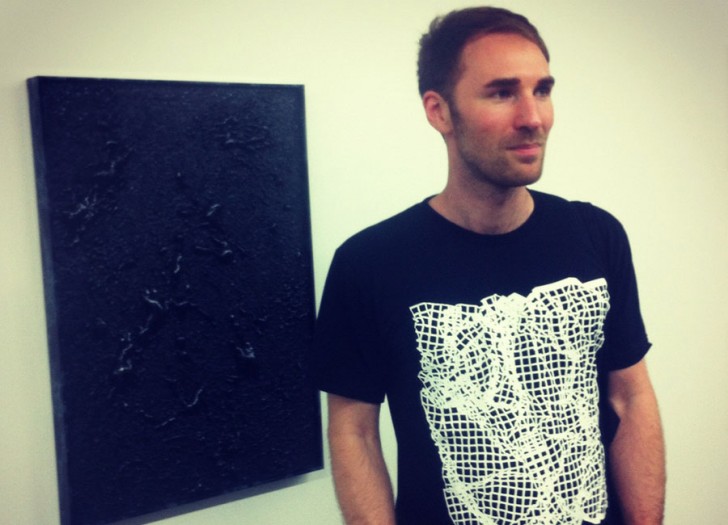 The artist Roman Liska at DUVE BERLIN
DUVE  BERLIN // NEW GALLERY SPACE IN XBERG // 7-9 PM
Alexander Duve just moved from Invalidenstrasse to Kreuzberg, opening up his new gallery space not far from Johann König's church that will be in place next fall. Expect a cool crowd, a white box style room and a special abc | art berlin contemporary viewing: the group show called *Not Safe For Work*  featuring Chris Ucco, Dan Shaw-Town, Ed Fornieles, Nazafarin Lotfi, Wyatt Kahn and Roman Liska we just met during our summer at NYC's Lower East Side.
DUVE BERLIN // Gitschinerstrasse 94/94a, Entrance D, 2 floor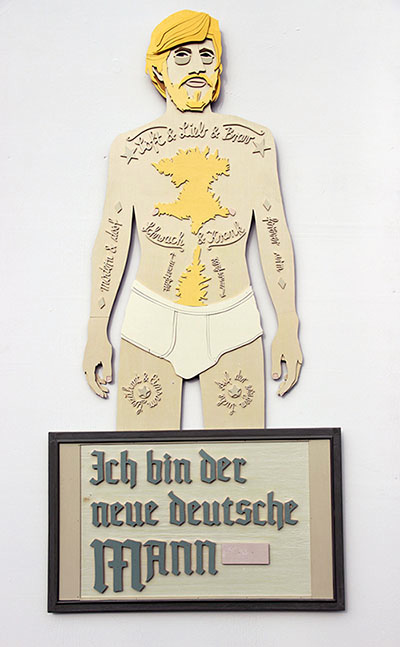 GALLERY ALEXANDER LEVY SHOWS THORSTEN PASSFELD // 6-9 PM
We do like to watch how gallery alexander levy is making its way from a young gallery to an established art spot in town with a very talented eye for young artists. Don't miss the opening of the exhibition Heiss, Billig, Kurz / Hot Cheap Short presenting new wall objects by Thorsten Passfeld (*1975). His works are playful, ironic, humorous and critical as well as human and light. Alexander Levy call it "with painstaking care" how Passfeld creates visual universes comprising of plywood, cupboard walls and old floorboards, which he retrieves from buildings about to be demolished or old roof structures.
gallery alexander levy //  Rudi-Dutschke-Strasse 26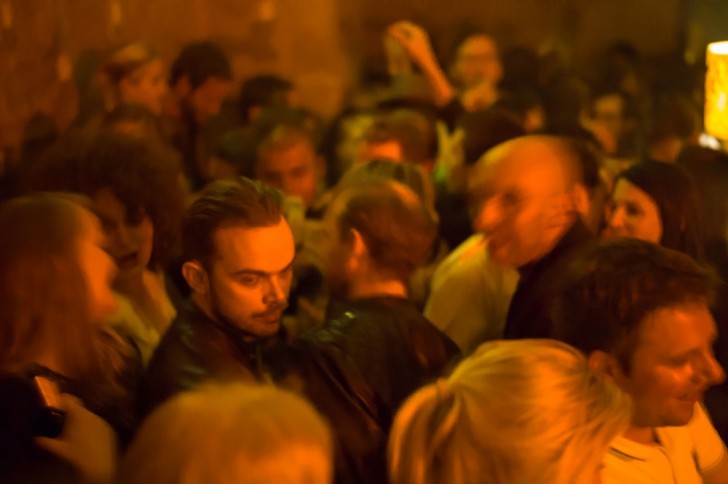 SPECIAL ARTIST NIGHT @ KING SIZE  BAR // PARTY // FROM 10 PM 
Alexander Duve and Alex Levy are also known to be amazing hosts of crazy parties and we are enchanted to be part of a special artist night at our favorite bar.
ON THE WHEELS OF STEEL: Gottfried and 2Blessed
ON THE BAR: Bronson & his kids
ON THE TÜR: beautiful Jette
ON THE DANCEFLOOR: you!
King Size Bar // Friedrichstr 1 // 10 pm
For the ambitious: all openings on Tuesday // 6-9 pm
Arndt /  Natee Utarit – Illustration of the Crisis
ART CLAIMS IMPULSE / Dazzling & Haunted' i
Galerie Guido W. Baudach Charlottenburg / Thomas Helbig – The Mental Life of Savages
Bourouina Gallery / Bart Domburg – From Tree to Tree
carlier | gebauer / Sebastian Diaz Morales – Ficcionario, Kailiang Yan
Galerie Crone / Justin Almquist Work (Ground Floor), FORT Leck (First Floor)
Eigen + Art Lab / Birgit Brenner, artist talk 7 pm
Konrad Fischer Galerie  /Alan Charlton – Triangle Paintings; Julian Fickler (Fischer Oben)
Johnen Galerie / Rodney Graham – Canadian Humourist
Galerie Kamm / Opening: Invited by Rosa: Simone Gilges, Sebastian Hammwöhner, Lisa Herfeldt, Judith Hopf, Dani Jakob, Imri Kahn, Daniel Laufer, Alexandra Müller, Annette Ruenzler, Jens Ullrich a.o. Ein Zimmer Put together by Annette Ruenzler, Charlie Hammond The Sweats
Klemm´s / Alexej Meschtschanow – Der Morgen heller als der Tag
Kraupa / Tuskany Slavs and Tatars – Not Moscow Not Mecca
Krobath / Hannes Böck – Las Encantadas
Galerie Gebr. Lehmann / Slawomir Elsner – Séancen
MD72 / Florian Hecker
Galerie Opdahl / Chosil Kil – Hyde Park
PSM / Florian Hecker
Esther Schipper / Angela Bulloch – ABCDLP 002 – Short Big Drama by George van Dam for Short Big Yellow Drawing Machine by Angela Bulloch (Showroom)
Schleicher/Lange / Kristof Kintera – Demon of the Growth
Sommer & Kohl / Brot und Salz – Barba, Berendes, Billy, Bonvicini, Büttner, Hol, Kacem, Ligorio, Melsheimer, Oerlemans, Perret, Uzelman. At the new premises Kurfürstenstr. 13/14
Veneklasen Werner / Miyoko Ito
Żak / Branicka Stanisław Dróżdż – Forgetting
Stay tuned for our upcoming BERLIN ART WEEK guide to the best parties!