BERLIN ART WEEK KICKS OFF AT TUESDAY
Kick off Berlin Art Week with a unique collaboration between four of Berlin's most significant cultural institutions premiering simultaneously at select venues across the city. Taking up the question of the city itself as a curatorial theme, Berlinische Galerie, Deutsche Bank KunstHalle, KW Institute for Contemporary Art, and Neue Nationalgalerie present four unique exhibitions tackling the issue from different angles. Indulge in a performative exploration of the highest order with Allan Kaprow's Fluids. A Happening or make your way to the major museum shows for an exquisitely curated critique of the contemporary metropolis.
// EXHIBITIONS / PROJECT STADT/BILD
Tuesday 15th September – 6pm until 10pm
Xenopolis at Deutsche Bank Kunsthalle // Unter den Linden 13-15, 10117 Berlin
Welcome to the Jungle at KW Institute for Contemporary Art // Auguststraße 69, 10117 Berlin
Fluids. A Happening by Allan Kaprow, 1967/2015 at Neue Nationalgalerie // Potsdamer Straße 50, 10785 Berlin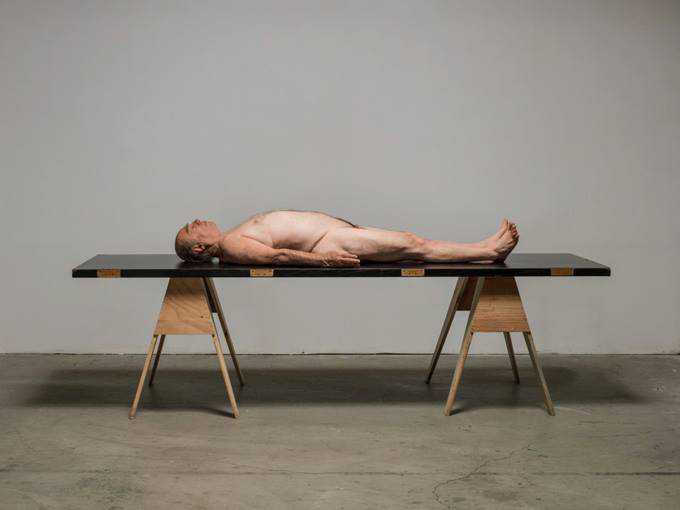 Paul McCarthy, Courtesy of Schinkel Pavilion
// SCHINKEL PAVILLON / PAUL MCCARTHY
Tuesday 15th September – 7pm until 10pm
Don't let day one of Berlin Art Week pass you by without a visit to Schinkel Pavilion for the opening of Paul McCarthy's solo show. An international superstar with a reputation for raw, bawdy, fantasy-rich installations, McCarthy's Berlin extravaganza promises to be one of the highlights of this year's art week.
Schinkel Pavilion // Oberwallstraße 1, 10117 Berlin
// OPENING & AFTER PARTY  / PICKNICK BERLIN 
Tuesday 15th September – 6pm until late
Immerse yourself in Toshihiko Mitsuya's aluminum sculptural explorations into botanical form and structure before blowing off some Berlin Art Week day one steam with an after party featuring music by Oliver Barduhn, Kim Kong, Micki Rosi Richter and Madlick.
Picknick Berlin // Mohrenstraße 63, 10117 
Additional Highlights: Carla Scott Fullerton at Chert // Studio Spektral at NGBK // Candlelight Yoga at Kunstquartier Bethanien.
WEDNESDAY – Private Collections & Gallery Night
Cindy Sherman: untitled metro pictures
Wednesday night is the official gallery opening night of all galleries that participate in the art fair art berlin contemporary. We selected you some highlights so you don't get lost as all other galleries are opening as well….
OPENING / CINDY SHERMAN / ME COLLECTORS ROOM 
Wednesday 16th September – 6pm until 9pm
Cindy Sherman's portraiture has captured the eye of a generation and inspired a small army of copycats, but there is still no substitute for the real thing. Don't miss a once in a lifetime opportunity to explore the idiosyncratic illusions of an on-camera chameleon and a true master of the photographic arts.
me Collectors Room // Auguststraße 68, 10117 Berlin
OPENING / SPRÜTH MAGERS / GROUP SHOW
Wednesday 16th September – 6pm until 9pm
During Berlin Art Week the blue chip galleries bring out the big guns, so if you're feeling a might swanky throw on your leather jacket, break out the red lipstick, and head over to Sprüth Magers for a group show featuring the work of Jenny Holzer, Barbara Kruger, Louise Lawler, Cindy Sherman, Rosemarie Trockel. I guarantee you will walk away satisfied. For more details about the gallery you are welcome to check out the ARTberlin Gallery Profile Sprüth Magers as well as the interview we did with the beautiful Philomene Magers at her home.
Sprüth Magers // Oranienburger Str. 18, 10178 Berlin
Matthias Weischer, Courtesy of König Galerie
OPENING / KÖNIG GALERIE ST AGNES / MATTHIAS WEISCHER
Wednesday 16th September – 6pm until 9pm
Celebrating a return to Berlin after ten long years, Matthias Weischer brings an extraordinary array of sculptural "pulp" paintings incorporating graphic motifs and art historical allusions to the one and only König Galerie St. Agnes.
König Galerie St. Agnes // Alexandrinenstraße 118, 10969 Berlin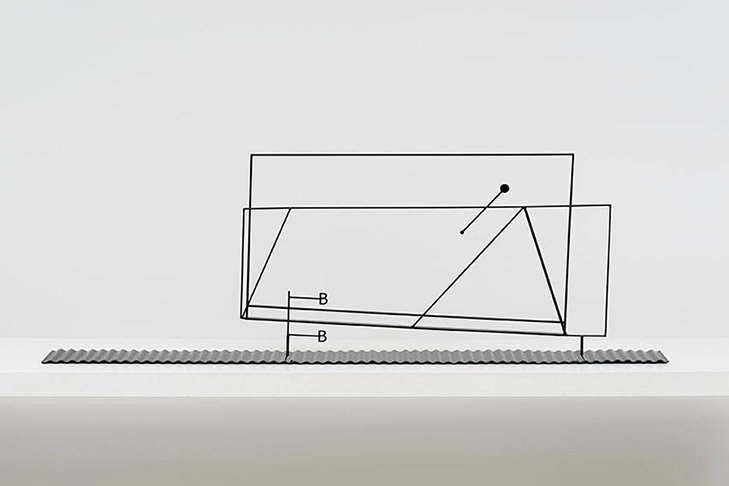 Ryszard Wasko, Courtesy of Zak | Branicka
OPENING / ZAK | BRANICKA / RYSZARD WASKO
Wednesday 16th September – 6pm until 9pm
Enjoy a cerebral escape with the conceptual sculptures of Ryszard Wasko at Zak | Branicka before finishing the night up right with an art party for the books at Kit Kat Club Berlin.
Zak | Branicka // Lindenstraße 34-35, 10969 Berlin
LAUNCH PARTY / FIVE AND DIME / KIT KAT CLUB BERLIN  
Wednesday 16th September – 10pm
Celebrate the launch of the online store Five and Dime (featuring the exclusive sale of artist multiples and editions) with a wild and crazy art party hosted by Peaches and featuring DJs Lotic, Your Body, and Mr. Silla.
Kit Kat Club Berlin // Köpenicker Straße 76, 10179 Berlin
Additional Highlights: Wim Wenders at Blain | Southern, Nathan Peter at PSM, and Hito Steyerl at KOW.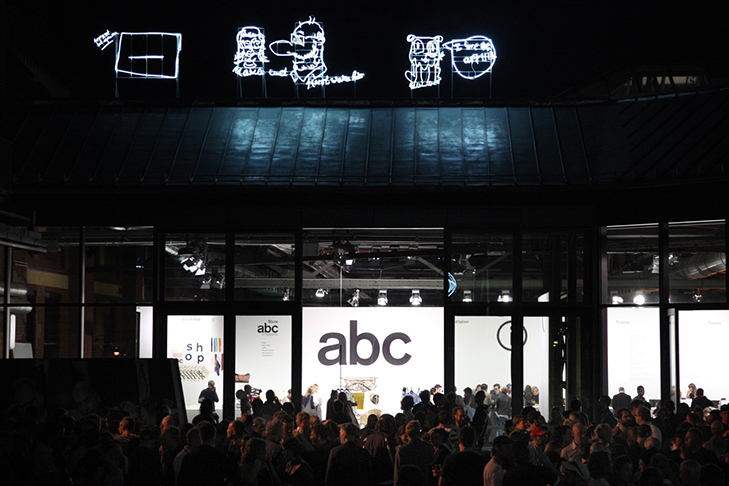 THURSDAY // ART FAIRS OPENING DAY 
/ ART FAIR  / ART BERLIN CONTEMPORARY / OPENING DAY
Thursday 17th September – 4pm until 9pm
Join the rest of the Berlin art world in welcoming back abc for the 8th annual edition of this increasingly impressive art fair. This year, abc boasts 100 galleries from 17 different countries as well as the exhibition Proximities and Desires, bringing together work from private collections for a curated public premier. 
Art Berlin Contemporary // Luckenwalder Straße 4-6, 10963 Berlin
BITE CLUB  / Art Berlin Contemporary
Thursday 17th September – 4pm until 9pm
Nothing makes you hungry like a week of non-stop, hot and heavy, hardcore gallery hopping, so before you even contemplate taking on the art fairs, stop for bite of Berlin's best street food on the grounds of ABC. Savor the soulful offerings of Bunsmobile, Jones Ice Cream, Son Kitchen and more and feel the zest for life flood back before you tackle Berlin Art Week's biggest fairs.
Art Berlin Contemporary // Luckenwalder Straße 4-6, 10963 Berlin
ART FAIR & AFTER PARTY / POSITIONS 
Thursday 17th September – 6pm until 10pm
Don't miss the diverse program on view at Positions art fair, with 77 exhibitors from 16 countries and a series of supporting events from a curated video exhibition and awards, to an installation celebrating the 20th anniversary of Landesverband Berliner Galerien (lvbg). Bring your party shoes and make the transition from day tonight without ever leaving ARENA so you don't miss out on the exclusive opening night extravaganza from 10pm onwards.
ARENA Berlin // Eichenstraße 4, 12435 Berlin, Germany
Additional Highlights: Till Cremer at Kwadrat, Emeka Ogboh at Galerie Wedding, and French Kisses at District Berlin.
FRIDAY // PROJECT SPACES, ART PARTIES 
OPENING/ KLEMM`S  / FIONA MACKAY
Friday 18th September – 6pm until 9pm
On Friday night Fiona Mackay brings her unique brand of sensuous, supple, jewel-toned whimsy to Klemm's for a cerebral meditation on perception itself. 
Klemm's // Prinzessinnenstraße 29, 10969 , Berlin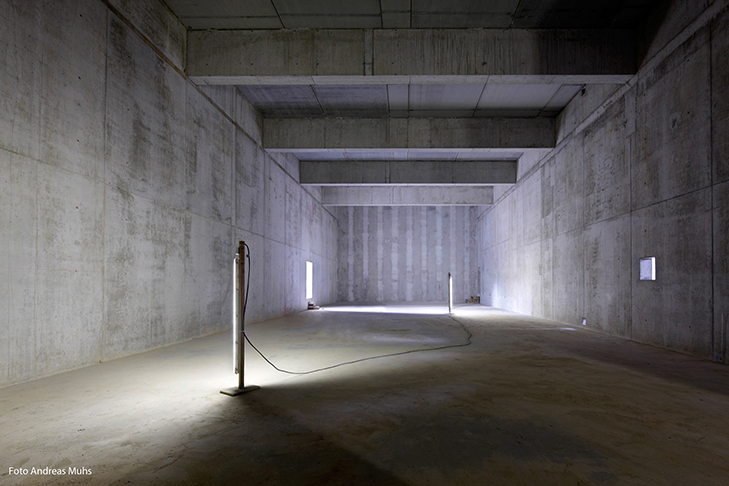 OPENING/ KUNSTHALLE AM HAMBURGER PLATZ 
Friday 18th September – 6pm until 9pm
Explore the unique intersection of art and science with an extraordinary group show that plumbs the very depths of creation in the search of the meaning of material and the limits of human manipulation.
Kunsthalle am Hamburger Platz at Fritz Haber Institute of the Max Planck Society// Faradayweg 4-6, 14195 Berlin
ART AWARD PROJECT SPACES & AFTER PARTY  / BAR BABETTE 
Friday 18th September – 5:30 pm until late
Join forces with art world avant-garde elite to toast the unique network of project spaces that call Berlin home. Kicking off with an awards ceremony followed by a panel discussion, the evening-long celebration of all things project-space keeps it rocking until the wee hours with a full on party taking the floor at 9pm.
Bar Babette // Karl-Marx-Allee 36, 10178 Berlin
Additional Highlights: Cecily Brown at Contemporary Fine Arts, and Alicja Kwade at Haus am Waldsee.
SATURDAY // ARTIST TALKS & GUIDED TOURS 

FINISSAGE & ARTIST PARTY  / MACROCOSMI 
Saturday 19th September – All Day
Wind down from your Berlin Art Week with a day-long finissage featuring drinks, dancing, and some of the finest art around. The exhibition is open all day and the party starts from 8 pm.
Macrocosmi // Hauptstrasse 29, Berlin-Schöneberg, Germany
ARTIST TALK  / EIGEN + ART LAB 
Saturday 19th September – 4pm
Artists, collectors, and curators come together to discuss the future of exhibitions in the digital age and the new world taking shape all around us in ones and zeros. Join the discussion and look to the future as this Berlin Art Week comes to a close.
Eigen + Art Lab// Torstraße 220,  Berlin Mitte

GUIDED TOUR / MITTE
Saturday 19th September – 2pm until 4pm
Join Niche for a guided tour of the cultural wonderland that is Berlin's Mitte neighborhood and finish your art week off right with a wander in the sunshine and one last look at some of the very best art Berlin has to offer.
Mitte // Schönhauser Allee 161, 10435 Berlin