We meet Chih-Chien Wang at Künstlerhaus Bethanien
Chih-Chien Wang is in the middle of the preparation of his upcoming exhibition when we enter his light filled studio at Künstlerhaus Bethanien. There are only a couple of days left until he will open his solo show "Under Two Lights" as a selected participant of the European Month of Photography Berlin 2016. At the evening of October 6th, 2016 the audience will literally walk into the installation of his photography and video art that he will be presenting at Künstlerhaus Bethanien, using tables and blocks as an exhibition frame. This is all we can reveal at this point.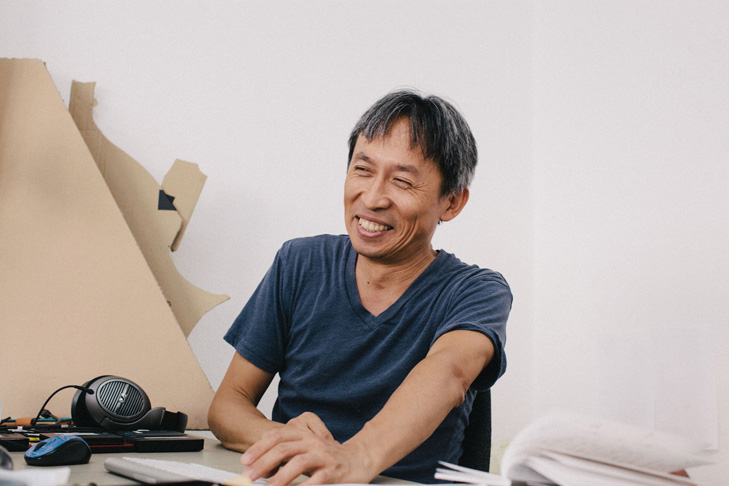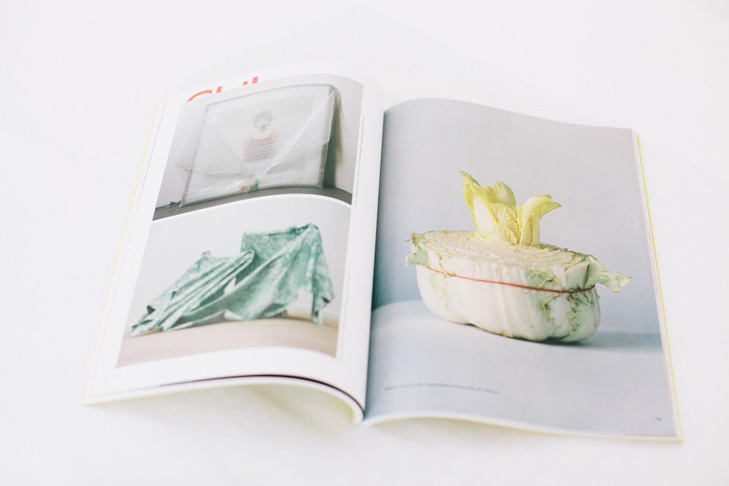 Chih-Chien Wang, who was born in Taiwan and has resided in Montreal since 2002, is in the last quarter of his 12-months stay at the artist-in-residency program of Künstlerhaus Bethanien. During that time he has created a strong body of work. Around us tables, chairs and even a sofa are holding piles of photographic work that mirror what the artist encountered in the city.
I loved to have 12 months time to create art here. It changes the way of how I work. Instead of rushing to finish, I had time to reflect about my past, presence and also about my family. It is almost scary to realize how much time you spend thinking but it is a very lucky thing to do. It had a good impact on me as a person. It made me happy.
What Chih-Chien Wang found in Berlin
His participation in the European Month of Photography is not by chance: the artist got well known by his signature way of collecting and recreating found objects into his photography, installation and video works that symbolizes his reflections of the living space and cultural diversity of the cities he spends time in.
In Berlin, I found something quite abstract. I encountered happiness, smiles and a positive attitude towards life. I feel that a new energy is forming in the city. A part of Berlin comes from the future. The people here want to transform the city into something relaxing and positive. I translated that attitude into gestures that form the body of my work.

The Beauty Of Everyday Objects
While we are wandering through the model of the upcoming exhibition installation, he points us to "Banana Flower #1" – the utterly beautiful version of a pealed open fruit being held by two hands. As his other works, the picture communicates in a clear but at the same time detailed way the beauty of everyday objects.
I am really into details. Colours, light, grains are all details for me. I work with subtle gestures, simplicity and layers. For example I had to cover the photography paper of "Banana Flower #2" with another sheet of paper to protect it against the sunlight. I then created the artwork from a picture of the original photo. The use of those layers on top of each other becomes a new form. If you like, the work was created upon the other work.
It is the very same technique that creates a mystical feeling of the photography Chih-Chien Wang took of a dinosaur' skeleton in a Berliner museum. We are shocked by its appeal but the artist isn't sure yet if he will include it into the exhibition.
We want to know more.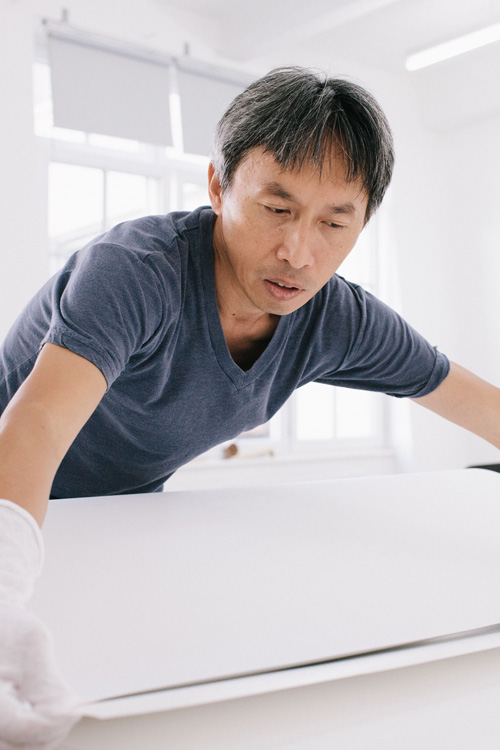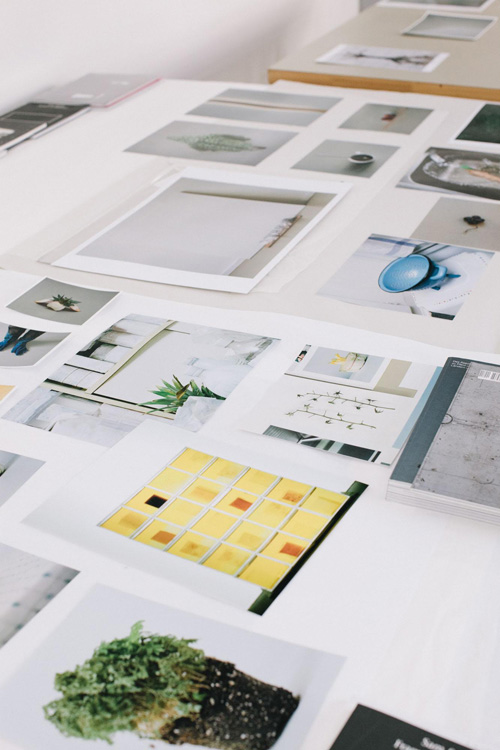 What is the idea behind "Under two lights", your upcoming solo show?
It is related to my experience and inspiration by watching a snowy landscape under sun- as well as moonlight that was part of the setting for my video piece that I will show in the exhibition. I wanted to explore the same subject under different light conditions as we are always under a mixture of different influences – from our father as well as our mother – from our own culture as well as the culture we choose to live in or travel into. I am interested in the light, in the space and the distance when we look at those conditions. You can be very far away but yet at the same time deeply involved into a situation. This moment in the distance is very sensual for me.
When we later sit down with him to catch a glimpse into his video, his words become utterly clear. The stillness of the piece is deeply moving. Chih-Chien Wang loves to work between found and planned arrangements. His photographs are precisely arranged and still consist of randomly found objects.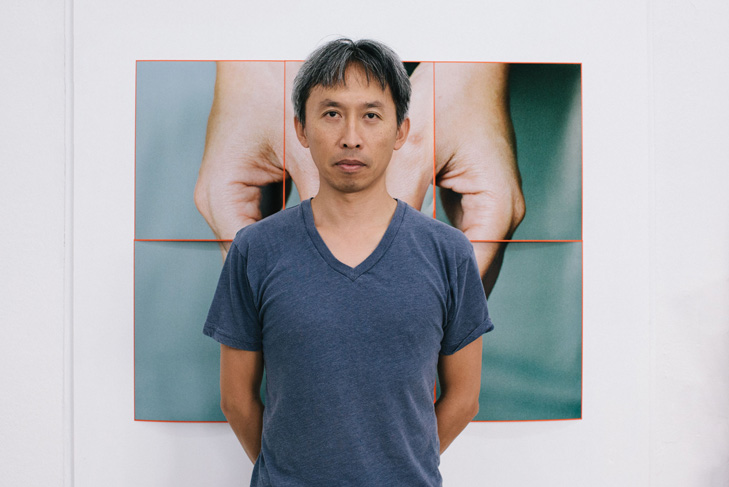 Like "Drumstick with Red Border" – a hand holding a chicken leg that at the first glance looks like an ice-cream wafer with a spit on it. Two red lines divide the piece into four prints.
The chicken leg looks like something soothing like an ice-cream but at the same time disturbing. For me, still life is similar of how we present ourselves. The idea of the self is very funny and upsetting as well.
Exhibition : Under Two Lights, Chih-Chien Wang
Opening: October 6th, 2016 / 7 pm
Duration: October 7th till 30th, 2016
Künstlerhaus Bethanien / Kottbusser Strasse 10 / Berlin-Kreuzberg
Website of the artist: Chih-Chien Wang 
Chih-Chien Wang : Biography
Chih-Chien Wang was born in Taiwan and has resided in Montreal since 2002, where he has completed a master's degree in the Department of Studio Arts, at Concordia University following studies in cinema and theatre at the Chinese Culture University in Taipei, Taiwan. Recent solo exhibitions include the Art Gallery of Mississauga (2015), the Darling Foundry in Montreal (2015), Expression in Saint-Hyacinthe (2014), Pierre-François Ouellet Art Contemporain­­ in Montreal (2014), the Musée régional de Rimouski (2013), the Montreal Museum of Fine Arts (2012), and numerous group shows, including the Jack Shainman Gallery in New York, The Quebec Triennial at the Musée d'art contemporain de Montréal, the National Gallery of Canada, Leonard and Bina Ellen Art Gallery in Montreal, Zenith Gallery in Beijing, Aperture in New York, Musée de l'Elysée in Lausanne Switzerland.
Wang's work has been seen in collections such as Musée d'Art Contemporain de Montréal, Musée des Beaux-Arts de Montréal, Musée National des Beaux-Arts du Québec, National Gallery of Canada, Hydro Quebec, National Bank of Canada, Royal Bank of Canada, TD Bank, Caisse Desjardins, Caisse de dépôt et placement, Musée de l'Elysée, Lausanne, Switzerland, Collection Prêts d'œuvre – MNBAQ, BMO Financial Group, City of Montreal and Canada Council Art Bank.
Photos for ARTberlin: Kathrin Leisch