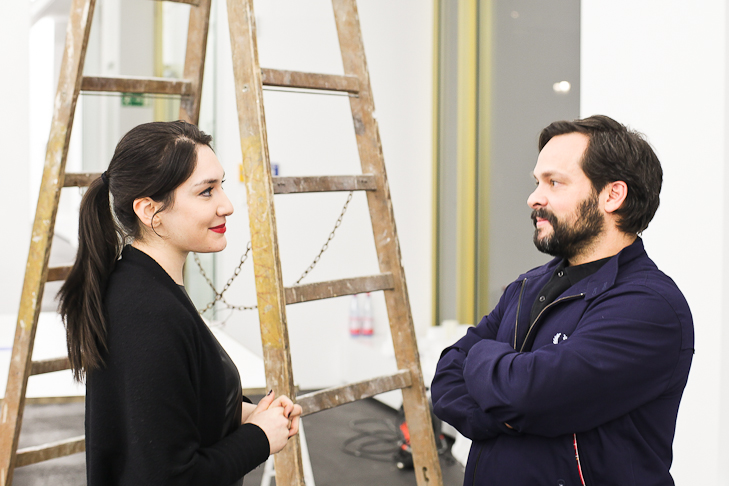 JAVIER PERES: I TALK DIRTY BY NATURE 
Massive walls, busy workers and a lot of white color – on my first steps in the new art space of Peres Projects I am impressed. The historical architecture of Karl-Marx-Allee seems to be a great choice for presenting contemporary art in Berlin. Some pieces of David Ostrowski's paintings, who did the opening show on March 1st with I'm OK.' Moments later, he was shot, are already on the wall, some still wait on wood pallets. It seems that the gallerist Javier Peres created a pretty unique space.
I talk dirty by nature.
After this introduction sentence, I sense, we will have an interview with a lot of fun. But after some minutes it becomes clear that this is not really an official interview. I feel much more like chatting with a cool guy. During the next hour we will talk about the past, present and future of Peres Projects, about the choice of living in Berlin and the moment when creative minds realize that they have to face reality which might hit them hard and heavy.

NEW GALLERY SPACE: THE  GLOWING MOTHERSHIP OF PERES PROJECTS
I start with an easy question to get the Peres Project gallery landscape in Berlin in my mind in order:
Javier, how does Karl-Marx-Allee works in the triangle of  the Peres Projects spaces in Mitte and Kreuzberg?
We in fact will close Hamburger Straße (Mitte), but stay at Schlesische Straße in Kreuzberg. As I think about it, I feel kind of gipsy considering all the art spaces I had in Berlin that are even more than most of the German galleries here ever had. We consider the location at Karl-Marx-Allee as the MOTHERSHIP OF PERES PROJECTS. We will keep the lights on all night so it looks kind of glowing from the outside. As I was always inspired by the old Prada shops in the 90s.

THE DUDES – OR – THE DILEMMA OF YOUNG ARTISTS IN BERLIN
You left L.A. for Berlin: How do you keep your international contacts since you left LA.?
We work hard to keep our collectors interested, of course art fairs are one of the most important tools. I used to hustle. My hustle kind of fell off the wagon cause I fell off the wagon. Now it is part of my challenge.

Berlin can really get you out of focus. There was a time when I didn´t make any phone calls except to drug dealers. And I called the gallery only if I had to. Definitely when you are here, you can get lost when you don´t keep focused on what you got to do. That´s the truth for everybody working in the creative fields. There is a lot of opportunities, but there is a hole by the end of it.
So, Berlin is not the perfect city for artists that everybody is claiming ? 
I think Berlin is a big dilemma for most artists who move to Berlin. We work with many young international artists who become art assistants at Peres Projects. We call them "the dudes". At one point in time they realize that their dream will not come true. Because they are hanging out with a bunch of other people like them fighting for that possibility.

JAMES FRANCO, GAY TOWN AND PROVOCATION
James Franco's "gay town" – your last exhibition at the then still temporary space at Karl-Marx-Allee 87 – turned into  a massive opening. A lot of people came because of him and the fame, but also because of the title, I guess. Do you like to provoce?
The issue of provocation – it would be naive to say that I would encourage it. I have done shows with guys jerking off in the gallery, I had cocaine related performances. This is part of the history of the gallery and it´s a part of contemporary art in 2000. I think James is not interested in it. When we thought about the show, provocation was not something we considered. Basically the two of us don´t perceive the word gay as a provocation. We are both around gay people all the time. I mean, I am around me all the time.

JAVIER PERES ABOUT THE BADASS ART OF DAVID OSTROWSKI
Why did you choose the painter David Ostrowski for the opening show at Karl-Marx-Allee 87?
Actually I came up with him through Harmony Korine. He told me about him and send me some videos. Because we are friends he said: you might like this weird kid in cologne! It has been a kind of joke that I don´t show any German artists, but it wasn´t on purpose. Somehow all artists that I show are in someway or another part of my circle. My circle has a lot of different bubbles in it and David fell in the Harmony Korine´s bubble. So, I went to cologne to meet him because of what I´ve seen before I was obsessed. And very rarely I decide to work with an artist on the first meeting, but with David I decided on my first meeting that I have to show him.
While I am still getting over my surprise about his honesty, Javier keeps going on explaining:
There is something about the way David talks about how he approaches painting and life that really caught my attention. There was one event in his life about six years ago when his whole studio burned down. Everything was destroyed, except of one painting. The smoke left marks on this painting and make it look almost like a branding. Not to sound corny, but it impressed my how David would handle this loss with grace. He is so cool, such a badass. Creating badass art.
While leaving the gallery, I am still impressed. Now it is not architecture but the honesty of this gallery owner, being so straight-forward, expressing his opinion in words that would be censored in many other gallery owner cases.  We will definitely keep you up to date with Peres Projects's upcoming shows and someday maybe with a story of the unknown "dudes".
Interview: Bernak Kharabi // Fotos: Graeme Vaughan
Please note: David Ostrowski is represented by Galerie Sprüth Magers since Sommer 2015.