I think Monet had once said it well; "In order to see we must forget the name of everything. By labeling, we recognize everything, but no longer see anything." I see language as a thoughtscape, a landscape of one's mind. And like all that is art, poetry structures our emotions, while the detached flânerie allows the soul to remain intact and at liberty.
Here I name only a few and forget the names of many, but getting lost at the Gallery Weekend is a pretty good thing!
Wednesday Tip:
A one-on-one session in the 'Tent for Healing' with the founder of AA Bronson's School for Young Shamans brings together elements from Tibetan Buddhism and Shamanism to Ceremonial Magic, and Santeria. You got to apply in advance for the sessions. If chosen for a session, you're asked to bring a gift for the artist, something that is difficult for you to give away. This could be the time you let go.
Thursday and Friday / From noon till 3 p.m. / w/ AA Bronson assisted by Richard John Jones
Saturday and Sunday / From noon till 3 p.m. / w/ Richard John Jones assisted by Spencer Carter
KW Institue for Contemporary Art: AA Bronson's Garten der Lüste (The Garden of Earthly Delights
Opening: April 25th, 7 p.m. reservation@kw-berlin.de
Thursday Tip: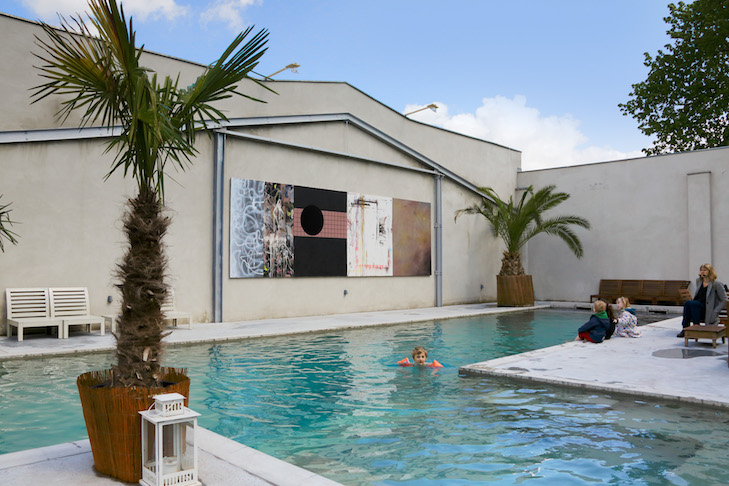 Artist Weekend NGORONGORO II in Weissensee, Lehderstr. 34 | 13086 Berlin | opens at 10 am!
Everyone who visited the first edition '15  knows what's all that buzz about and for those who don't; bring a towel and free some time. A lot of time. Their gallery-less concept, in which artists invite other artists to exhibit in the 6000 square meter studio spaces in a former GDR factory, remains as fresh as the first time three years ago. And the artist list is as impressive as the venue.
But no hurry; it closes at midnight!
Friday Tip:
Claudia Comte's 'When Dinosaurs Ruled the Earth' opens at the brutalist St Agnes church. She sculpts with a chainsaw. Enough said.
KÖNIG GALERIE Alexandrinenstr. 118 | 10969 Berlin
Also nearby in Mitte at Alexander Levy: Julius von Bismarck's
'Immer noch der Lauf der Dinge' opens on Friday at 6 p.m.
Rudi-Dutschke-Str. 26, 10969 Berlin
One of his recent works that got me is 'A Racehorse for Christmas' in which a horse in a horse costume is filmed. For awhile viewers assume that they are watching two costumed people. I find his past work with nature altogether very interesting and I'm really looking forward to see what next!
The force of nature is a point where we are suddenly very close to the new deity, to our belief in nature. That's where nature beats back.
Saturday Tip:
On Saturday go and check out the aesthetik01, an independent off-space in Berlin-Moabit founded by Kristina Nagel exhibiting Alexander Binder's Talisman. The Stuttgart-based artist combines digital and analog photography with self-built lenses.
AESTHETIK 01 | Lübeckerstr. 49 | 10559 Berlin-Moabit
And go see Bettina Pousttchi's 'Allee' at Buchmann Galerie, Charlottenstraße 13 in Berlin-Mitte. From the invitation alone I predict her use of barriers and such urban space objects for sculptures again. But let´s go and see!
Sunday Tip:
And once you've seen anything and everything THE INCENSE ROOM at The Feuerle Collection is definitely a place to rekindle your senses. (The incense ceremony and access to the room by appointment only.)
THE FEUERLE COLLECTION| Hallesches Ufer 70 | 10963 Berlin
Header Photo: AA Bronson, Tent for Healing (in collaboration with Travis Meinholf), 2013
Mixed media, including custom woven wool and cotton, chaise longue, wood frame, carpets, cushions, vintage African sculpture and other elements, performance protocol and the right to stage the performance accordingly, 250 x 250 x 350 cm Exhibition view: AA Bronson, Tent of Healing, Stedelijk Museum, Amsterdam, 2013 Courtesy: the artist and Esther Schipper, Berlin Photo: © Ernst van Deursen
Author: Tanja Siren for ARTBerlin