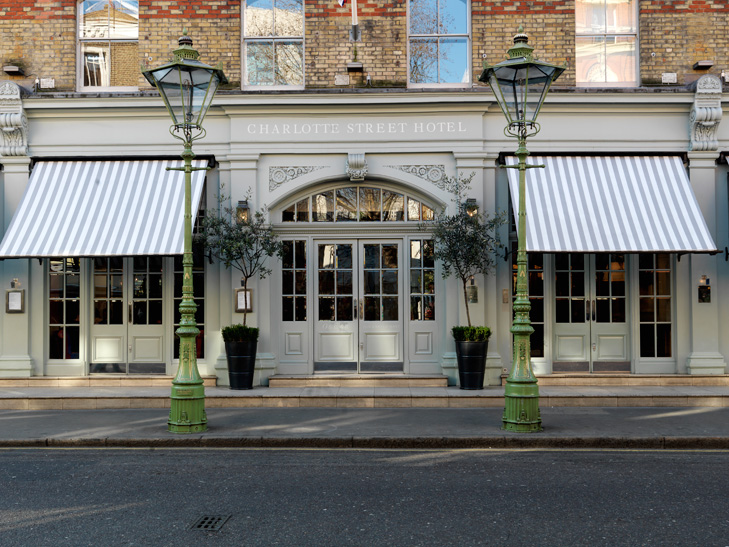 HOTEL INFO
Address
15-17 Charlotte Street, W1T 1RJ London

Directions
London City Airport (LCY): 18 km
London Heathrow Airport (LHR): 28 km
Reservation
Phone: +44 (0)20 7806 2000
Tollfree: 800-553-6674
Email: reservations@charlottestreethotel.co.uk / or at www.designhotels.com
Webpage
Rates
From 300,- (for a double bedroom) to 1170,- GBP (for a Penthouse Suite)
Year of Establishment / latest renovation
2004
THE CHARLOTTE STREET HOTEL
Originally opened in 2000 the Charlotte Street Hotel is situated in London's media neighbourhood north of Soho. Being partner with Design Hotels™, its interiors are designed by owner Kit Kemp herself and reflect a contemporary British style. At a first glance it might appear rather 'typical' British to you but if you throw a second one,  you ill discover a big love for details that create are very individual and interesting look of design and style. Expect a fine mixture of comfort and surprising furnishing and get yourself some of your favourite English dishes at Oscar, the hotel's ground floor bar and restaurant.
The in-house screening room can be privately rented and is an open Film club as well. We strongly recommend the FILM CLUB SUNDAY where also film lovers who are not staying at the hotel are warmly welcome.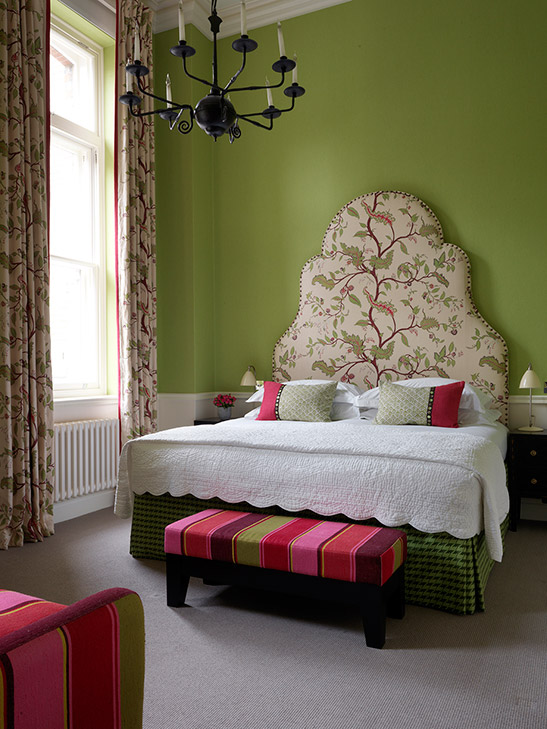 Each of the 52 bedrooms and suites are individually designed by Kit Kemp
THE ROOMS 
Each of the 52 bedrooms and suites are individually designed. Kit Kemp has given every room its own style and character. Be sure that you wont miss a thing.
Every room and suite has its own library consisting of classical pieces, children's books or modern fiction, which gives the guest a warm cosy home feeling. A 'Bloomsbury Set' theme has been used throughout the hotel.
In every bedroom there is a smell of luxury. Fabrics on the walls give it a very special expression. Kemp uses wool, cotton or other special materials for the wall decoration. In front of the rooms is a showcase showcasing samples of materials, fabrics and patterns that were used. 
Bathrooms come in solid granite, mostly with double basins and walk-in showers. And if you are lucky to get one of the Penthouse suites, you wake up with a breath-taking view over London.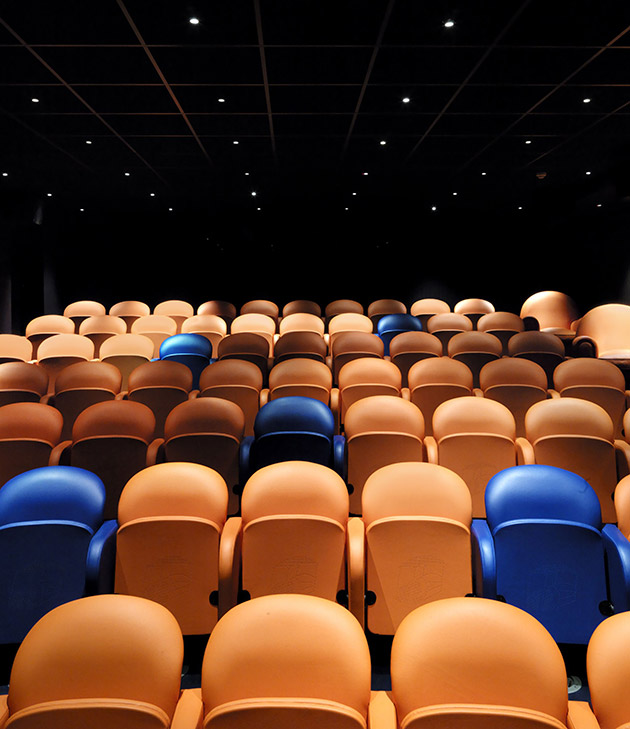 The Screening Room
THE CROWD AT CHARLOTTE STREET
Staying at Charlotte Street Hotel means you will meet people from the international media and film scene, as well as artists and the colourful crowd of the fashion industry. They hang here for relaxed business or meet for lunch or a few drinks on the terrace of Oscar, the hotel's bar and restaurant.
ART / DESIGN / ARCHITECTURE
The original building was of the Victorian period (19th century). The Charlotte Street Hotel is a Design Hotel and belongs to the Firmdale Group. Interiors by owner Kit Kemp reflect a fresh modern British style. A Botero sculpture welcomes the guest at the reception and leads him to the lively Oscar Bar and Restaurant, a library and a Drawing room each with log burning French sandstone fireplaces and a very beautiful old style honour bar.
Rooms are hung up with originals by Bloomsbury Artists Vanessa Bell, Duncan Grant and Roger Fry as well as other famous English artists from that period.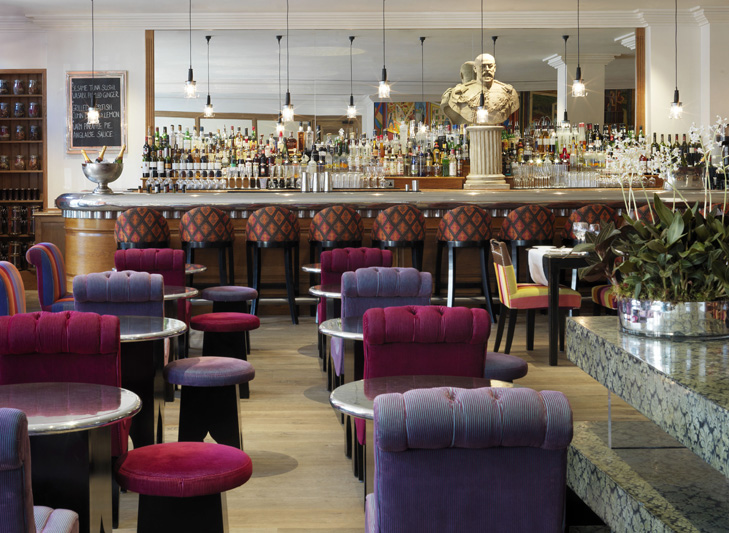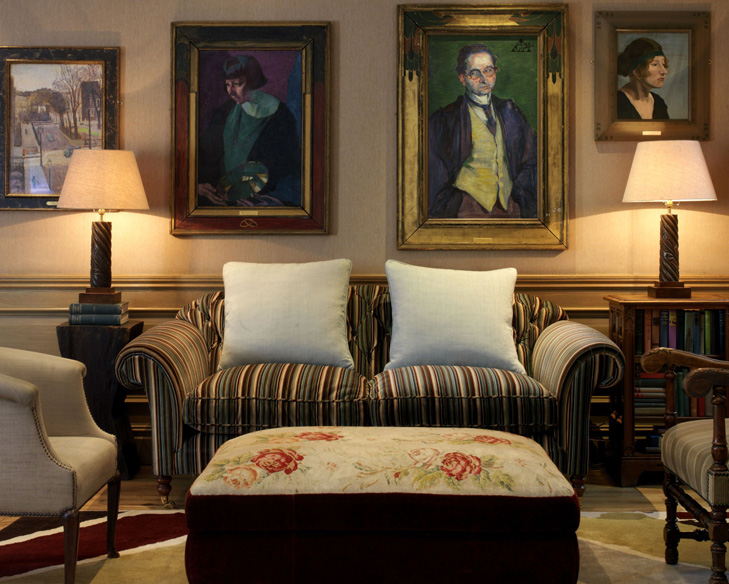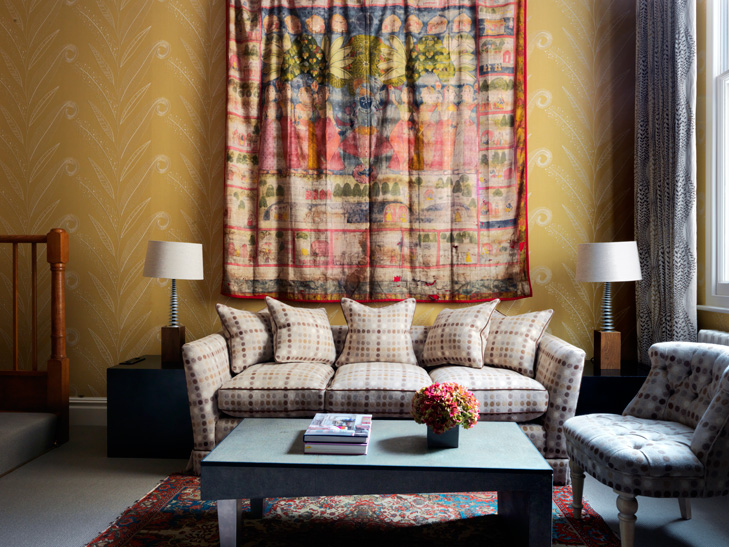 FOOD & DRINKS
The menu of Oscar is always seasonal and brasserie style. Products a mainly from the U.K. and are melted into traditional English dishes cooked up with a European twist.  For reservations please call 020 7980 1007  or email to oscar@firmdale.com
THINGS TO ENJOY
Very British: The Charlotte Street Hotel is a stylish and glamorous place to have your Afternoon Tea. You can slurp it in Oscar or the Drawing Room and, of course my dear, it is served all day long. At any time there is a chance of running into spontanious parties in the drawing room.
If you want to be active to be relaxed after sightseeing or extensive gallery tours, hit the fully equipped gym and sweat it off.
THE NEIGBORHOOD
The surrounding area of Charlotte Street Hotel  is buzzing. SOHO, just a few minutes walk away, attracts with its colorful shops, relaxed bars and restaurants a similarly lively and cheerful crowd. International film production companies as well as the fashion industry have settled down here. 
Text: Eyleen Beetlewood