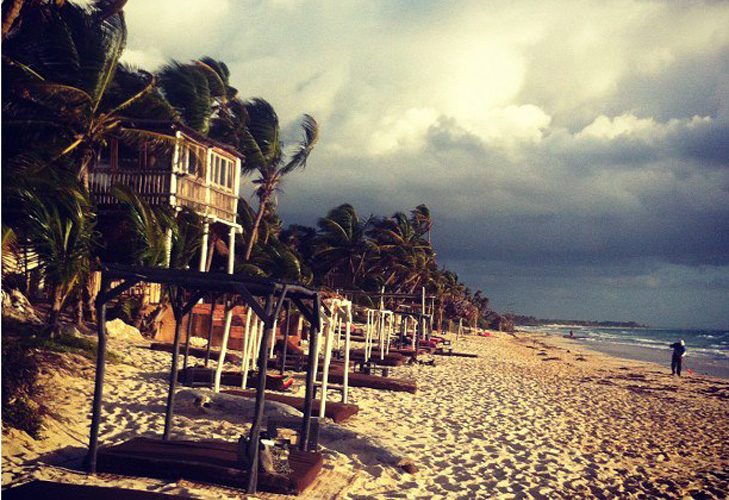 PAPAYA PLAYA PROJECT: TRAVEL & RESERVATION
Address
Km 4.5 Carretera Tulum-Boca Paila | Quintana Roo, 77780 Tulum

Directions
Nearest airport: Cancun
1.5 h by shuttle or bus to the hotel
Reservation
Phone: +52 (1) 984.116.3774
Email: reservations@papayaplayaproject.com / www.designhotels.com
Webpage
Rates
From 85,- (simple Cabana for 2) to 375,- USD (spacious cabana for 4 guests facing the ocean)
Year of Establishment / latest renovation
December 2011
Information
Open all year
THE HOTEL: A BAREFOOT BEACH RESSORT
Originally opened in 2011 as a so called pop up resort in Tulum, Papaya Playa Project in just two years became the Mexico hot spot for the international creative crowd. Cocooned by the jungle and wild 900 meter stretch of a Caribbean virgin beach, eighty-five cabanas have been refurbished by the Design Hotels™ creative team. Simple but done with an eye for the pureness of beauty, they either face the ocean that is only some bare footsteps away or the beautiful wild jungle garden.
Papaya Playa considers itself an experience and adventure – with a big sense of 'community' at the core of the physical and experiential concept. It is the living proof that spirituality, nature and contemporary lifestyle can melt into a journey worth sharing.
The place is owned by Emilio Heredia and managed by people who are aware of the special and particular sensitive nature they are surrounded. Papaya Playa acts on sustainable and social principles and has started an initiative, called United for Tulum, in which business owners, government officials and civil society have come together to work on a sustainable vision for Tulum.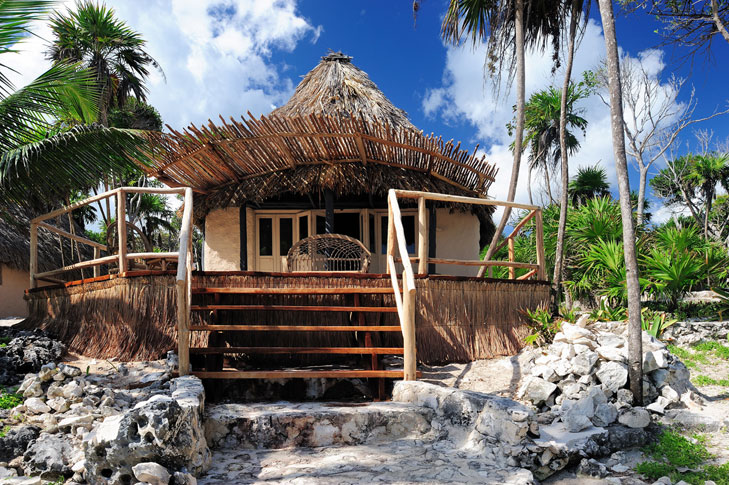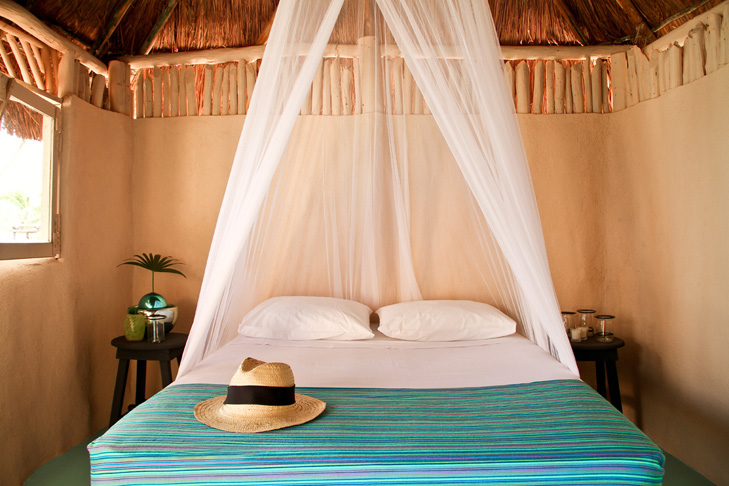 THE ROOMS
The 85 cabañas possess a rustic charm and come in different size and comfort to suit every need and budget. 50 of the cabañas are outfitted with private bathrooms and the other 30 share a central bathhouse.
They are rather simple then luxurious but even if you choose the option with shared bathroom you will get the spirit. The openair bathrooms are by the way really pretty and perfect to get to know your neighbours. If you travel with a big group of friends or family we recommend the Casitas with large private terraces or cabañas or the Beach House, a cliff-top hideaway that owns a private plunge pool, meditation balcony and a natural cave.
If you are on a budget go for the modest shared jungle cabañas with bunk beds.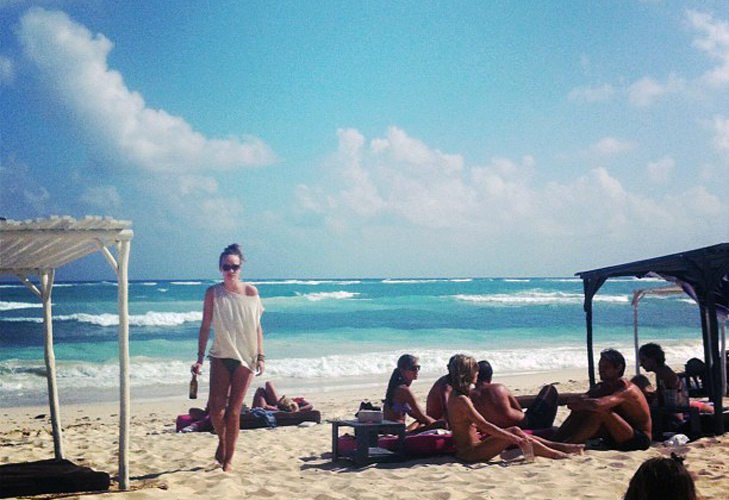 THE CROWD AT PAPAYA PLAYA
At Papaya Playa you will meet an eclectic mix of the so called neo hippie bohème or gypsetters. Artists, DJs, designers and yoga instructors gather here to enjoy a sense of creative community. They usually come from NYC, Berlin, Paris, London or L.A. but feel at home in more then one continent. Always looking for places that combine nature, community and a certain level of contemporary luxury.
ART / DESIGN / ARCHITECTURE
Papaya Playa Project's architecture, exterior and interior design aims to bring you closer to the surrounding nature but also provides its guest with an urban spirit and community. 
Renovated by the Design Hotels™ creative team, the thatch-roofed cabañas are made using ecological and local materials, while fresh colors, cozy beds, the highest quality sheets and thoughtful details make for a comfortable stay.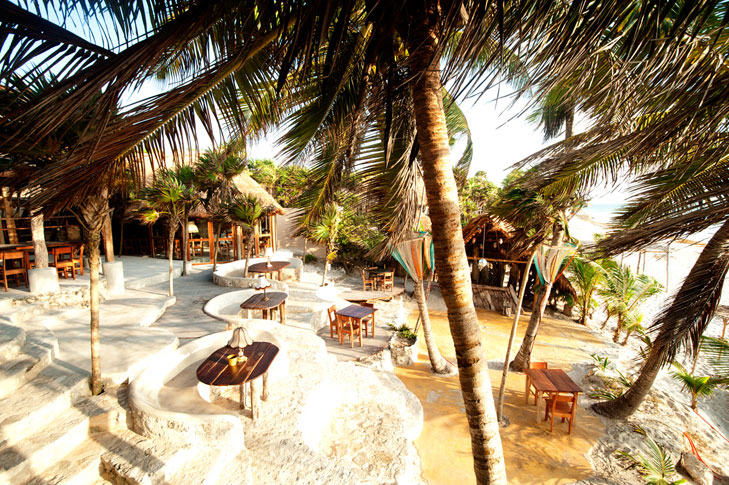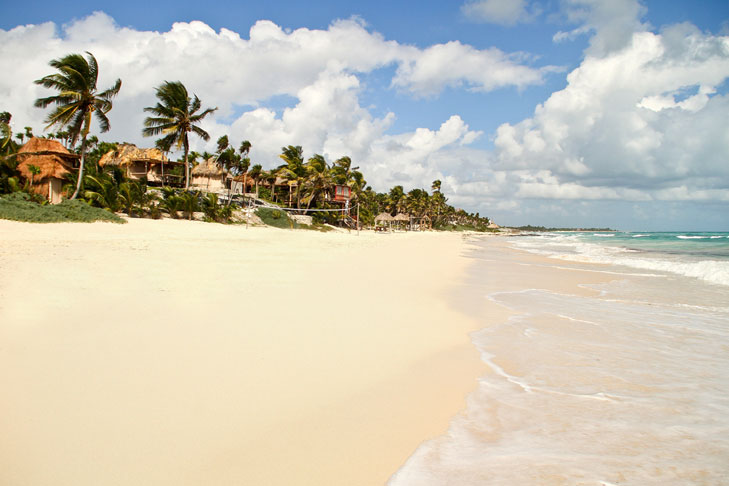 FOOD & DRINKS AT PAPAYA PLAYA
The PAPAYA PLAYA BEACH CLUB serves as perfect breakfast, lunch and dinner location overlooking the turquoise ocean. Expect super local cuisine with fresh fish caught and herbs from the back garden tossed into delicious steaming dishes. Not to forget a delicious classic: the guacamole.
You can choose between eating at round shaped tables and banks carved out of stone and their soft pillows and enjoying your meals directly on the beach where Papaya Playa serves drinks and snacks from late morning until late evening.
Hosting the best DJs in the world, music is key within the Papaya experience so you are treated with impromptu jam sessions in the sand and electronic sounds at night at the bar.
The Tribal Room, a temporary creative space hosted by Till Harter of Bar Tausend, throws some of the best parties in the area and features rotating curated exhibitions. Right in front of it there sis a natural amphitheatre on the beach, bringing guests can come together to perform, present or communicate in their chosen fashion with music, readings, inspiring lectures and more.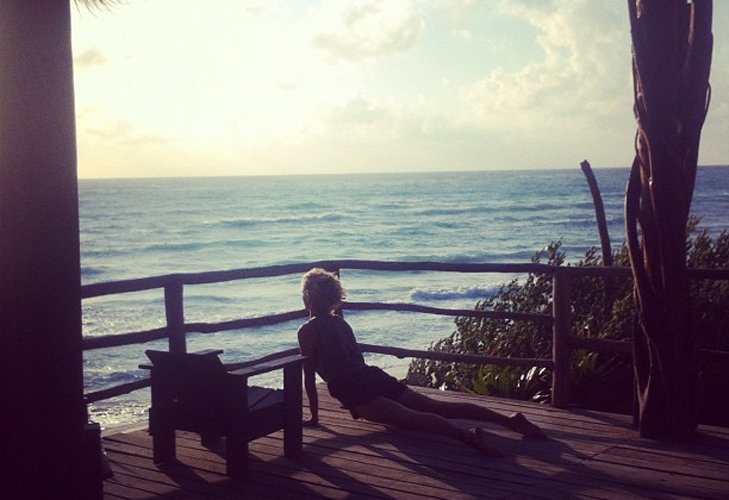 SPA & YOGA
The SPA at Papaya Playa uses Mayan shaman secrets, going beyond the usual wellness programmes. Working holistic, the spa staff will nurture your mind just as much as your body. You will encounter an energizing indoor and outdoor space on the beach, where in addition to massages and beauty treatments, you can experience a traditional Mexican sweat lodge or book a cleansing with the shaman.
Yoga is held twice a day in two morning classes at a beautiful and spacious lodge with open walls facing the ocean and the jungle. Teachers are well selected and the energy will definitively leave you with an energetic high.
THINGS TO ENJOY AT PAPAYA PLAYA PROJECT
The morning light: get up with the sun around 6 am and take the two steps to the wild beautiful beach. Then head to the yoga space right at the ocean and dive into your sun salutations. Afterwards join the openair restaurant for fresh green juice and soy latte and let your day evolve to you.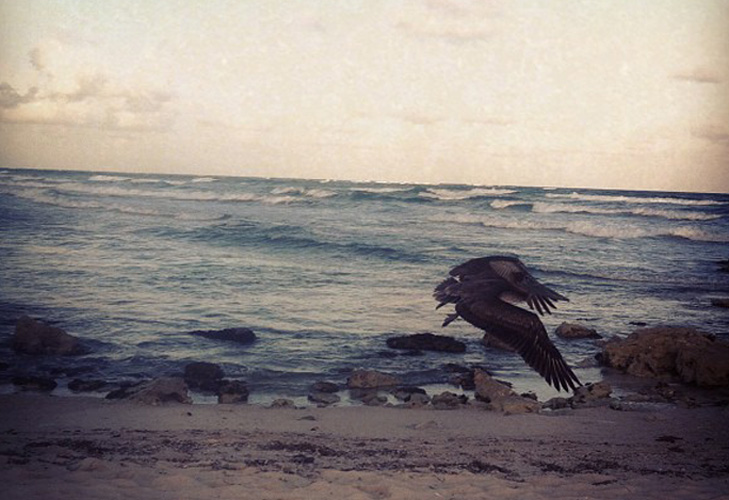 THE NEIGBORHOOD
Tulum has grown its own separate, green identity. Apart from being home to ancient Mayan ruins and underwater caves, the cenotes, to dive and snorkel in, it is known by the international community as one of the best beach destinations in the world. Small eco-boutique hotels meet commonly simple cabañas on the beach but face the restaurant from NYC. Tulum has positioned itself as a leader in sustainable and ecological tourism.