The Museum
Located in a former beer brewery, you find the museum in the underground, which creates an almost reverent and dark atmosphere as soon as you enter the space. The permanent exhibition shows pieces by James Turrell, Olafur Eliasson and Jan van Munster, just to name a few. Their works fit the industrial space perfectly and your senses get challenged by an impressive range of different light installations – from heavy flashing to very soft and charming pieces. Each one of them was created specificially for the museum.
International Light Art Award
Every room is an intense experience itself. Not only will you notice your eyes and brain starting to play tricks on you, but also the impact of different light settings on your soul, mood and feelings. From works that come with a certain aggressiveness to works being as simple as beautiful. After all these impressions you will be in the right mind-set for the works oft he 2017 International Light Art Award.
The winners of the International Light Award will be announced on the evening of April 21. One day after the announcement the three works of the finalists will be on show for the public. We recommend you to book the next train to go see it.
Meet the three finalists
First, there is Satoru Tamura from Japan who created the work 'Point of contact for Unna' and you will only believe it when you see it. Why? Because it works like an exaggerated electric switch between a steel plate and brass bars. Yeah right, it is hard to imagine. But when they meet, they create beautiful, powerful sparks making it hard to ever wanting to stop watching it. Behind that, there are flickering bulbs. Art meeting science blowing your mind.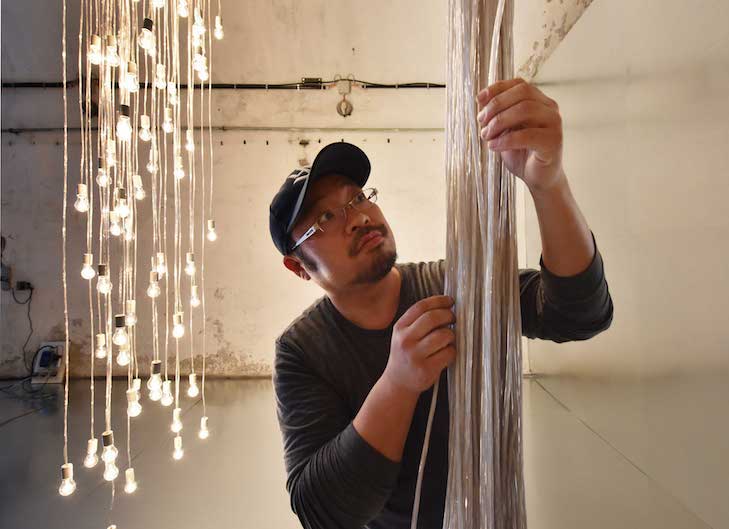 Next to name is Tilman Küntzel from Berlin who created the chandelier to rule them all. Made out of crystal glass and 40 bulbs on the inside, the works is lying on the floor, flickering it's way to every light art's fan. Accompanied by fascinating flicking sounds, the feeling that comes with the work almost reminds on famous movie scenes, when someone opens a treasure for the first time after a hard journey looking for it.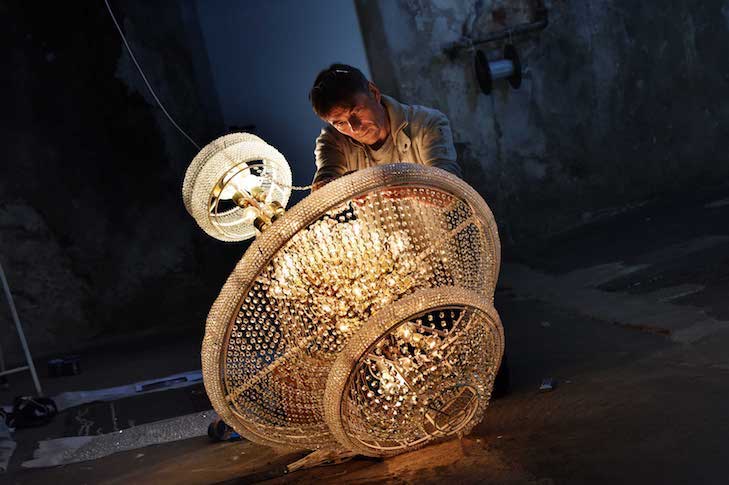 The work of the Dutch collaborators Vroegop and Schoonveld is made out of 200 turning lamps in black and white, regularly rotating in a large spiral form. If you ever watched 'the most satisfying video', this one is for you. Just like human, the work is made out of fragmented data creating a greater good.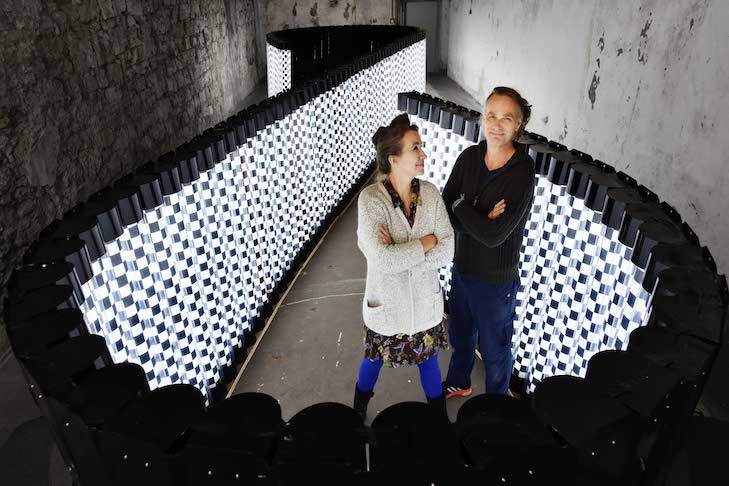 Luckily we are not part of the jury that has to choose from these three beautiful works. But we sure know that Unna gets a heart-shaped mark on our art map.
Exhibition & International Light Art Award
Centre for International Light Art
Opening: Saturday, April 22; 1-7pm
Exhibition: Apr. 22 – ongoing, 2017
Lindenplatz 1, 59423 Unna
Author: Saskia Wichert
Photo Credit: Frank Vinken