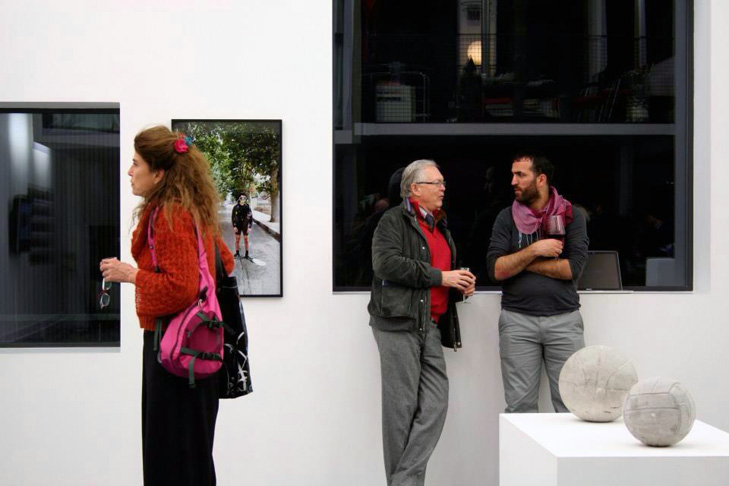 Khaled Jarrar – Meeting the artist 
The piece is large and very pink. It features a picture of Palestinian artist, filmmaker and photographer Khaled Jarrar himself in military garb in a typical military pose, multiplied many times in a square formation, through which a sense of abstraction is created. The work, as his other works, brilliantly juxtaposes seemingly opposite sentiments. A brutal reality contrasting with a bright clean cut artistic form of modernism. The brutality, masculinity and harshness, associated with the military, contrasting with a shiny, bright pink, for some reason associated with femininity and queerness, background.
Jarrar told me a little anecdote at the opening. Being Palestinian, traveling abroad is no easy task. He can't travel via Tel Aviv so has to travel overland to Jordan to get on a flight to his destination. Word is that Jordanian officials have a tendency to treat Palestinians with even less respect than Israeli officials do and give Palestinians a particularly hard time and an unfeasible amount of hassle when dealing with them as they travel through Jordan.
In any case, during the trip to Geneva, departing from Amman, when he had filled out border crossing forms with a pen in his favorite color, pink, the Jordanian official dealing with him seemed taken aback by the sight of it and asked Jarrar why on earth he would use a pink pen. Pink is far too unmanly, you see, it is considered feminine and therefor less worthy. Khaled tried to convince the man that it was the only pen he happened to have on him. He offered the man his pen but the man would not accept it, it sounded like he would not want to be seen dead with it.
And that actually explains the use of pink in the work 'Battalion'. Global conventions or conditioning dictates what we understand to be truisms, we tend to polarize the world, things are black and white. Male and female. And there is a hierarchy, all things masculine are prized over all things feminine. Pink is feminine. Pink is weak. But not for Khaled.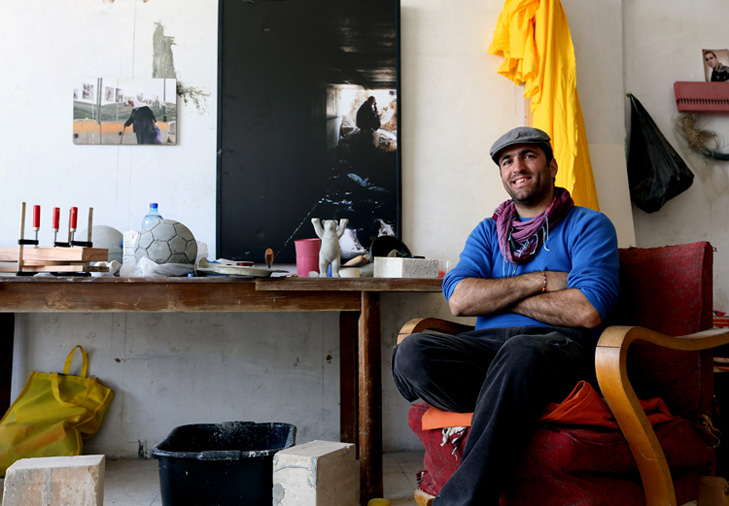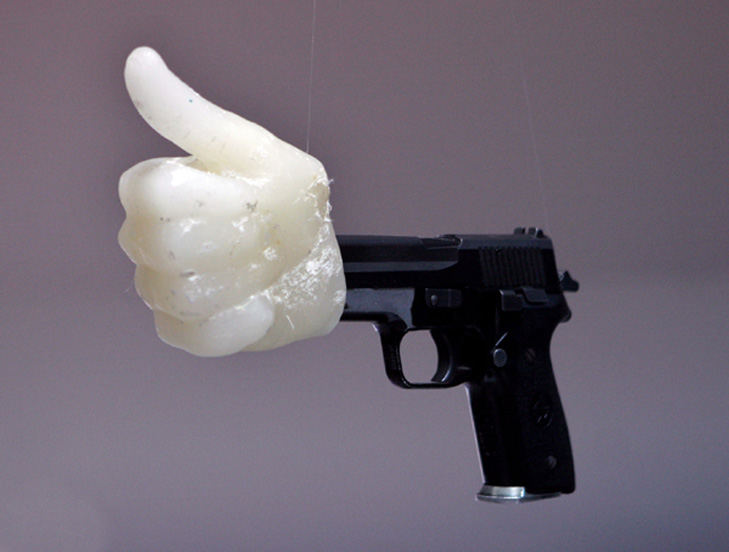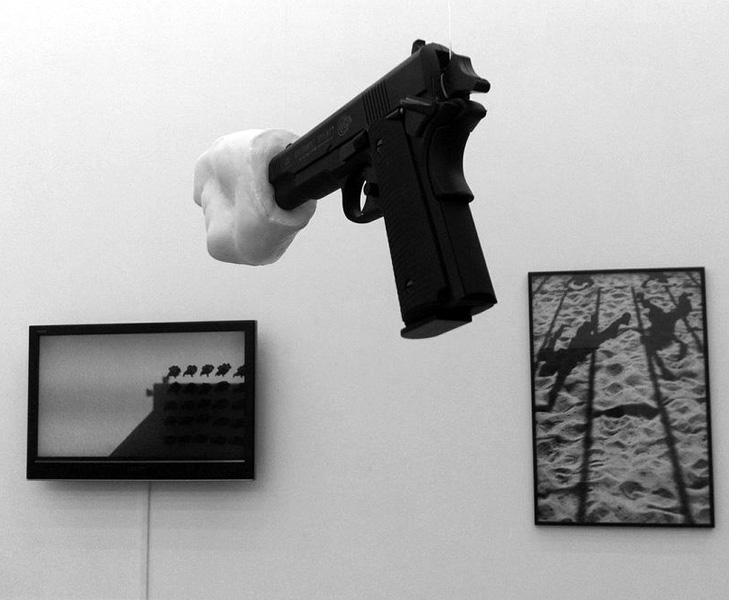 Khaled Jarrar: Pistol 9mm 2009
Khaled knows firsthand what it means to be a soldier.
Born in the West Bank city of Jenin, after obtaining a degree from the Palestine Polytech he joined the Palestinian Presidential Guard, serving Yasser Arafat. While there he simultaneously became one of the lead photographers of his brigade. Since his time as a soldier, over the years, he went through a personal journey that had him question the very values he was taught as a soldier. He went to the new newly established International Academy of Art – Palestine, in Ramallah. He was no longer 'just' a photographer and film maker, he was now a conceptual artist, a philosopher, a thinker. In his work he talks, and asks questions, about human rights, statehood, political Middle Eastern history, masculinity, femininity, and what it means to be a cog in the wheels of warfare. And ultimately about freedom. What it means for citizens and their daily lives to be living in a giant virtual prison that are the Occupied Territories. However, not by asking how politics indeed influences his art, or art in general but how his art can be a strong opposing voice in politics.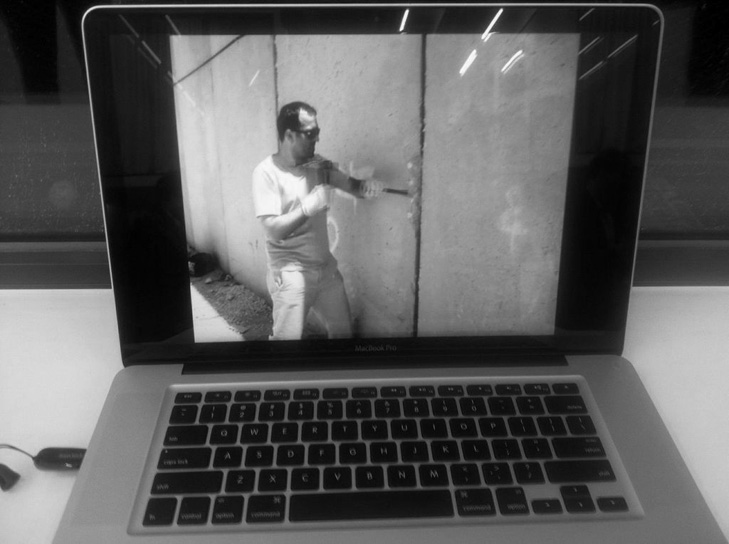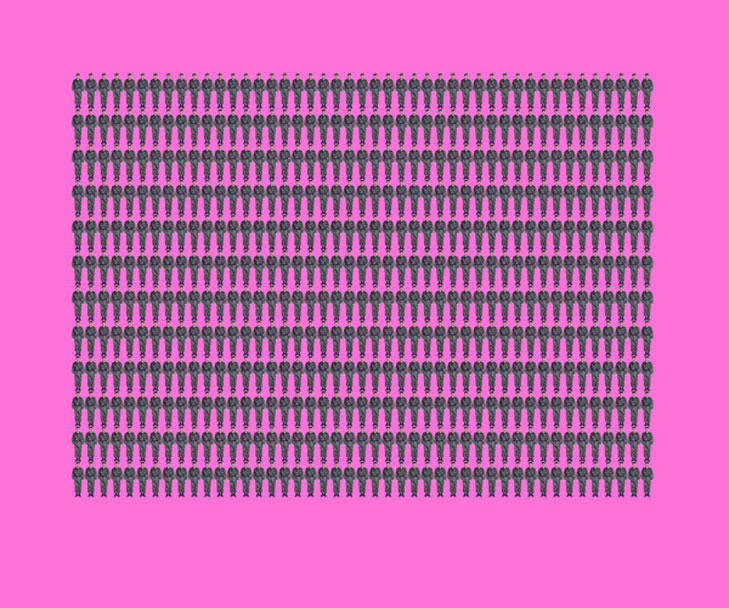 Khaled Jarrar's The Battalion at Galerie Guy Bärtschi
This show premiered a work by the same name as the exhibition title, Battalion, which I was delighted to see as I had helped with the production costs, and one of which which will be mine after 12 months in which it will be on show in various locations, among them Jarrar's gallery in Paris, Polaris, early 2014.
The piece Battalion is central in the beautiful exhibition space at Bärtschi and cleverly curated into the show which furthermore consists of works in a variety of media. There are various seemingly playful sculptures, which upon closer inspection turn out to be made from recycled concrete, scraped off of the Apartheid Wall. Photographs of soldiers and civilians that are not my favorites of Jarrar's concise oeuvre, perhaps because that is just what they are, beautiful photographs of horrific situations. He is much more clever than that. Then there were two short films in a loop, including I. Soldier, which shows a moving battalion shot from above, again resembling an abstract composition.
A short absurdist film featuring a Palestinian trying to move about the streets of Ramallah wearing scuba diving gear. Seals for the State of Palestine and the stamps he created using those seals that were actually used as postage stamps in The Netherlands, Belgium and Germany. And very strong mcCracken-esque pieces of board leaning against the wall, but in the colors of a soldier's uniform.
It can't have been easy curating all this into one space, but they succeeded wonderfully. With so much information, and media, to work with, to retain a clear overall composition within the space, is an art in itself.
Jarrar's full length movie The Infiltrators in the meantime is doing the rounds on the international film festival circuits, at the moment of writing in Beirut but sure to be seen somewhere near you in the near future.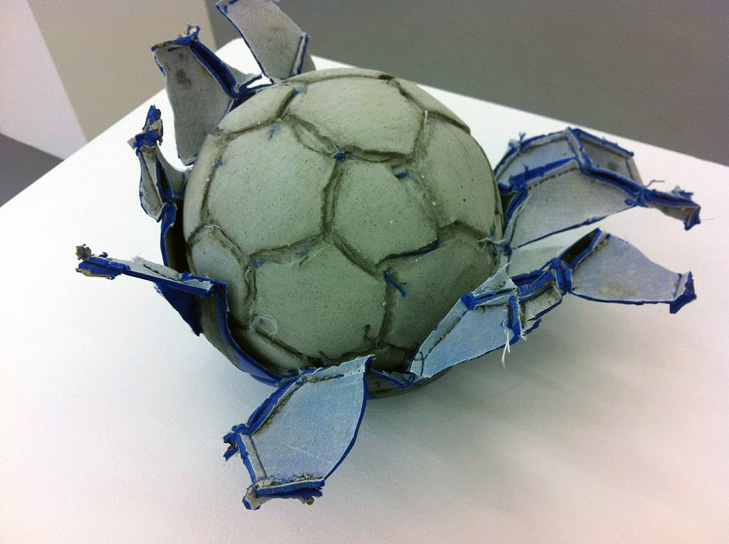 Exhibition at Galerie Guy Bärtschi
The Battalion will be on view at Galerie Guy Bärtschi in Geneva until April 26 and will travel to Paris' Galerie Polaris in January and February of 2014.
Text & Photos: Myriam Vanneschi