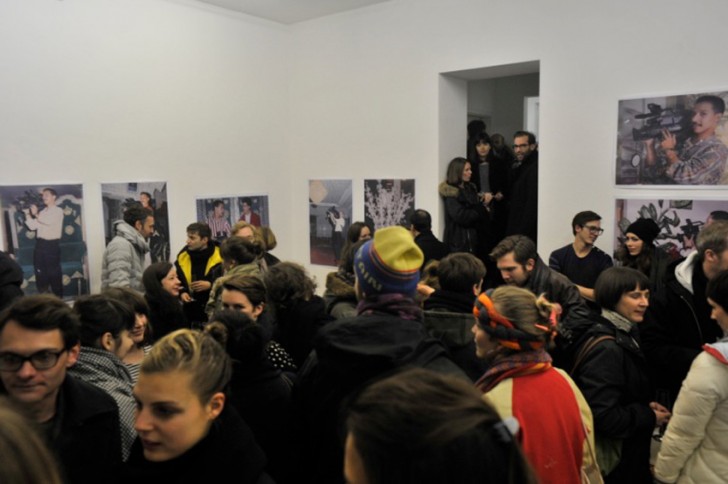 An Erik Kessels encounter on his book launch at Torstrasse
We meet Erik Kessels during last Sunday's opening of his exhibition and launch of his newest photo book of the series IN ALMOST EVERY PICTURE #12 at Berlin Mitte's snow white Torstrasse. The art director, graphic designer and artist is known of being an excessicve collector of every day moments photography. What he captures is always quaint and strange in this hit-me-in-the-face way. His favorite source for photos are either the web or flea markets, but not for book #12. This time Erik Kessels tells the story of Larbi Laaraichi, a wedding movie maker living in Morocco who does great self-portraits each time he films a wedding with his old school Panasonic camera.
A chat with Erik Kessels about making photo books that last and #12
Erik, what was your favorite book when you were growing up?
I always have been more a visual person instead of someone reading a lot.
I grew up with a lot of television and films. The early films of Jim Jarmush and Wim Wenders made a big impression on me in my youth. But  when it comes down to reading books, I started with some book of Charles Bukowski, that I really liked.
You just launched the 12th issue of "in almost every picture". How did you make the decision to publish the book series on your own?
In a way it started with the first book. I found about 400 images of a Spanish woman taking over a period of 12 years by her husband in Barcelona on a flea market. For some time I kept the images close to me and once in a while showed them to some people. Everybody was so enthusiastic about them that it was a logical choice to publish them and in that way share them with others. To dislocate these images and put them out of their original context and into a new one gives them a new perspective.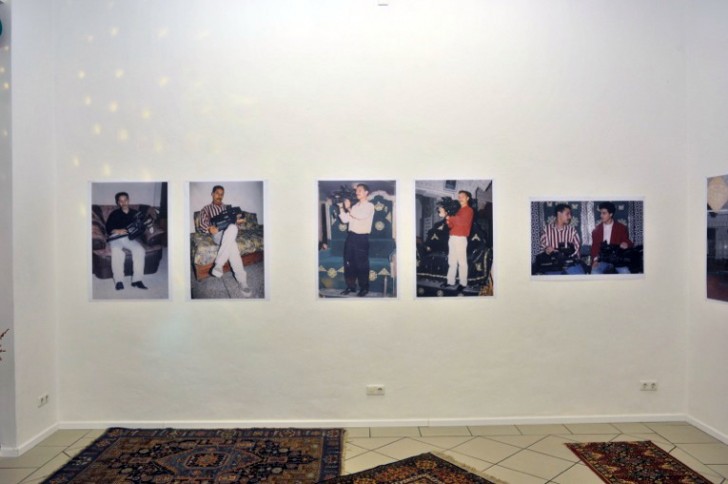 How did you meet Larbi Laraachi – the main character in your book?
In April this year I was in Fez in Morocco. I was walking through the streets of the Medina in the old town.
My eye fell on an image of a smiling guy with a moustache holding a huge videocamera.
The photograph was a blow-up of the original one and posted outside on the door of a shop. When I entered the shop it was clear that this was a showroom of a cameraman making videos on weddings. Families are hiring him to document the nicest day in their lives. In the shop I saw many other pictures of Larbi holding the camera. Always very proud and very aware of himself. I showed him some books I did in the 'in almost every picture' series and asked him if he was up for showing his photographs like this, which he liked.
How did you work with him?
The photographs function as publicity photographs for his activities, so I had to scan them directly in his shop. In the month later I kept contact with him and over Christmas I'm going back to Fez to deliver the printed book to him. I'm excited to see his reaction…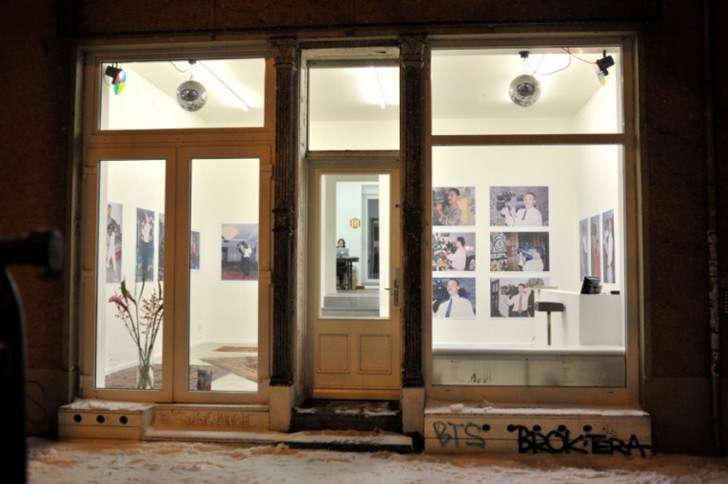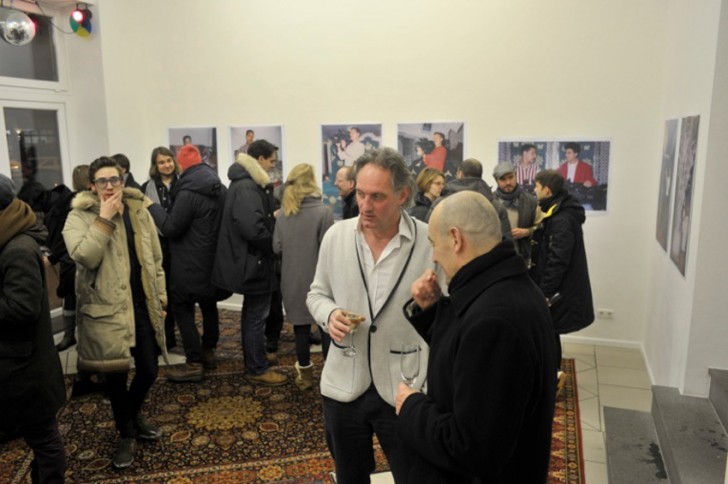 Can you examine diverging reactions on your work in different cities like Berlin and Amsterdam, or is there like a common effect which is created through the photos?
What I often see is that the visual language of the books is universal, it's pretty much received the same whether inBuenos Aires, Berlin or Bangkok. This mainly has to do with the fact that the topics are similar in each country. People make family pictures everywhere and they use – in a positive way- the same clichés and stereotypes.
When I grew up I used to read with flashlights under the sheets, and I had an almost personal relationship to every book I read. Do you think the now generation will be ever able to develop such an attachment to books?
The physical experience with books has already for some years drastically changed.
In that sense there's no point of return anymore. But this doesn't mean that the need for the tactile experience with books doesn't come back anymore.
In the recent years there are more artists and photo books made than ever. On art schools there's a real need to make books of your work to express yourself. In the future I think that the function for the physical books is one that holds content so exceptional, it cannot be shown in another way.
A book has a feeling, a smell and a physical presence. So the books that will last will be the ones that really use these advantages.
Is there a spot in berlin you´d like to see and have never had the time to go to?
I would love to see once the Sammlung Boros in the bunker. I missed out going there and forgot to make an appointment to visit. It's supposed to be amazing.
Interview: Esther Harisson / Photos: Stephan Vens
ERIK KESSELS EXHIBITION
In almost every picture #12, exhibition until December 23rd, 2012
Opening times: Monday – Sunday 1 pm  – 8 pm
Temporary exhibition space: Torstraße 161, 10115 Berlin
by triggerhappyproductions  
Find our more about Erik Kessels