When I met Jen Ray for the very first time, my belly got extremely challenged. We spend a whole night at kingsize full of laughter and mind-blowing self-ironic minutes. In this night I saw a woman who unified two characteristics: a sense of dark humour and a female attitude which was so… New York.
But let's go a little further back in time. Jen Ray grew up in North Carolina where, very early, she would start to draw her own phantasy worlds full of strong women. They just appeared to her and would never leave again. It was this inner voice that brought to life two things: a career as an artist taking her from North Carolina to NYC to Russia and finally Berlin. And a dark spot in the mind of her grandmother. She was carefully watching if Jen Ray would fell for ladies instead of men. This however actually never happened.
The women in my artworks are usually beautiful and people sometimes ask me why? I think of them as an army, young, strong, and beautiful in their costumes/uniforms. Visually I'm not a social realist although within the artworks there are social and political commentaries.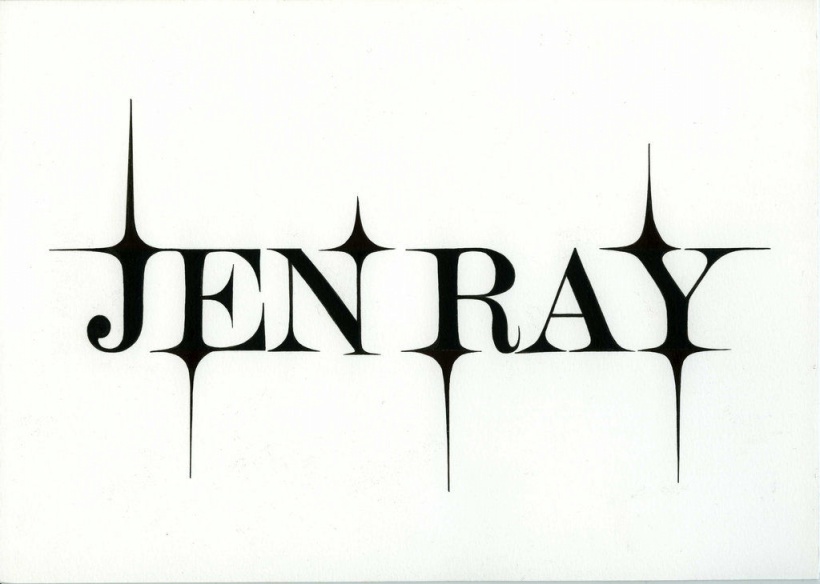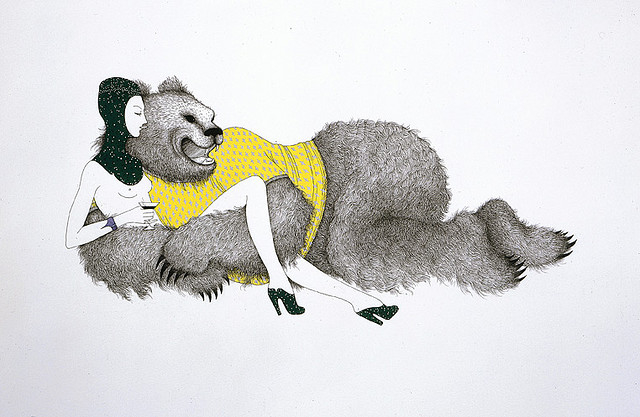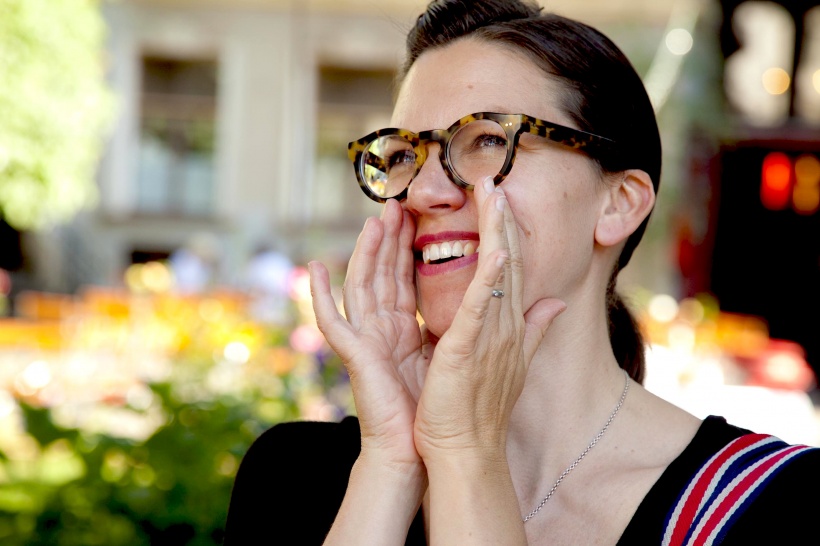 Looking at Jen Ray's art, I felt a sense of fairy tale and sex. Jen Ray's Indian ink pictures are populated by Amazonian women carrying futuristic arms, showing off her naked breasts, looking incredibly elegant and cruel at the same time. Their usual favorite habitué is to fight against eachother, lions and Yeti monsters. Jen Ray is a master of evoking a colourfull but subtle glamour, darkness and aggression at the same time. In some sense, she reminds me of a female ROBIN HOOD.
Women can be very agressive and sexual. I am extremely curious to look behind that. And I want to break down a certain romanticism. The women in this picture will finally feed eachother but before …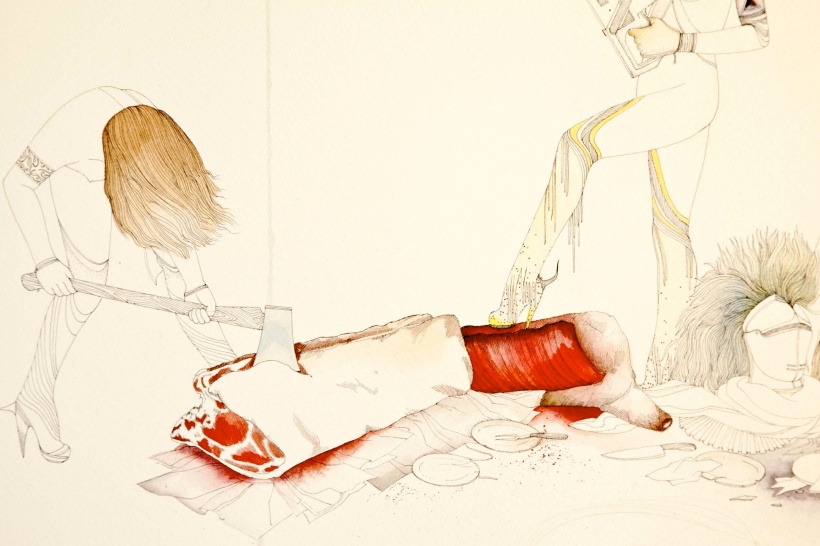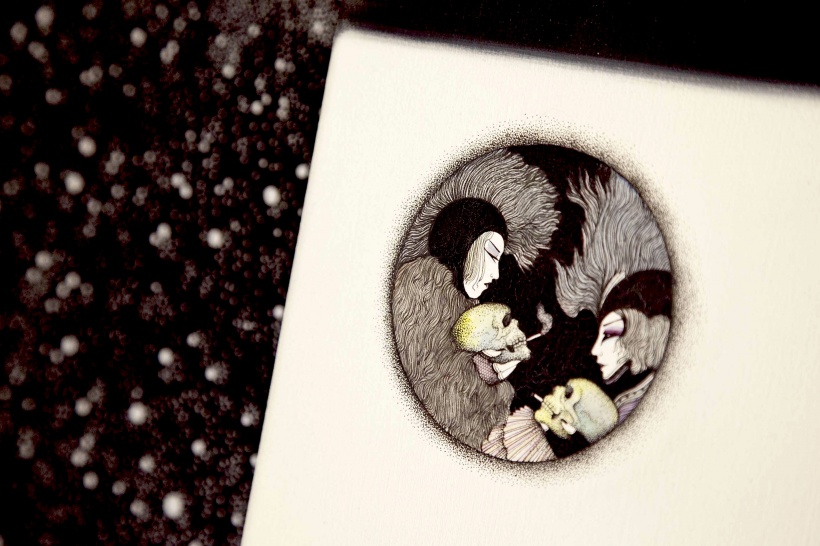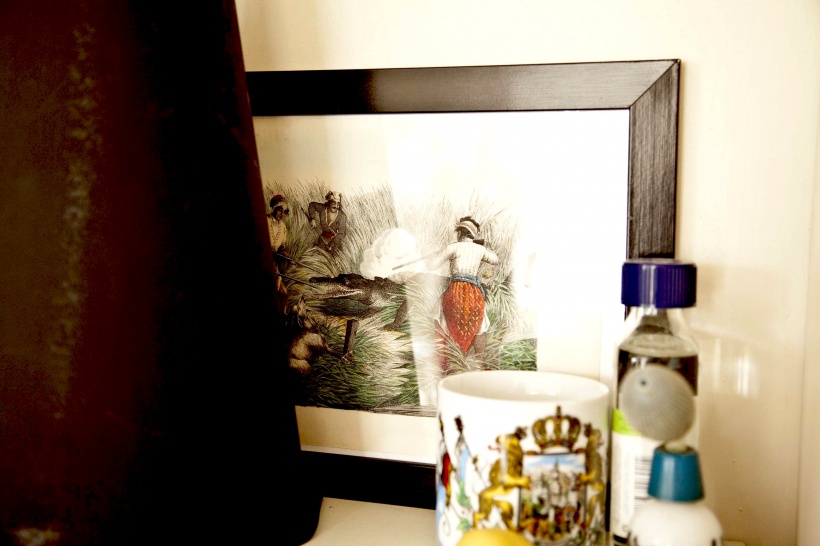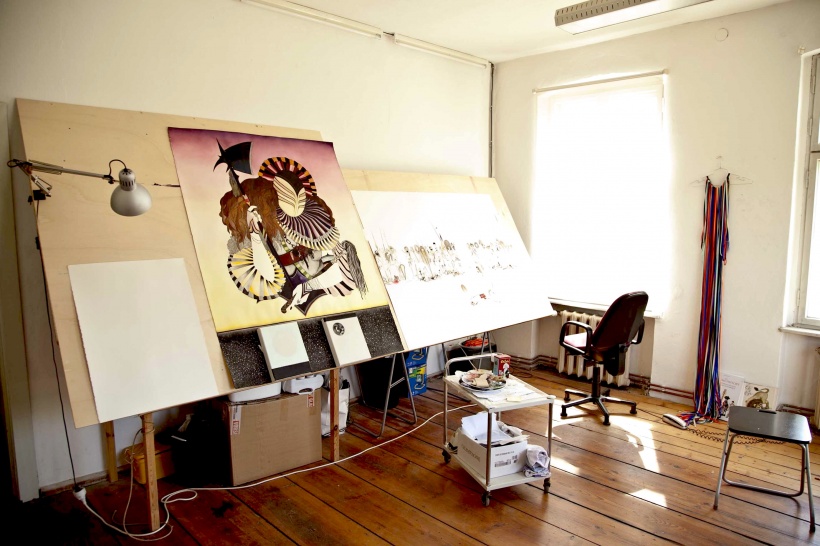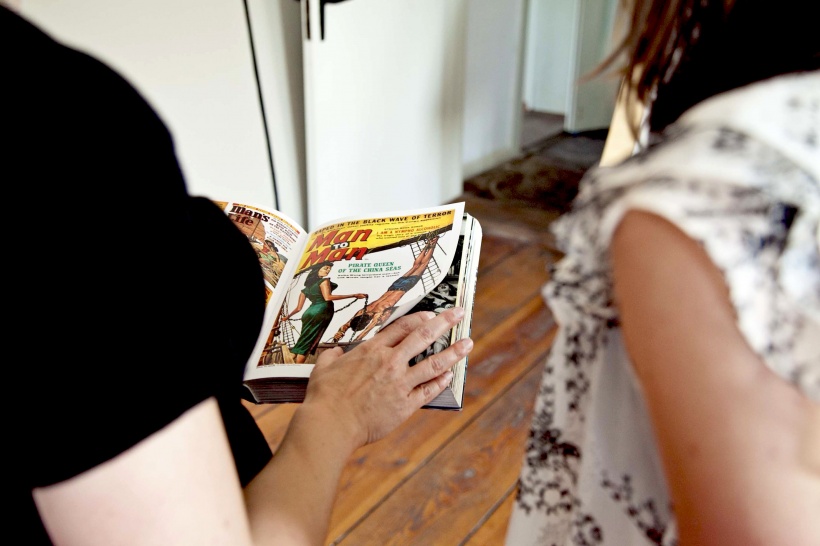 JEN RAY ABOUT AMAZONIAN WOMEN
How Amazonian are women in Berlin?
Ha, the women of Berlin are amazing! They are very capable and commanding. When they say jump, I sometimes jump!
How do they differ from women in NYC?
Women in New York are busy and stressed by a million different things at once (I speak from experience). They tend to cut themselves into smaller pieces. In Berlin, women have a bit more attention to give to other people and to help with projects. They are also more generous with their time.
How did you start creating the world of Amazonian women?
I have always drawn and painted strong women. I'm not sure where it comes from other than creating multiple alter egos for myself. But that doesn't explain it all. I think that creating powerful women is stimulating.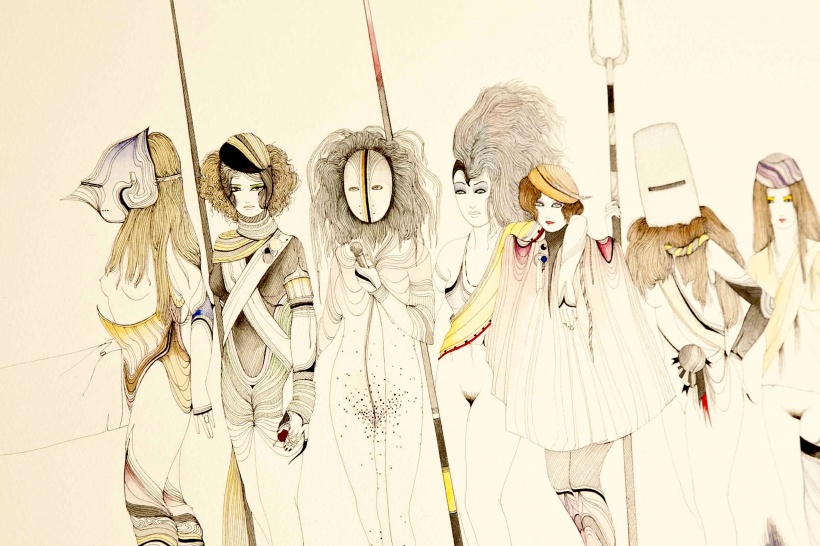 Jen Ray shows us a painting she is working on right now and then reveals her secret of how she usually starts to work on her art. It all starts with a thin line, the ground from which her figures start to grow. The longer she is working on a picture the more details come to her mind an on the paper. Jen Ray is obsessed with details. Little, sometimes strange and unexpected things, that are pictured between the fighting women.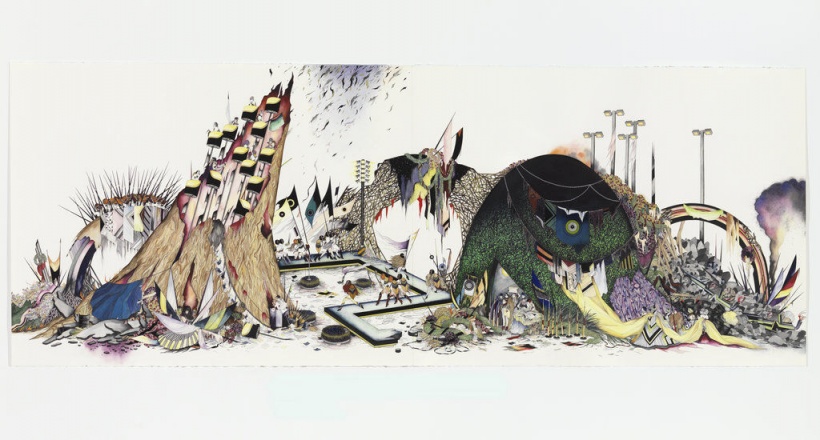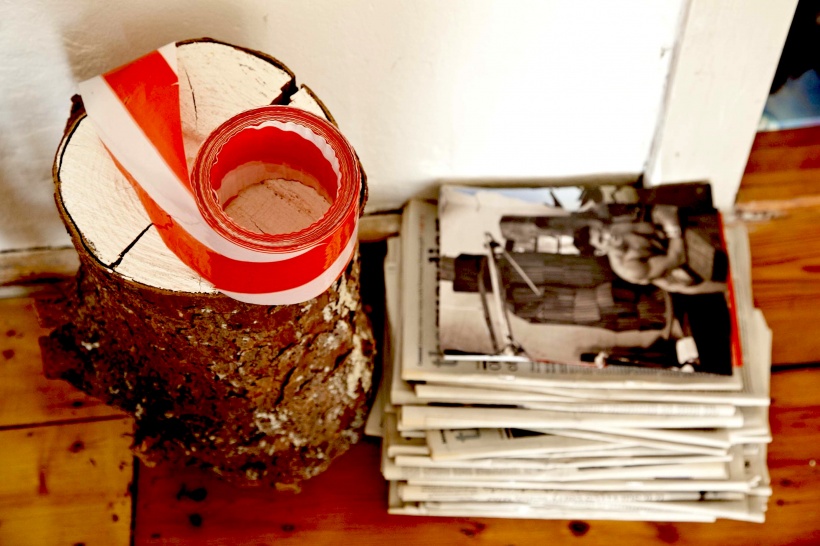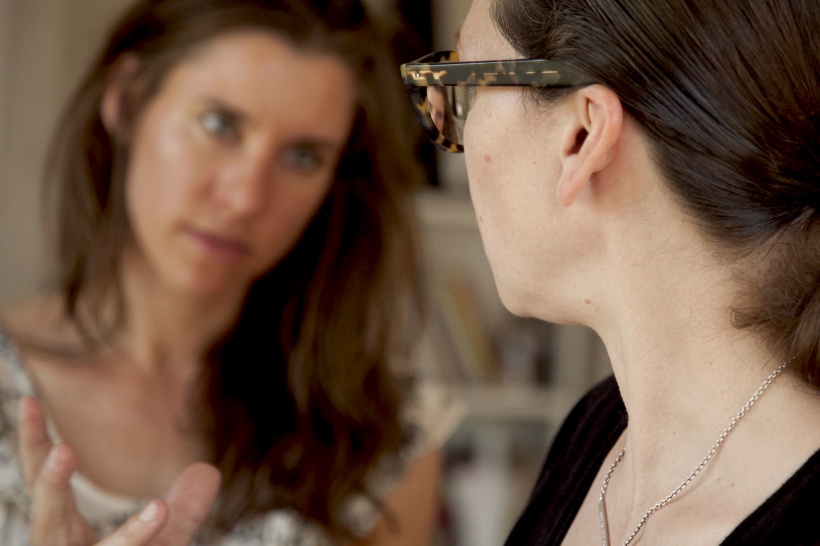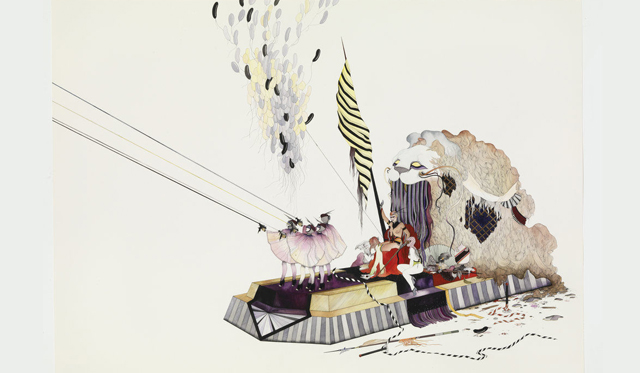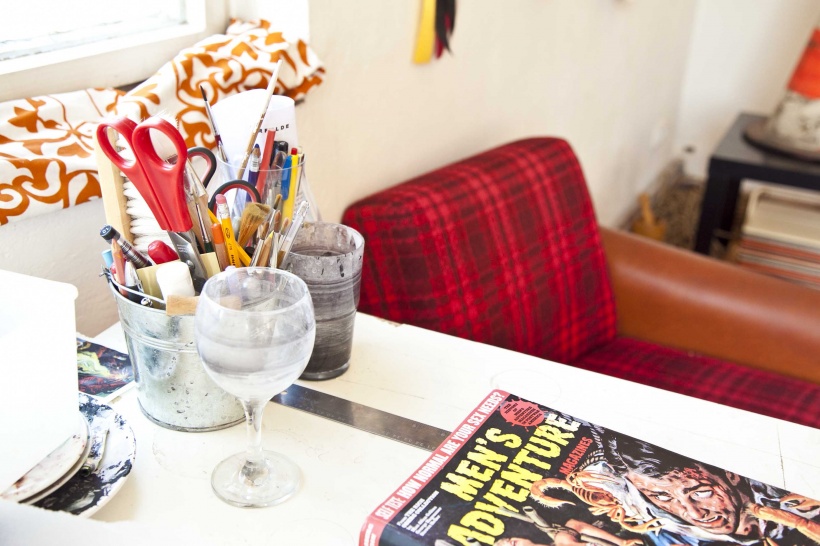 JEN RAY ABOUT BEING AN ARTIST
Do you remember the moment when you realized: I am an artist?
No. I have always been known for my drawing and have always been encouraged by my family and teachers. So I blame those people!
The best thing about being an artist.
It can be a good excuse for unconventional (bad) behavior. And it is a good thing to create things you have thought up.
The worst thing about being an artist
Trying to create all the things you have thought up!
The best advice you ever got for your development as an artist?
Not sure but I will pass along some advice. Whatever you do you must practice it every day. If you don't do that your skills will become dull.
One thing you would never do again?
Eat a crepe filled with liver in Bratislava.
What would you be if you were not an artist?
Plan unusual funerals for people. Own a soup stand outside the L train in Brooklyn.
Why is art so personal but at the same time related to a lot of people?
It may be personal but it can also convey ideas that people want to be a part of. It can be beautiful which certain people covet. And it can also stimulate you and make you see things in a different way. And sometimes it just has something that people like that can't be explained.
Right now, Jen Ray is working at the Meissen art campus turning the fine porcelain of MEISSEN into wild womanhood. You can follow her on her blog.
I'm interested in the artistic detail and history of traditional painted porcelain but I'm adding my own modern and ironic twists. You see a skillfully painted, beautiful amazon on the side of an elegant vase and then say "Is that a cigarette and a beer can?"
Apart from that, she is planning a performance for the autumn and is working on a series of small canvases. Jen Ray is represented by Wentrup, Berlin.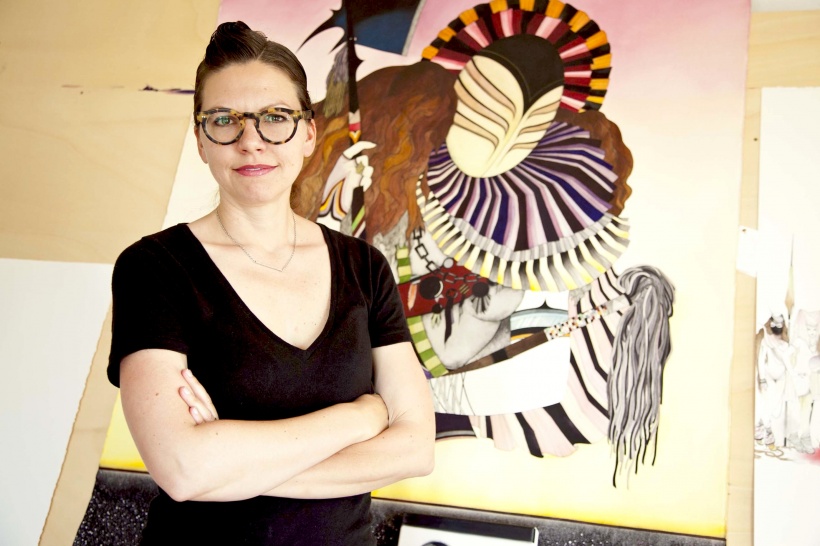 All photos shot by Sel Dizman.
Mehr zu Künstler