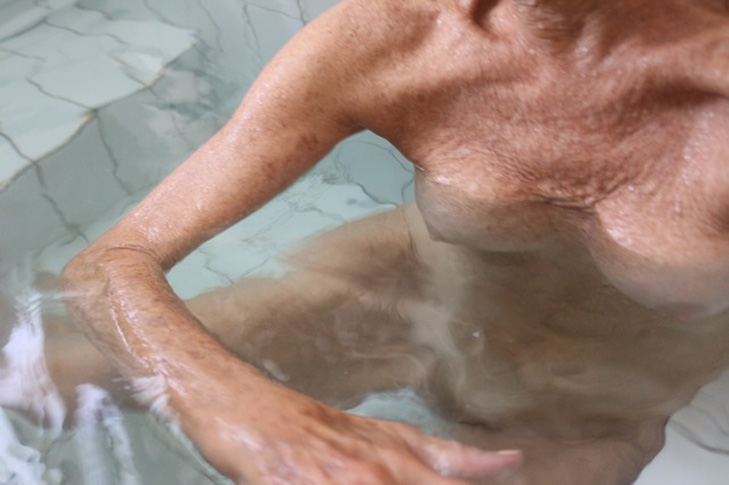 Self-Portrait in Bad Gastein
LINDA TROELLER: FROM NYC TO BAD GASTEIN  
We meet the artist Linda Troeller at the boutique hotel Miramonte in the mystic mountains of Bad Gastein. She is just about to lead some photography workshops at the Sommer.Frische.Kunst Festival and has exchanged her home in NYC's famous Chelsea Hotel for a stay in the Residenzakademie – a new artist in residence programme in Bad Gastein.
Linda Troeller is an extraordinary strong woman and artist. Steady in her vision and work, she speaks with a clear voice for women, without any feminist hysteria, but an amazingly deepness and intensity. Her photography explores topics such as sex, healing and artist life as the artist is herself: open, sensual but never shy, right in the face but never too explicit.
And she is hitting a nerve in the art world: Linda's art photo books are worldwide known and published. Her photographic work is, among others, part of the collection at the University of Texas, Austin, at the Museum of Fine Arts, Houston and at the Smithsonian Museum. Her "Chelsea Hotel: the new Artist's Memoir" recently won the special exhibition award from the Teplice Photo Festival near Prague.  Her book "Healing Waters" led to the Pictures of the Year award, another one called "Erotic Lives of Women" was reviewed in the New York Times Review of Books, "as one of the gutsy books of the decade."
Linda loves to travel and to share her experience and wisdom. She has lectured at Yale and other universities and now at Bad Gastein's art festival.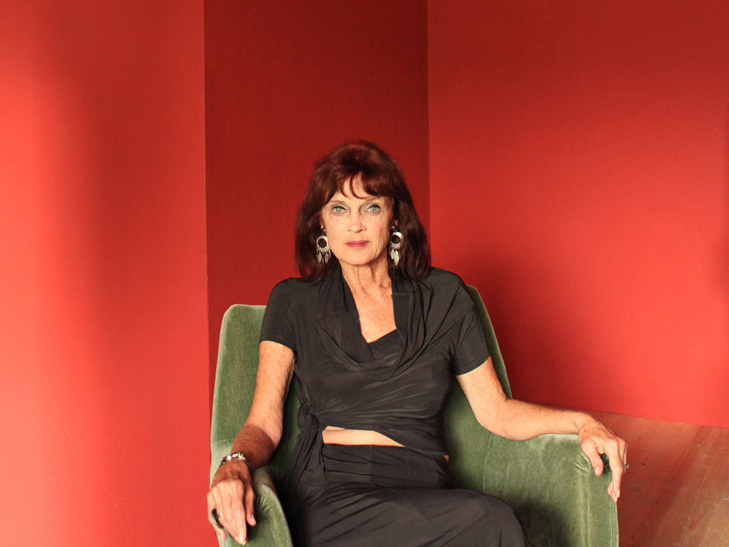 Linda Troeller photographed by the artist Giovanni Castell for ARTberlin 
LINDA TROELLER: HEALING WATERS
Linda, first of all I want to ask you about your connection to Bad Gastein as this place speaks in so many ways to its visitors… How do you feel about it and its art activities?
I got introduced to Bad Gastein through Ike Ikrath, the owner of the hotel Miramonte. I knew it was an old spa town, a water town, holding still parts of an old world. In some places in America spa places are completely destroyed.
When I first saw the waterfall in Bad Gastein- it felt like another dimension to discover the mist. Creating my "Healing Waters Pictures", I had this concept in mind about a steam bath as a place where thoughts and ideas where transmitted through the mist particles. I was immediately connected to the idea that you could let art flying over the mountains. I think it has the perfect chance for various incarnations. So in a way Andrea von Goetz und Schwanenflies, the curator and founder of Sommer.Frische.Kunst Festival and the whole team are living this possibility.
I have a healing reflex that is part of my aesthetics
You are developing the subject of "Healing Waters" since the 90 ies. Water seems to be all around you if we look into your work. In my imagination to work with a tool like water, must be deeply satisfying in an archaic way.
You know, that is really interesting, because by looking over my career, I see a healing reflex, an energy that is part of my aesthetics. I am always intrigued by it. In 1976, I went to Mexico to meet Leonora Carrington who was a surrealistic painter. Well, we all went to Mexico at those times. I had been through a break up and Leonora told me: "If you want to heal, you can either take the mushrooms or take the water here". I took the water. So I did create a couple of self-portraits in the water and in my mind the idea was born to explore this further someday.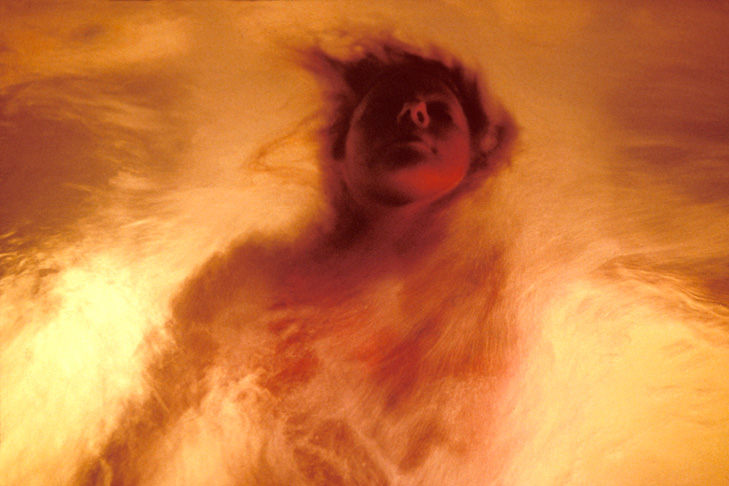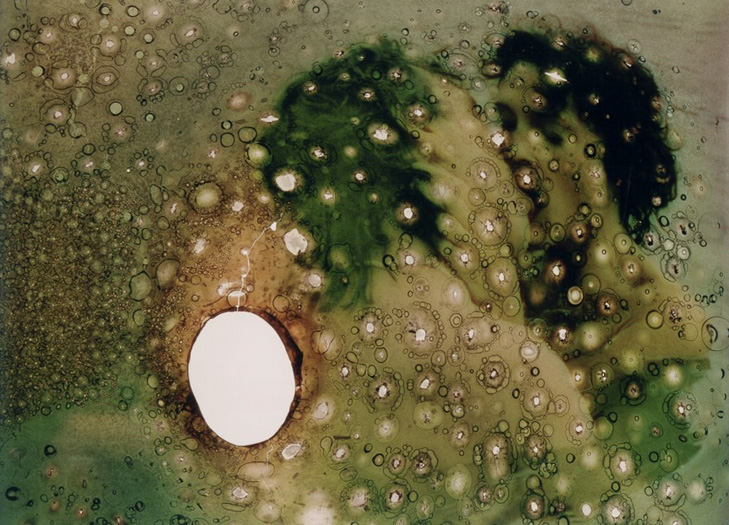 THE EROTIC LIFES OF WOMEN
Your photo book "The Erotic Lifes of Woman" (1998) is undraped in a very intuitive, but not at all in a voyeur kind of way. How did you caption this very timeless, modern impression of these women?
At that time I was planning to publish a book called "Hot, old Women" as I had a younger boyfriend and he told me "I hope you will be hot when you get older". As we split, I felt more conscious about what it means to become older as a woman.
I also was going through a very sexual period of my life. I had been through a marriage and some dysfunctional experiences but I also had relationships that opened me to a lot of new erotic ideas. So there was kind of a sexual energy around me.
And you know what? A lot of women found the books really healing, very freeing.
THE ARTIST'S LIFE IN CHELSEA HOTEL  
Of course I want to know about your life in the Chelsea Hotel as it seems like one of these places everyone is curious to grasp the atmosphere of the wild artist life in it, also knowing it´s gone forever. How did you first get there?
One of my collectors said I should go to the Chelsea, as I always wanted to live in a loft. So I did and met Stanley Bard who, for 50 years, did run the place. He took me upstairs to a writer's room and opened a door to the closet with gothic dresses and a giant box with a huge snake in it that jumped up. He freaked out and threw out the people living in the room. So I moved in the next day.
Which artists did you get to know at the Chelsea?
I met Alexander McQueen who invited me to his fashion show and the next day I ran into Isabella Blow who was also staying there. All these encounters didn't necessarily lead to jobs but they lead to this wondrous situation, that I wouldn't go anymore to openings, because I couldn't even get out of the hotel.

WHAT IS NEXT? 
Tell us about your upcoming projects and ideas.
Right now, I am working on a project that has been especially difficult. After finding out about women's sexuality and eroticism there was still a kind of unfinished business. I wanted to explore orgasm as a next level of women's liberty. What is he future of orgasm? It is a tough and very interesting subject as the work is very difficult to show as it is moving between the "slut/porn/ and the art/conceptual world. I think I found something here and I am determined to package this up. So I will spend the next six months with it –  and then it´s probably back to water.
Please find Linda Troeller and her work on her webpage: Linda Troeller
Interview: Esther Harrison // Photo Credit: Giovanni Castell (Portraits) – Self-Portraits by Linda Troeller