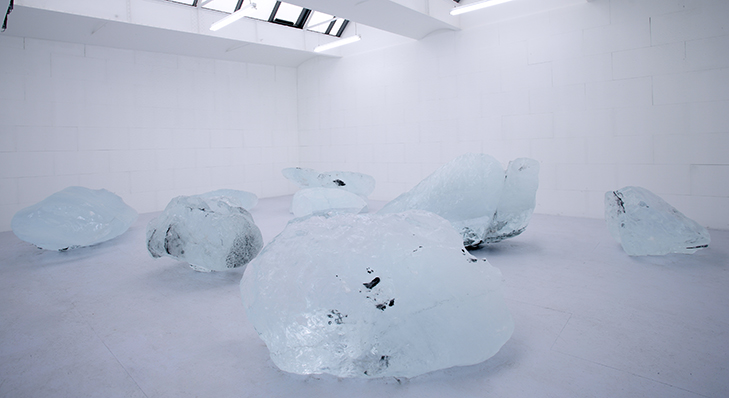 Olafur Eliasson: Your waste of time, 2006. Photo: Jens Ziehe. Courtesy the artist; neugerriemschneider, Berlin; Tanya Bonakdar Gallery, NY
Medien
Installation
Intervention
Skulptur
Architektur
Galerien
neugerriemschneider Berlin
Tanya Bonakdar Gallery NY
Webpage
Lebt & arbeitet in
Berlin
WERK & THEMEN
Ólafur Eliasson untersucht elementare Grundstoffe wie Wasser oder Licht als künstlich erzeugte Naturphänomene, Lichtreflexe oder Spiegelungen. In facettenreichen, teils sehr aufwändigen Experimenten spielt er mit der Rezeption und Erwartung des Betrachters an die Abläufe und Zustände physikalischer Phänomenen.Das Thema Wissenschaft in der Kunst ist natürlich nicht neu. Eliasson aber inszeniert seine Werke in großem Stil – Kunst im öffentlichen Raum und als Unterhaltungsmoment.
Für Green River (1998 bis 2001) färbte der Künstler das Wasser von Flüssen an verschiedenen Orten der Welt mit einem ungiftigen Farbstoff ein. Die Reaktionen der vorher nicht informierten Öffentlichkeit wurden dabei Teil des Kunstwerks.
Im Juni 2008 installierte Ólafur Elíasson vier große künstliche Wasserfälle rund um die Südwestspitze Manhattans, u.a. unter der Brooklyn Bridge. Geschätzte 13.100.000.000 Liter stürzten 110 Tage lang von 7 Uhr morgens bis 22 Uhr abends von Gerüsten in den East River. Der Energieverbrauch für den Wasserkreislauf soll durch Kredithandel mit Windenergie kompensiert worden sein. Das Projekt entstand in einer Kollaboration zwischen der Stadtverwaltung, dem Künstler und dem "Public Art Fund".[5]
Mit Yellow fog tauchte Ólafur Elíasson im Oktober 2008 die Fassade des Österreichischen Elektrizitätswirtschafts-AG in Wien täglich zur Abenddämmerung für eine Stunde in gelben Nebel, ließ Licht, Nebel und Wind miteinander spielen mit dem Ziel die Wahrnehmung des urbanen Raums zu verändern und auf die Veränderung des Tagesrhythmus aufmerksam zu machen.
Das Konzerthaus Harpa in Reykjavík hat seit 2011 eine Elíasson Fassade, inspiriert von den unterschiedlichen Lichtstimmungen seiner Heimatinsel, aus einer wabenartigen Struktur aus dichroitischem Glas, das je nach Wetter auf die wechselnden Tageslichtfarben reagiert.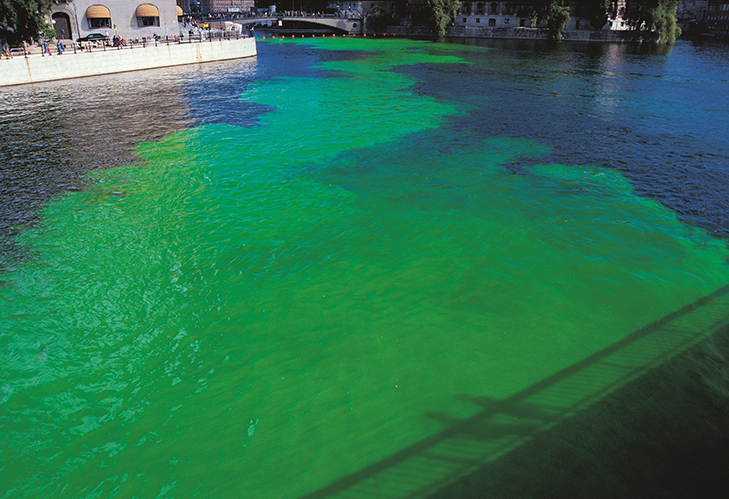 Olafur Eliasson: Green river, Stockholm, Sweden, 2000. Courtesy the artist; neugerriemschneider, Berlin; Tanya Bonakdar Gallery, NY. 
STUDIO OLAFUR ELIASSON
Eliasson ist nicht der klassische Eigenbrödlerkünster sondern arbeitet eng mit seinem gut organisierten Team in seinem STUDIO OLAFUR ELIASSON in Berlin zusammen. In einem ehemaligen Berliner Fabrikgebäude setzen etwa 40 bis 50 Mitarbeiter seine Entwürfe um. Seine  Lehrveranstaltungen für die Universität der Künste führt er in seinen eigenen Räumen durch. Nebenbei verkauft er Produkte an die Warenwelt. Dieser Künstler ist seine eigene Marke – und unangefochtener Publikumsmagnet. 
ZENTRALE MOTIVE BEI OLAFUR ELIASSON
Ein wasserspritzender Schlauch, der im blitzenden Stroboskoplicht umherzuckt wie eine gefährliche Schlange. In dichten, farbigen Nebel gehüllte Räume, die ab einer Sichtweite von 20 Zentimetern nichts mehr erkennen lassen. Olafur Eliasson schafft paranormale Objekte oder Wahrnehmungs-Räume und konfrontiert den Betrachter mit ganz konkreten Fragen: Wie kann es sein, dass ein lebloser Wasserschlauch tanzt wie eine wildgewordene Furie? Warum schrecken wir instinktiv zurück, wenn der Schlauch Wasser spritzt und das lebendig geglaubte Wesen dem Besucher gefährlich nahekommt? Was tun wir, wenn wir in einem Raum den Ausgang finden müssen aber nichts sehen? Wie reagieren wir auf plötzlich aus dem Nebel auftauchende Fremde? Und wie ändert sich das persönliche Wohlbefinden, sobald aus rotem Nebel gelber oder blauer wird?
Eliassons Arbeiten wirken sanft und radikal zugleich. Mit einfachen Mitteln wie Spiegel, Licht oder Wasser erbaut er künstliche Landschaften und sinnliche Wahrnehmungsmomente. Dabei interessieren ihn vor allem Intuition und Reflex. Wie reagieren wir auf Wahrnehmungsstörungen, optische Täuschungen? 
BIOGRAPHIE
Geboren in Kopenhagen (*5.2.1967) beginnt Ólafur  Eliasson 1989 an der Royal Danish Academy of Fine Arts zu studieren. Während eines Besuchs in Köln lernt er die Galeristen Tim Neuger und Burkhard Riemschneider kennen. Kurz darauf stellt er seine ersten Werke bei neugerriemschneider in Berlin aus. Dem folgt der Umzug 1994 nach Berlin sowie ein Jahr später der Studienabschluss. 2009 nimmt er eine Professur an der UdK Berlin auf und lehrt dort noch bis 2014 am Institut für Raumexperimente. Er gewann bereits viele Preise, darunter den Kulturpreis des dänischen Kronprinzenpaares (2006) und den Joan-Miró-Preis (2007). Seit 2012 ist Eliasson Mitglied der Akademie der Künste in Berlin.
AUSSTELLUNGEN (Auswahl)
Volcanoes and shelter (2012), neugerriemschneider, Berlin and Tanya Bonakdar Gallery, New York
Ólafur Eliasson: Little Sun at Tate Modern (2012), Tate Modern, London
Innen Stadt Außen (2010), Martin-Gropius-Bau, Berlin
Take your time: Olafur Eliasson (2008), The Museum of Modern Art and P.S.1 Contemporary Art Center, New York
Your engagement sequence (2006), Tanya Bonakdar Gallery, New York
Your waste of time (2006), neugerriemschneider, Berlin
The blind pavilion (2003), The Danish Pavilion, 50th Venice Biennale
Der ARTBERLIN KÜNSTLERFÜHRER stellt die wichtigsten zeitgenössischen Künstler vor