WHY RIO's ARTISTS ARE BEWITCHING
When it comes to Rio´s artist scene the whole beautiful story about this city becomes even more bewitching. It is as good as you imagine. 
Maybe it has to do with the beauty of its surroundings. If we look to Sao Paulo, let´s face it, as interesting and great this city is with its outstanding urbanity and art scene, it is not a pretty city. It´s serious. Rio de Janeiro is not pretty – it is breathtaking. Yes, take this literally. You have to do a damn good job as an artist if you want to compete with this city, or even better, you don't compete, you just ride the wave and see where it takes you.
Let us introduce you to four very different artists. Each and one of them extraordinary and inspiring artists, we have met during our visit in Rio de Janeiro.
JOANA CESAR – SECRETS, COLLAGES & STREET ART
Ladies first. Joana Cesar is a beautiful, very calm, clear and focused woman. She started to paint on the streets in the early 90ies, using everything she found, like old layers of posters, moss and other plants. One of her signature pieces is a female figure called "Raguezo".
Joana owns a pretty wild past, hanging with the bad boys in Rocinha. But she also lived for a while in a center for Zen Buddhism in a favela, when times were still really rough. It could happen that a fight brought loose between the drug-gangs, making bullets fly through the Zen meditation room. I guess, if you can keep up a mediation in such an environment you are definitely bullet-proof with your practice.
Joana Cesar likes secrets. It is like a sparkle on her skin. She likes to hide things, but she hides them in a good way. That's maybe why she is doing these huge collages. They always contain more as you can see in the first place. Layer on layer, each conceal a different feel, view or story.
But she is best known for her incredible catchy and coded Street Art which consists mainly of an Alphabet she invented. It is still Portuguese, but written in a code. You will find the huge letters and secret messages all around town. It feels like an ancient language everyone can relate to, but no one is left who can read it. Only Joana knows what they mean. When I met her, she told me, only one person actually managed to crack the code, some mathematic geeky guy. They became best friends.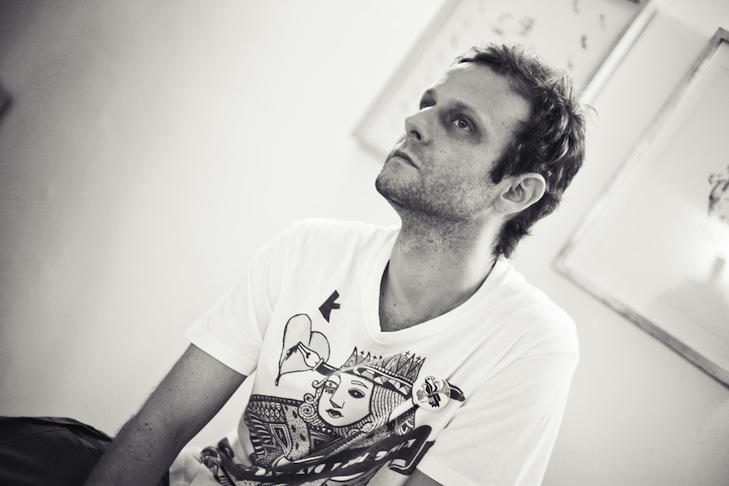 FERNANDO DE LA ROCQUE – L'ENFANT TERRIBLE
Fernando de la Rocque is probably best known for his smoke art in which he uses inhaled marijuana smoke, that he blows on paper to create portraits. But also for his genius "golden cockroach project". 
When I visit his flat in Rio and try to find my way through the building, I feel like I am in "Beeing John Malkovich", making all these turns to get inside of his brain.
The German, ice cold schnaps he offers me, makes me feel at home in his space immediately. He shows me pictures he made when he was little, and it becomes very clear that he always had an exceptional strong cognition of himself as a person and of his surroundings. His very religious mother as well as sexuality are playing a big role in his point of view. He spreads different tiles in front of us on his bed, and as confusing as their patterns seem to be at the first moment, the longer and closer I examine them, the more weirdly pleasant they get. All of a sudden the chaos makes sense. I start to realize that the shapes and curves are actually couples who are making love to each other.
Maybe that's how I would explain Fernando de la Rocque as an artist. From the distance he can be a bit overwhelming, but if you jump deep down into his universe, it all becomes logic and emerges into something deathless, eternal and warm. Like copulating couples, which are banned forever on an endless series of tiles to cover anything you can think of. This feeling of eternity catches on if you contemplate about the usages of tiles and the model forms he is using to put the patterns on them. On top he is experimenting with different fabrics, which variegates the effect often very surprisingly. You can apply it to anything you want. A very anarchistic but also soothing thought.
I could go on about his successful exhibitions in Brazil or other countries such as the Contemporary Art Fair in Chile, but in the end it is his tiles that can translate best in my view his way of transforming emotions, religion, society itself, everything around him in art. 
DANIEL LANNES – OIL PAINTINGS AND CARIOCA IDENTITY?
When a friend from Niterói first pointed out Daniel Lannes, I googled his work. I had one of these wonderful sensations only art can trigger. It makes your heart and your belly jump in the same time. The work that struck me in a really weird but good way was a piece without a title. I was literally puzzled.
Daniels's works set a riot free inside of me. When talking to him in his studio surrounded by huge oil paintings he was creating for an upcoming big solo show in October in Rio de Janeiro, I slowly approached the reason for the riot feeling. We talked about his time in New York, where he studied fine arts and the extreme and absolute feeling to really be a Brazilian, or better explained, to be both: a foreigner and a Brazilian in the US.
Don't get this wrong. Daniel is the complete opposite of the Carioca cliché. He hates the beach to start with. And he doesn't like the sun. Actually, all the "normal" stuff which is really important for a "normal" Carioca, working out all the time, socializing, yeah, actually living at the beach, all this is stuff he doesn't care about. And yet you can find all Carioca clichés in his works. That was the matching point between me the hopeless gringa been totally smitten with this city, its people, its beautiful nature and the contemporary artist who lives in the middle of it without being part of it – painting his idea of this idealized world in heavy oil on canvas.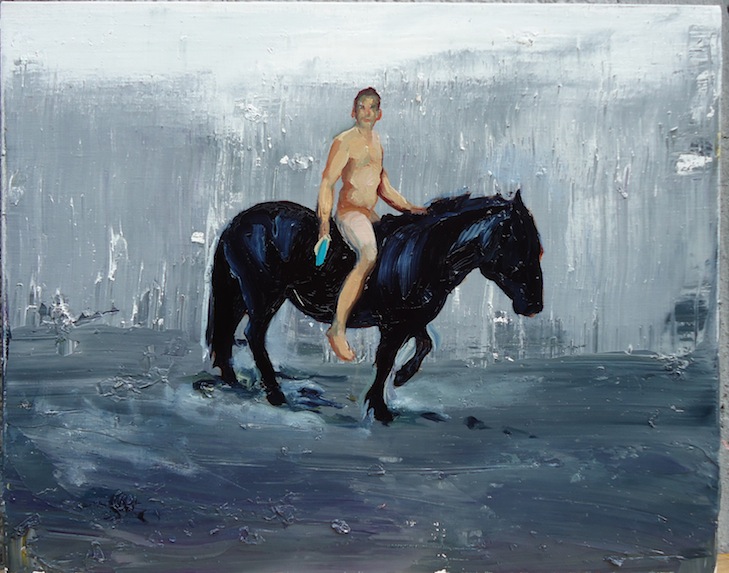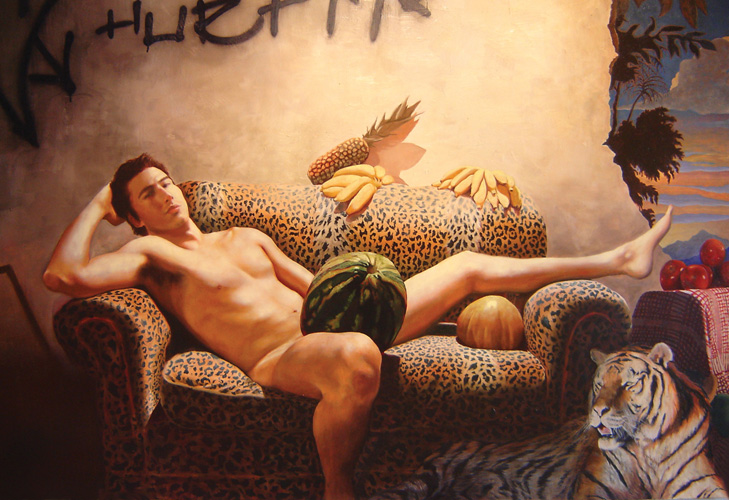 Some people say Daniel Lannes brought back the figurative painting into Rio´s art scene. He doesn't know about that, he says modestly, but he freely admits that he made quite an entrance no one could ignore with his first solo show. Selling not a single piece!
In this series, he portrayed himself and his private parts sunken into various kind of fruits. Like the ultimate offer:
Here is what I got. Take it. Enjoy.
What a very cariocan thing to do, I can´t help thinking. The very free and absolutely refreshing way of working with sexuality and your own body. But besides all this, Daniel Lannes is an especially outstanding painter who makes you understand about the importance and depths of art history and its tools. The oil. The canvas. The thickness, which was transported through all the years of history of painting and art. 
He once said in an interview being asked about painting:
I really enjoy the idea of painting being dead. It reminds me of a remark by Brazilian artist Zerbini who said it excites him to know painting is dead, because it gives him the same hair-raising feeling as being in a room full of spirits. Painting is dead, awesome. Occasionally it comes and haunts us and when it does, someone has produced a really fine painting.
And this is exactly what Daniel Lannes works do. Carioca or not.
ALANDER ESPECIE – KNOTTED MACRAMÉ ART  
Macramé is an original oriental knot-technique which is usually used for textiles or making ornaments and it is also Alander Especie's technique of choice. His approach is always a direct one to what he sees or feels around him and as he is a family man, he likes to plant hammocks and swings around him, but these are only the most obvious ones.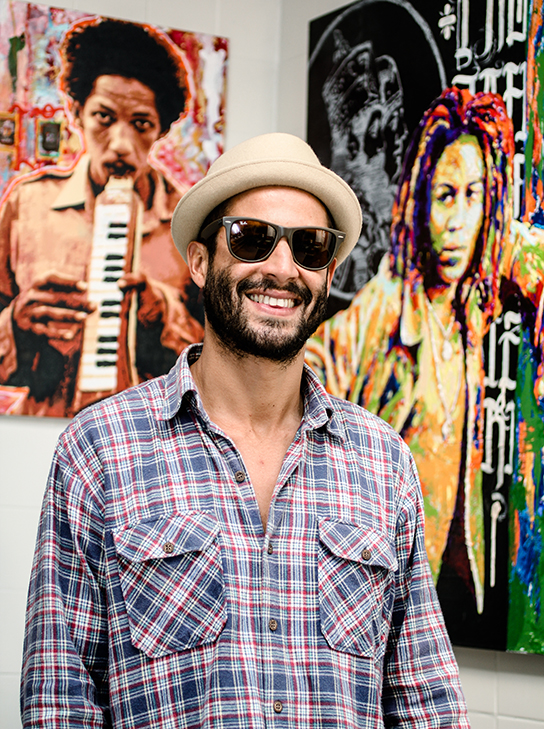 He believes that the future will be handmade. Sounds all very crafty?
When we first meet him, he is about to open a group show about 70 years of Brazilian interior design at the Historical Museum of Rio de Janeiro. A museum which has a somehow abandoned feeling to it, filled with old coaches, thick iron canons and colonial art.
In an corner of its atrium we find Alander's award winning pieces of chairs originally drafted by Brazilian design legends such as Oscar Niemeyer. Each chair with its already unique beauty, boosted and extended through his macramé. One piece gives me a slightly even mystical feeling. Like a colorful, entangled fountain, which comes bursting out of the chair, ageless and strikingly simple in its form, yet muscled up with all its stained links and knots.
All macramé "extensions" are strong and gentle but never too heavy in their form. Surrounded by this old, solid and dark building with all its history in it, his chair sculptures seem like UFOs which came right down out of design space. It is like Alanders macramé added those, back then carefully designed chairs with their timeless elegance an extraterrestrial intelligence. 
They still look familiar but they will never go back to just great designed chairs. They have a soul now.
It is this soul you can see in all pieces Alander creates. Big (real) plants with heavy green leaves, when you look twice you see an gigantic macramé blossom on top of it. Alander has a way of thickening and compacting the urban environment around him with his mind and hands. Colors and variations seem to be endless.
It makes it really easy for us to believe in a handmade future. A future that you can feel and touch, a future with macramé blossoms and petals in our perception, softly impressed in our hearts.
And by the way who wants to picture a world without swings and hammocks? 
Right, no one.