A VIST AT SASCHA WEIDNER'S HOME IN BERLIN 
Sascha Weidner has gained media attention through his photography work by  awards like the Otto-Steinert-Preis (2013) or very recently when you did win the Entrepreneur 4.0 (2014). His photography is deeply attached to a tension of action. And his exhibitions have the particularity to involve the audience on a global and personal level, as an installation. He is for sure a young European photographer who can already be seen as very a promising artist. 
It's a sunny and dry April afternoon. Sascha Weidner welcomes us into his Mitte flat. Tea, picture frames, sofa, plastic, books, scale … Up! 
> Sascha, what did you want to be as a kid? 
A painter. In kinder garden, I really enjoyed the attention I got from my first drawings. I think it was some kind of prediction …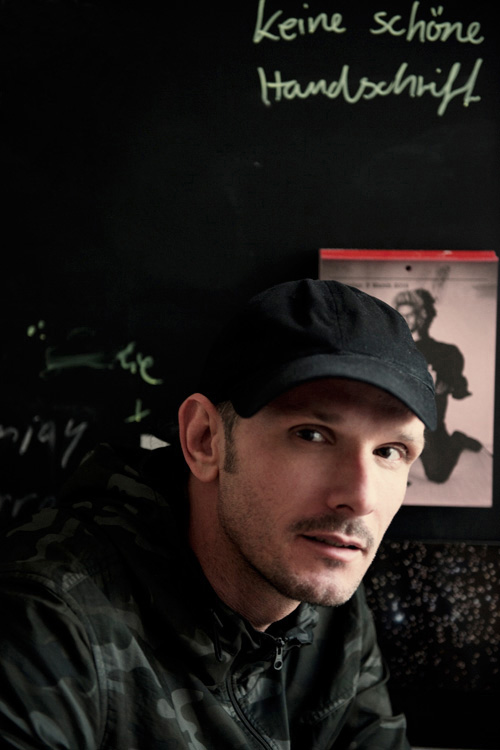 > Why and how did you become a photographer?
Well when I was 13, I really got into painting. And I was already sure I wanted to go to an Art school. Came a time when I felt like I was hitting a dead end in painting. That's when I turned to photography. Somehow they're not that different: the colors, the Romanism, the melancholy… In both painting and photography, I try to grab this special moment, capturing tension. 
> What is your trick not to be just another young/ hype photographer?
Well my work goes beyond fads. My photos are really personal. They for sure tell an autobiographic story. Plus, I am never looking for what will be popular or copying over and over again pictures of mine which were quickly sold out. You should never go this easy way if you care and dare to be truthful to yourself. And my pictures are actually very linked to solitude. 
I never stand still! My pictures also deal with this: they all capture a tension of action. In each cliché, something happened before or will happen right after. In order to get to that very bright floating instant, you sometimes have to manipulate chance. 
I NEED TO GET LOST WHEN I SHOOT 
> What is your best shooting memory? 
Tough question! All my photos actually have a roman 2 (II) behind each name of pic because the very first picture which happens is in my head, through my eyes when I see what I will later photograph. I actually think I need to get lost when I shoot and therefore get closer to myself, to have my eyes much more stimulated than when sitting in berlin on my couch.
> Your photography exhibitions seem to be art installations. Why do you resort to such set-ups?
Well first of all, I prefer to consider myself as an artist not a photographer. I get very easily bored in exhibitions. So it is crucial for me to work with the space where my pictures will be presented. My exhibitions are story-tellings, giving hints and clicks. It is like a puzzle to figure out the visitor's story or my story. It is a physic approach of photography which creates a true interaction & inter-creation with the public: if they look at it seated or up, from inside or outside, etc.
I don't like clean exhibitions. Each picture is a code and the space I use is part of a creative strategy. For example, in one of my Berlin exhibitions, I put my car in front of the main door, it was sort of flying on the stairs. This odd situation indirectly made people take pictures -instead of me- because of what I had set up. 
Or for example my exhibition in Prague at the German Institute (until 2015). It took me 3 days to write Goethe words on the walls and install a thousand photographs (mostly dead family members) on different layers, as well as different material giving another perspective to the photos From there, it all depends on the participation of the viewers.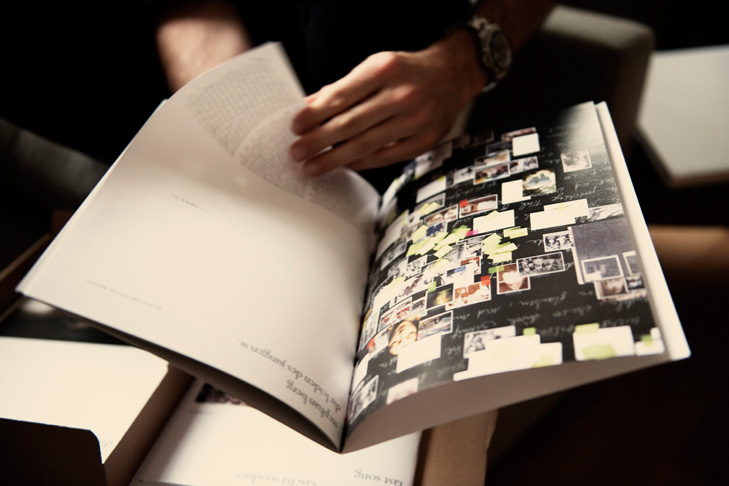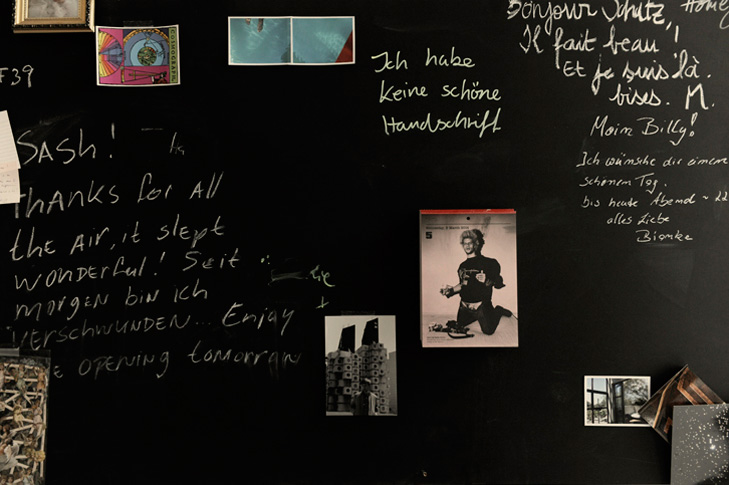 Or also "What remains": 1001 photographs arranged by color. Each visitor is free to take one of them. The circulation empties the space. Within this creation flow, people are only asked a simple question: "Why did you take this one?". The answers of people from all ages are very surprising and moving … 
> Are there any other art forms which inspire you, that you would like to get closer to in the future? 
I've already had my hands on videos, photos, sculptural aspects. I feel like I need different forms for different contents. The 3D of the sculpture for example is unique! It's something a photography will never have. I actually think a film would be much better than having a photography most of the times.
> You've received quite a few awards for your work. Which one meant the most to you? 
Every award was special for going on and helped me to make my next project. It was never really about pride though. I don't really care about himself. I learned to be happy in the past years. But today I stay very critical and don't really say it out loud because of all those jealous Germans (laugh).  Awards open doors! For example, my experience at the Vila Kamogawa in Kyoto thanks to the Otto-Steinert-Preis in 2013 was incredible! My series of April cherry blossom (peak of life and death) made me dive into the whole japonese symbols. It captures these cherry trees in a natural and artificial way, within this abstract and short moment of colorful and flying beauty before it turns down in the dirt.
Recreating and renewing yourself as an artist enables you to be healthy and at  peace. It is crucial, even when you get out of your comfort zone. The Hanami / 4.0 prize also enabled me to publish this booklet gathering all my different projects.

BEING AN ARTIST CAN ALSO BE A DANGER FOR MYSELF
> How do you twist life to make it art? 
I don't really distinguish anymore art and life actually … I can't stop working. And some phases of my personal life also have an impact on my job. It is so linked on my life, my being and my story. I guess the strength of my pictures is that they are so intense, authentic and real. It is not a lie! But being an artist can also be a danger for myself. It is for sure to easy to take a break from it!
> You've traveled a lot. What was the destination which inspired you the most? 
Well for me, the most boring thing is going on holiday: lying down on the beach "relaxing", doing nothing … Most of my inspiring destinations were probably L.A. for the light, Japan which was deeply different, Australia – very comfortable… But the truth is that it is not important where I go because you can't really tell when looking at my pictures. They are somehow universal. It is never just a city cliché as itself. It flashes a detail out of the big picture. The journey matters a lot more than the destination. I am making a non-stop journey!
> What is your dream?
To never get bored. To find my inner peace one day and whatever happens, just be able to say "I tried it". There are so many things you can't change but the key is to never stand still! Be curious even of what you have a fear of. That is something I have learned thanks to my parents. I wish to always stay fresh and never be tired or sick. Never stop my art whatever form it has in the end … 
CURRENT EXHIBITION: SASCHA WEIDNER AT PAVLOV`S DOG 
Exhibition: till June 7th, 2014
pavlov's dog / Raum für Fotografie
Bergstrasse 19 / 10115 Berlin
Please find the beautiful work of Sascha on his homepage: Sascha Weidner
Interview: Marie Polo // Photos: Shirin Ourmutchi