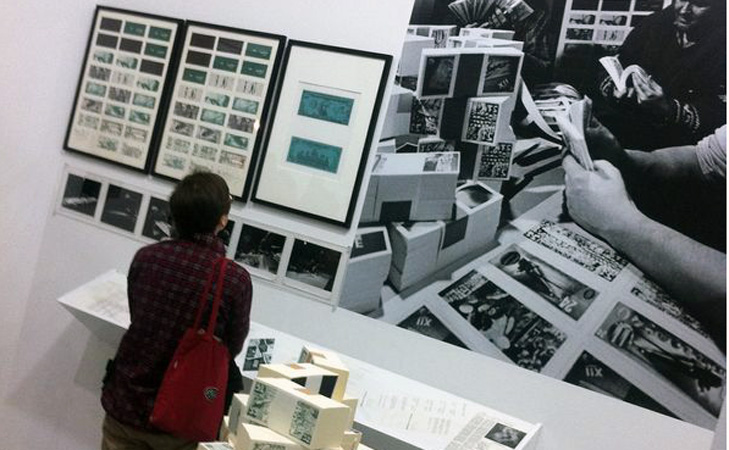 At INDEPENDENT: Artcash by EAT at Broadway
THE ARMORY IS 100 YEARS OLD AND IT LOOKS LIKE DYING
When one gets old, it is time to make way for the young, the new. Enter the satellite fairs and other events and shows that looked promising, young, exciting and full of life. Except for the one that looks like it is aging fast at the ripe old age of three.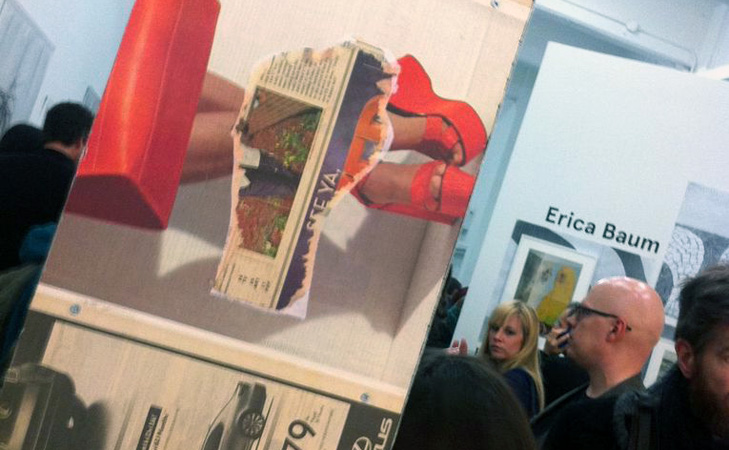 At Independent: Gambaroff at Vavassori and Balice Hertling
INDEPENDENT: DOWNERS AND HIGHLIGHTS
Three years ago Independent looked different, with open spaces, lots of light and air to breathe. Transparency was a key word and it had a laid- back atmosphere. It was a welcome change from the car booth sale for the wealthy that we all seemed to realize Armory had become. However this year it looked like it was headed the exact same direction.
I started at the top floor and just like at Armory a similar sense of visual overkill came over me. I was exhausted by the time I went down one floor. I guess a good few galleries don't have the luxury of taking a risk anymore, they have to sell.
So that is what you end up seeing, stuff, a lot of stuff. Sellable stuff (Paley). Loud stuff (Gavin Brown). Pretty stuff, and silly stuff (Bureau). And gimmicks, a lot of gimmicks.
But just like Armory, not all was bad. At Armory Kerlin had a well curated booth, with works by Innes, Francis and Aleana Egan, as far as that is possible at a fair. And some smaller booths looked amazingly good, like espalvisor – Galería Visor with work from 1979 (funnily enough, or maybe not) by Nil Yalter.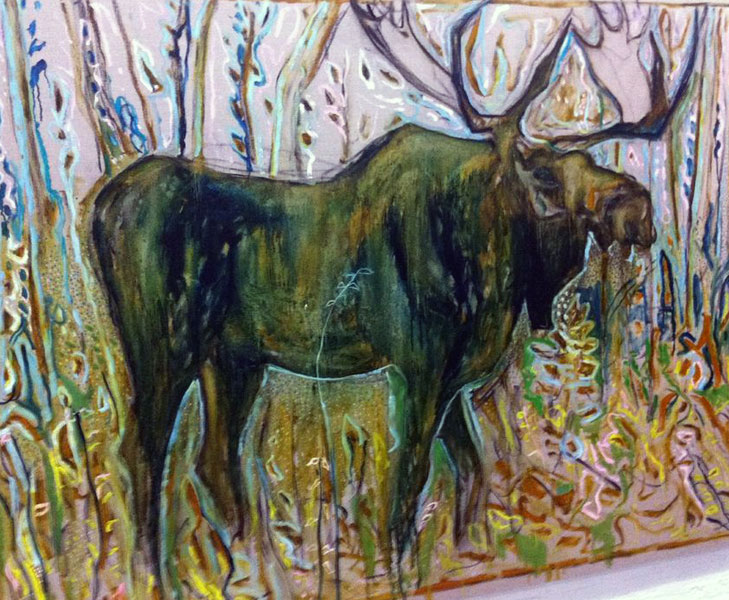 Childish at International Art Objects
At Independent the sound pieces at Susanne Zander were surprising and wonderful. And I did like seeing Billy Childish at International Art Objects. I mentioned Childish a lot about three years ago, as he is all about a sense of honesty, however he sees this, so when the world was in need of transparency and honesty as became evident through Wikileaks, Anonymous and OWS, to me seeing his work again is no surprise but quite daring all the same.
RaebervonStenglin had a neatly tucked away booth with work by Jill Magid that only consisted of a ring with empty setting and contracts concerning this ring.
A few of the best pieces at this fair were the works by Slavs and Tatars at Kraupa-Tuskany Zeidler. The other one was the Artcash booth at Broadway 1602, originally created in 1971 by Experiments in Art and Technology (EAT).
Perhaps a reason why I like works that originated in the 1970's is that I have simply gotten tired with seeing similar works of art since the 1980's. I sometimes wonder if the movements of the 1970's went too fast, too hard and weren't sustainable at that moment in time, or if it was crushed by a hyper capitalistic 1980's. However, I wonder, may it now be the right time to reinvestigate where the movements left off using different mediums and languages?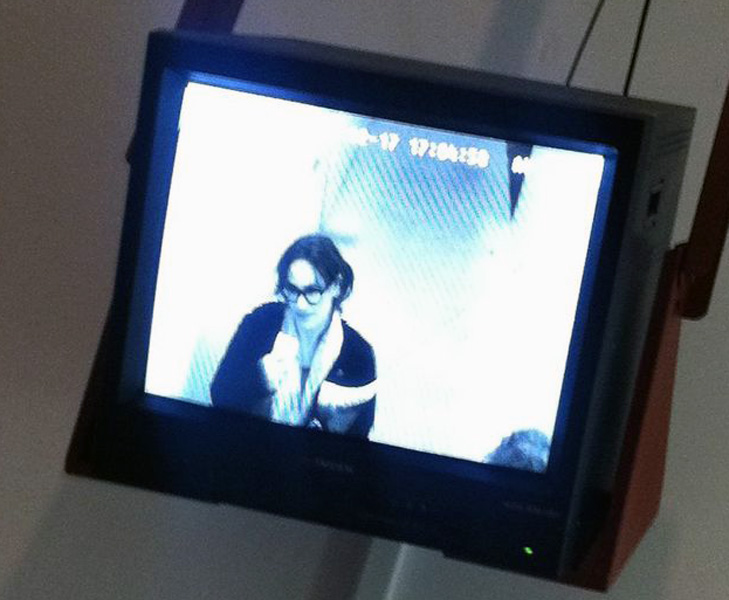 At the New Museum: Julia Scher
ARMORY WEEK: AT THE NEW MUSEUM
An example. The show at New Museum called NYC 1993, Experimental Jet Set, Trash And No Star, taught me one thing in particular. And that is how badly that era sucked. The show was a mishmash of ideas, materials, concepts and outcome and very few of them were truly strong. Those that were strong were the works that dealt with issues of AIDS, queerness and gender, perhaps because the people dealing with that were seriously, and rightly so, pissed off. Almost all the other stuff looked poppy and frivolous but pretending to be serious. Sarah Lucas being one, Patricia Cronin another. All very confusing except, perhaps, the room with Rudolph Stingel's orange carpet and Felix Gonzalez-Torres' dangling lights which was quite mesmerizing though suspiciously photogenic. Same with the installation by Pepón Osorio. Big stories to tell but it just doesn't come across in all its prettiness.
The one truly amazing piece in the New Museum was the installation that showed the remnants of Superdream Mutation by Peter Halley commissioned by Wolfgang Staehle. On view was the login screen for The Thing BBS, a floppy disk, some prints and a screen. The GIF for Superdream Mutation could be bought and downloaded with a password and then printed. This work predated the World Wide Web. And to think that twenty years later there are people actually outraged that someone would buy a six-second Vine video at an art fair. But more on that later.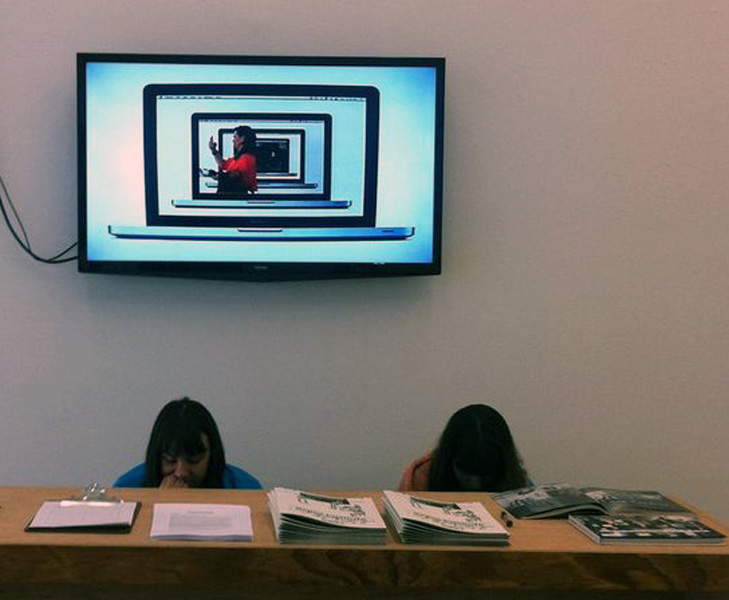 JON KESSLER'S SHOW AT THE SWISS INSTITUTE
However, it does bring me to Jon Kessler's show at the Swiss Institute, called The Web. It was all about…the web. I had a ton of fun here, I downloaded an app for the show which could feed the pictures I took right onto the surrounding monitors.
Though this show was memorable, and of course Kessler is an amazing artist, it was also very bombastic. New media has far more interesting avenues to be explored than mega sized iPads and iPhone apps.
Time to go to 319 Scholes where I attended Art Hack Day and a Tumblr Art Symposium.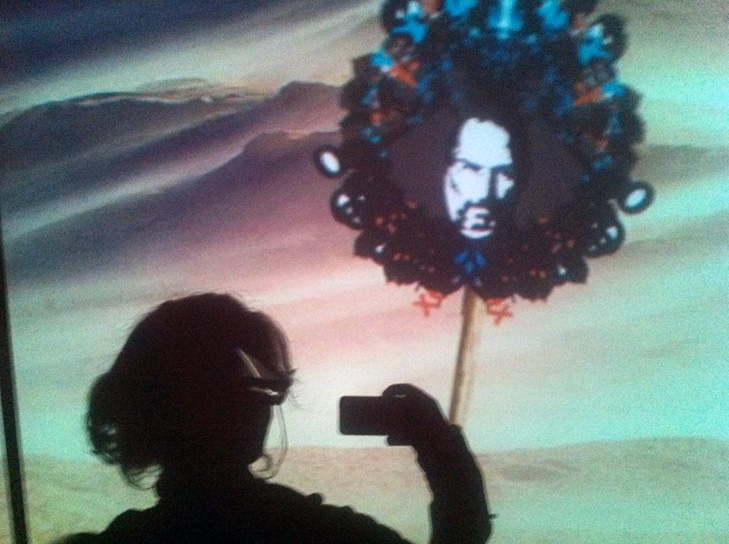 ARMORY WEEK: ART HACK DAY
Art Hack Day, a recurring event that can take place in any city in the world, was described as part happening, part hackathon. The NY event was themed God Mode. God Mode has been a gaming feature since the early 80's which offers players unlimited strength or invulnerability. But by now God Mode is everywhere, it is the backdoor in all our electronics, it is the jailbreak but also how your phone company knows where you are.
Amazingly clever, rebellious, interactive and visually stunning art happenings ensue.
Playing God(dess) in real time by awarding or punishing people not even touching a mouse or keyboard, or witnessing random hacks in surveillance cameras around the world, spying on offices. Or being photographed by a 3D camera as you walk past a screen to subsequently see yourself falling onto said screen on a pile of people who where photographed before you. Or walking past a stand and receiving a text from God from a phone number with two digits realizing they just hacked into your phone! Just fantastic. Where is this stuff in the galleries? Since this is all about sharing there is no money to be made perhaps? And it shouldn't but it must still be seen in art galleries and institutions. As The Thing at New Museum showed, it is way past time it did.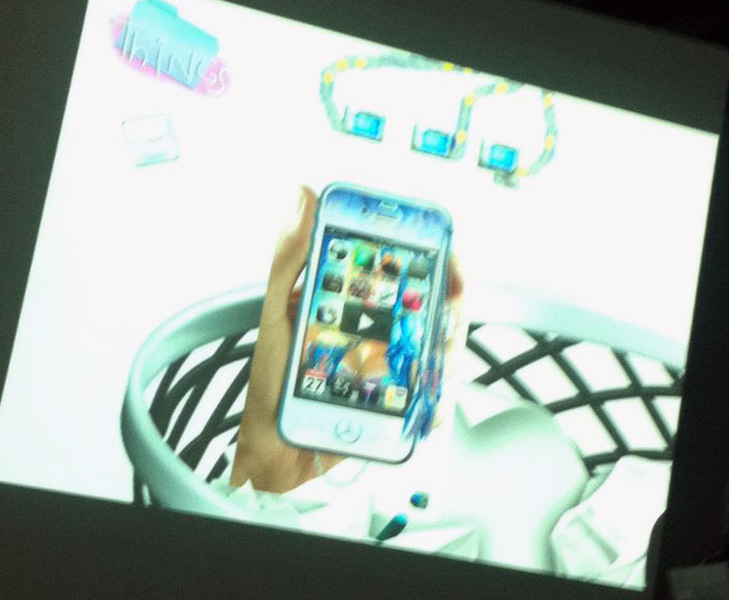 TUMBLR ART SYMPOSIUM
Tumblr Art Symposium was the other event at 319 Scholes I attended which was about art derived from and using Tumblr as a medium. Hyperallergic's Hrag Vartanian was the moderator and among his guests were curators Christiane Paul and Lindsay Howard and artists GH Hovagimyan, Jennifer Chan, Brad Troemel and Eco Art Tech. This guaranteed lively debates on art on and off the net using and abusing corporate owned platforms as mediums.
The exhibition was titled Walking Into The Dashboard, co-curated by Vartanian and Ben Valentine. A constant stream of images taken from and manipulated by the web by, among many others, Blake Brown, BlinkingGirls (tumblr) and FriendsterFriday (dot com). Think M.I.A. And you know what I mean. Again, isn't it way past time this should be seen in art institutions and galleries?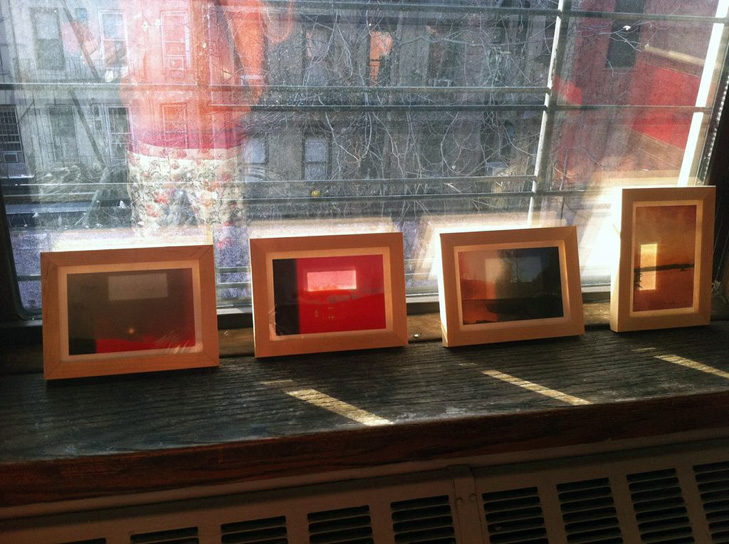 Angela Conant on Spring / Break
BACK TO FAIRS: SPRING / BREAK AND MOVING IMAGE
The only other two satellite fairs I attended were Spring/Break and Moving Image, because I simply could not handle more semi retro clusterfuck aesthetics that I expected at the other fairs in one week.
Here is the difference in the old model and the new. The purpose of art is nothing more than be a link in the chain of further intellectual and cultural development. And most artists often do this by trying to make sense of the world around them through their thinking and their work. But in the last number of years, decades even, the artists' world around them seemed to consist only of the art that was made before them. But the newer generation is defying this limited notion. They look at, and use in their practice, the wider world around them. Because it creates debate and dialogue. They are activists, on the streets and they use the internet and new media to its full potential. And now we are talking again. And that is why the old have to go and make way for the new. It's a changing world and that is a good thing.
Armory is so over. Many big museum shows are over. So is the white cube gallery where art is merely a commodity. As The Thing showed, it has been coming for quite some time now, but we are finally picking up on it.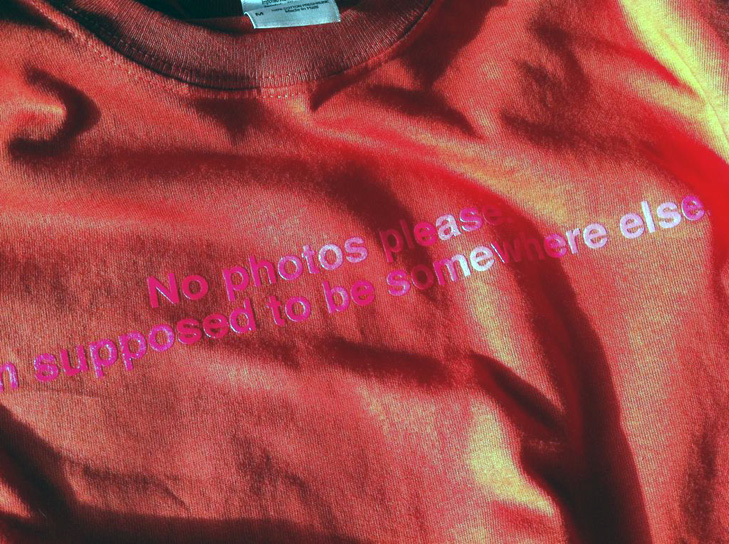 Dylan Gauthier
So on to a better fair: Spring / Break
Spring/Break was different, young and curator driven and in an old school building so, hurrah, finally no white walls at a fair.
They used Paddle8 of which I am not so sure whether that was a good idea. There was a variety of work, described by them as "exploring how digital semiotics, the internet and technology at large, combined with old relics of 20th century visual culture, inform a new formal intuition." Though overall the most refreshing art fair I have seen in the US in a very long time, there were definite highs and lows here.
Z Behl's awful cut-out figures, Myla Dalbesio's loud kitsch, Sophie Plimpton's and Alexander Dawson's boring items (though the rest of the booth was fantastic) and Peter Dudek's pretty pictures were absolute lows however there were far more highs here. Tom Weinrich curated a room with works by Rachel de Joode, Cheon Pyo Lee and the above mentioned genius that is Jennifer Chan, which was just perfect. Perfectly saturated and not dry as you would see at the other fairs. Also Cecelia Stucker's room with works by Aaron Anderson and Eric Carlson was amazing, an installation inspired by notorious former CIA operative Frank Olson. Angela Conant also did a good job, minus the pencil between the green teeth. Yeah, don't ask.
Thankfully there were also some memorable video works at this fair, a very large installation by Yorgo Alexopoulos and Jack and Leigh Ruby's Car Wash Incident being some of the best.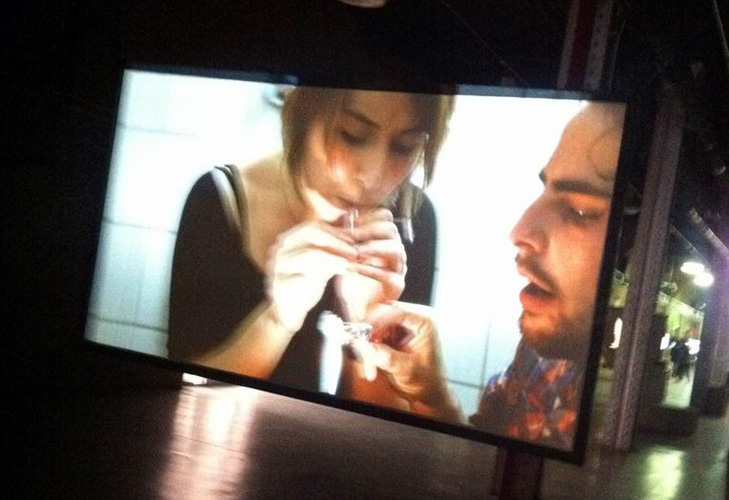 Throwell and Skreber
MOVING ART FAIR: THE VIDEO ART FAIR
Speaking of video, the last thing I just couldn't miss out on was Moving Image, a video art fair located in a tunnel that in the past has proven to be one of the top satellite fairs out there. It can be tricky though as some video's will take up quite some time and there is a lot to see. But it can also simply be pleasant to stroll around, the tunnel being the perfect environment for so much video art.
I somehow like video's that feature modes of transportation, or roads, perhaps because then it seems to actually be moving somewhere and I am programmed to want that out of a video. So I liked Khalil Charif's work and also Anne Morgan Spalter's.
I am ambivalent about the works by Ted Victoria, one could say they push the medium's boundaries but if it is all that it does it seems a little empty to me. Yes, there were minute live sea creatures, filmed and projected enlarged on the structure that housed them, but then what? Too Hirst for me.
But I loved Jennifer and Kevin McCoy's installation, a piece I could walk around time and again, contemplating. Throwell and Skreber's hyper realist film was strangely mesmerizing as it was totally in your face with its brutal scenes of a couple's rough life. So well made.
But I had spotted something in the front of the building that I knew I needed to go back to. Marina Galperina and Kyle Chatka had curated a series of six-second long videos in the newest social media format, Vine, for Postmasters Gallery. There were 22 of them and among the names of the artists who created them I had noticed some of my favorite artists at the moment. They were William Powhida, Jung Jake, Angela Washko, Rollin Leonard and Yoshi Sodeoka. So I checked them out, most were really great, and then I saw these USB sticks hanging underneath them and a banner above it that read "Shortest Video Art Ever Sold". Or in short #SVAES. Upon further investigation I learned one could buy a short for not a whole lot of money and be among the first persons to have ever bought Vine Art. Now, since I like being a first and I love new media and I love the artists whose work this was, I decided to go for it and I decided it should be Angela Washko's short video.
Angela Washko is an artist who creates new forums for discussions of feminism where they do not exist. These forums are created through actions, interventions, videos, and performances- sometimes in video games! She recently founded the Council on Gender Sensitivity and Behavioral Awareness in World of Warcraft. A woman after my heart.
So the deal was made and the next thing I know is The Guardian calls me for an interview. The piece was published online soon after and was almost immediately followed by another article on Betabeat slamming the action, titled "We're Sorry to Report That People Are Now Buying 'Vine Art' for Hundreds of Dollars". Followed by a rapidly increasing number of links to the original Guardian piece on blogs and online magazines. Twitter. Vine. Facebook. Everywhere.
So here am I thinking what I am doing is part of the new model for art that doesn't just involve new art but also new financial models for the art world. Invest in artists, don't invest in art. You don't need to spend a lot of money to support forward thinking people, artists and good projects.
But I think my six-second video may have already increased in price thanks to the Guardian linking my action to above mentioned Wolfgang Staehle's using The Thing in 1993 and thus linking Washko's art to Peter Halley's art. And thanks to Betabeat. I guess I'll invest it in new media artists. Because a change is gonna come.
If you want to follow the action here are the first links: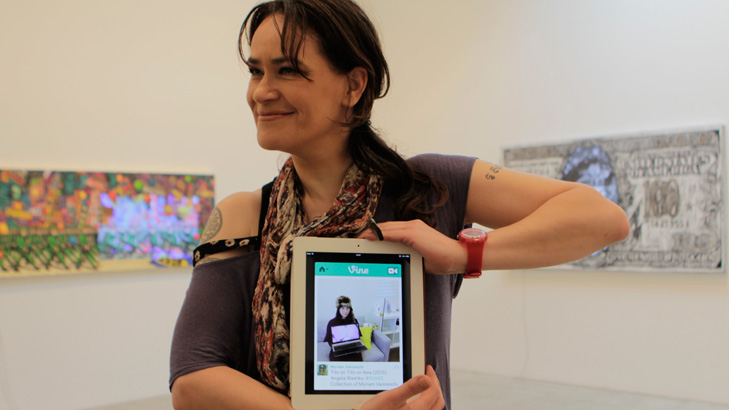 ABOUT MYRIAM VANNESCHI
Myriam Vanneschi is an art advisor, writer and curator. Follow her, Marina Galperina, Angela Washko and Kyle Chayka on Twitter, Vine, Instagram, Facebook and wherever else you can find us. #SVAES. 
Text & Pictures: Myriam Vanneschi