We're sure you know this moment by heart:
It is 10am, coffee is made, sunlight fills your working space and your creativity has stopped to obey any output of your computer screen. Your index finger is stuck in silence over your mouse pad, or you are left to stare at your tablet, feeling the creative crisis arising.
It is the moment where you have three choices:
Go for walk and get yourself in the flow again
Keep starring at the monitor and feel yourself running down the panic mode spiral
Grab a pen and let your inner thoughts and feelings drop on paper – to get empty to become full with ideas again
Yes, creative minds all over the world are still working with pen and paper. And there is a German brand that was born in the influential era of Bauhaus Design School (1928) that soon became iconic among architects, designers and writers for an innovative union between utterly dependable function and the beauty of simplicity in their product design. We're talking about rOtring and the brand`s modernist "Art into Industry" philosophy.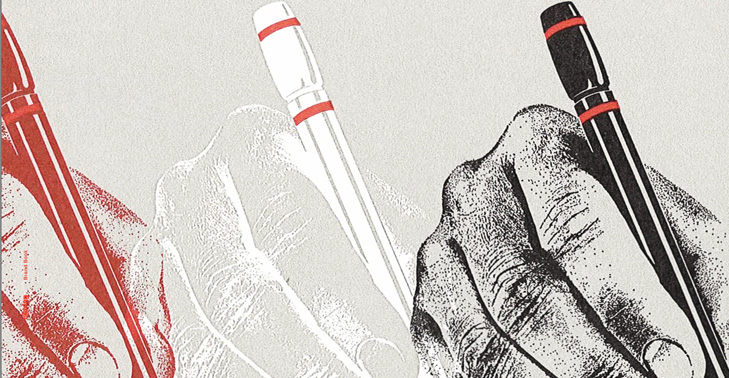 Become part of #ThinkOn. Create and the rOtring product awards
To inspire the world's creatives, rOtring has launched "Think On. Create." #ThinkOn is a global campaign that challenges creatives from different disciplines to share their sketching and design skills as the start of every creative process on their online home rOtring.com. We recommend to get involved as creative ambassadors from across design industries will select the most inspiring #ThinkOn entries to be awarded rOtring product awards and limited edition artwork.
To get started, just see rOtring.com and look for the hashtag #ThinkOn A new institution for inspiration is launched.
To give their intention a consisting base, rOtring has also launched The rOtring Institute, an online platform featuring video sessions with some of the world's leading creatives, to educate, inspire and entertain the global creative community.

On the product and brand site, the background for rOtring's engagement is the re-launch of the brand globally and the debut of their innovative and very sexy new rOtring 800+ Mechanical Pencil + Premium Stylus Hybrid. This special thing combines both modes at the same end with a unique retractable mechanism. Precision stylus tip for high accuracy, control and speed. Soft tip glides smoothly and is compatible with all capacitive touchscreens. Nice, we would say.
Here is the feature for the visual lovers among you:
Art into industry – About rOtring's design philosophy
rOtring was born in 1928, in the era of the influential Bauhaus design school in Germany. A small red ring on the barrel of each pen became the signature of the brand. rOtring became famous when their designer brought to life the first multifunction pen combining the pencil, ballpoint pen and marker into a single barrel. This gave rise to the iconic design collections – the rOtring 600 and later the 800 series of pens and mechanical pencils.