Where to see art in Berlin in January?
This January is for all of us who didn't manage to see the great art on exhibit in Berlin's museums in 2015. This is our wake-up call for three must-see exhibitions, which will be ending this month and we don't want you to be sorry for missing out on them.
Martin Gropius Bau // Von Hockney bis Holbein. Die Sammlung Würth in Berlin
closing Sunday 10th January 2016 at 6pm
Martin Gropius Bau has been presenting one of the largest art collections, spanning everything from medieval sculpture to masterworks of contemporary fine art, since September 2015. 400 of the 16.800 total works collected by industrial entrepreneur Reinhold Würth, have been compiled for the exhibition. It traces art history backwards, starting with contemporary classics such as the name-giving season's cycle by David Hockney and scupltures by Eduardo Chillida and Henry Moore. Moving backwards in time seminal works by classical modernists Pablo Picasso, Edvard Munch, Max Beckmann, pave the way for late German Impressionism and Würths collection of old masters.
Highlights of this unusually epoch-spanning exhibition are the spectacular examples of late medieval devotional art. "The Madonna With the Family of Mayor Meyer" by Hans Holbein, named "one of the most significant paintings of the 16th century". But also watch out for "The Last Judgement Sculpture" by sculptor Anthony Caro in the atrium of the Martin-Gropius-Bau.
Need more in-depth insights in it? Then please hop to our review here: Sammlung Würth im Martin-Gropius-Bau. 
Martin-Gropius-Bau Berlin, Niederkirchnerstraße 7, 10963 Berlin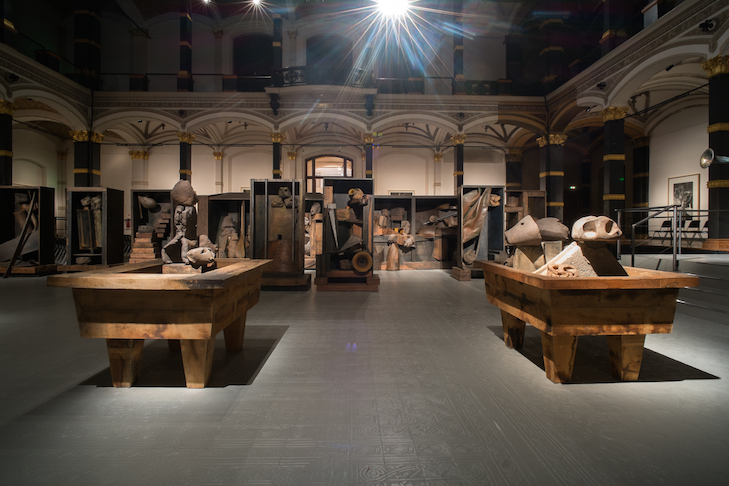 Hamburger Bahnhof // Preis der Nationalgalerie 2015
closing Sunday 17th January 2016
Every two years Berlin's National Gallery and their main sponsors organise a Prize to honour young artists at the spear head of the german contemporary art scene. A Jury comprised of europe's most renowned art connoisseurs select the artists, that have made the greatest artistic leaps and will be relevant in the years to come. The four artists short-listed for the prize all deal with contemporary themes and a multitude of different methods and styles: From Christian Falsnaes' part-performance, part-video installation criticising our media exposure, to Slavs and Tartar's academic approach to sculpture and a reading room.
The winner however of last years prize was Anne Imhof. Her performances set an incredible atmosphere that entrances the viewer and easily captivates him for hours on end. The carefully choreographed performances, deconstruct the intricacies of everyday human interaction and the codified and deeply engrained rules behind them. Don't miss the chance to see the last of the performances on Saturday 16th (from 11.30am – 5.30pm) and Sunday (from 1.30pm – 3.30pm)!
Hamburger Bahnhof – Museum für Gegenwart, Invalidenstr. 50-51, 10557 Berlin
KW Institute for Contemporary Art // Batia Suter "Sea of Ice" and Michael Müller "Wer Spricht?"
closing Sunday 17th January 2016 ("Sea of Ice") and Sunday 24th January 2016 ("Wer Spricht?")
KW Berlin also presents us with two more young artists at the start of their career, who we will no doubt be hearing more of in the coming years: Batia Suter and Michael Müller.
"Sea of Ice" is the installation by Batia Suter, which as inspired by Caspar David Friedrichs "Eismeer" (1823-24). The artist found a reproduction of this cornerstone of the German Romantic Movement in a book from 1979, in which it was very badly printed in black-and-white, inverted and dissected by a printing raster. This accidentally abstract depiction created a whole new way of seeing the well-known art work. Taking this approach further in her installation, Suter deals with the genre of landscape painting, deconstructing it and enabling us to view it in different ways.
Michael Müller's first institutional solo show "Wer Spricht", "Who Speaks?", examines the concept of artistic authorship: If and how is the artist present in the art. The title of the exhibition should have the subtitle "What is being said? Why is it being said? And, who is listening?". To guide us through this complex web of questions, Müller has created two mythological figures, Hermes und Hermaphroditos, which take the shape of voices in a sound installation, figuratively in the shape of sculptures, or as protagonists in a video. They connect the various art works in form and content. Sounds confusing? All the more reason to check out what Hermes and Hermaphroditos have to say before its too late!
KW Institute for Contemporary Art, Auguststr. 69, 10117 Berlin