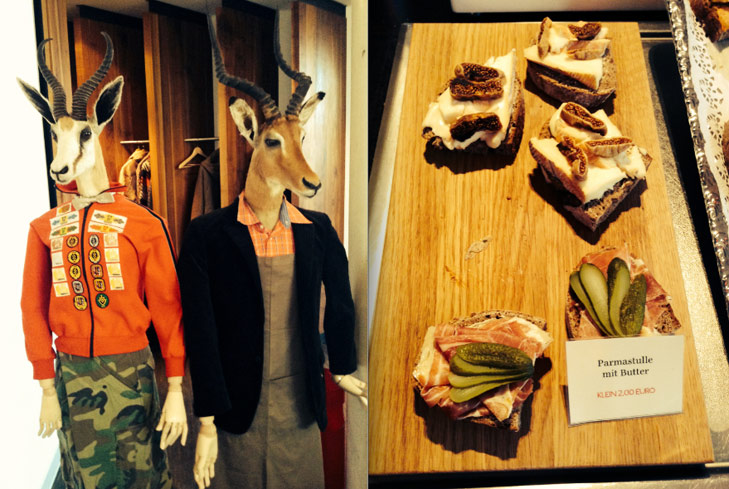 ME CAFÉ: ADRESS, OPENING TIMES & RESERVATION
Öffnungszeiten
Tue-Sun 12:00 - 18:00
Adresse
Auguststraße 68, 10117 Berlin
Email
Webpage
Kartenzahlung
Cash only
RESTAURANT & SCENE
ME is the chic little café of the me collectors room – a private art collection space that is open to the public. But in fact ME is a lot more than a Cafe in an exhibition space or an event rental spot for luxury and fashion brands (galas, awards, catwalks, press launch). Apart from its rich and diverse collection, this foundation also offers playful workshops for kids (serigraphy, etc), private dinners and occasional piano concerts or readings. But what it provides on a regular basis is a warm and welcoming get-together. Since 2010, it entered the very heart of Mitte and became a creative rendez-vous on an artistic and a culinary level.  Its simple yet harmonious wooden interior design (by SODA and Design Function) with original pieces and colorful neon dashes of light.  
Kitchen focus  ME Cafe will surprise you with its tasty "tartines" and jolly treats. In fact, its cuisine duo – Anika and Sonja – made it a principle to try out new recipes each week while keeping up the quality label of homemade and seasonal. Reliable gourmand bites pleasing both vegetarians and meat-eaters. But also remarkable vegan dishes!   
Who is eating here: Youngsters of all nationalities as well as hype retired or even families getting together on weekends. The magic of ME café comes from the food but also from the presence of very different people coming for business lunch, bicycle or art tours stopping by as well as school groups. This is why this 2300sqm space feels alive!  

THE MENUE
What do they offer: Salads, soups, breads, deserts with a focus on vegetables. But also their great range of fresh juices, fair trade tea and coffee (which you can also buy there for home). Specialities are their very unique carrot pesto, their gorgeous lemon&lime cheesecake and the infamous "Death by Chocolate" cake. 
Our favorite dish:  Tartine with homemade cereal bread, fresh goat cheese on top of a beetroot tapenade and sliced ciboulette.
Favorite drink: WARM freshly squeezed orange juice with ginger and and honey  – the summer version is their homemade limonade.  
Prices: Starters from 2.00€ / Main dishes from 5.00€ – 9.50€ / Cakes from 2.00€ – 3.00€

WHEN TO GO BEST?
A healthy and friendly weekend lunch or even for a handy bite on the way! 
THE OWNER OF ME
Thomas Olbricht, born in 1948, chemist, doctor of medicine and endocrinologist, has put together one of the most extensive private collections in Europe over the past 30 years, . His collection encompasses works from the early16th century all the way to the most recent contemporary art. The collection, which crosses genres and epochs, is shaped by his subjective choices of passionate collector, highlighting existential themes such as love, life, Eros, transience and death.
Read more about Thomas Olbricht in our interview with him right after he opened me collectors room: Portrait collector Thomas Olbricht
THE ART
The ME cabinet de curiosité and collection host a number of great creators related to painting, sculpture, photography, installation, and the new media. Artists such as Thomas Schütte, Eric Fischl, Franz Gertsch, Cindy Sherman, Marlene Dumas and Gerhard Richter who consort with new discoveries, such as Wolfe von Lenkiewicz, Simmons & Burke, Grayson Perry, Julie Heffernan, Elmgreen & Dragset, Kate MccGwire and many more. 
We featured me collectors room in the ARTberlin art collection guide. Want to know how to visit the private art collection? Here are your infos me collectors room.