Creating a relationship between the viewer, the space and the work
The sculptures by Belgian artist Stijn Ank are an invitation to the public. An invitation to interact, to wonder and to get rid of expectations. FRESCO makes no exception. It is activating the space and the viewers and is bringing old ideas on the purpose of sculpture to new life:
Let's start with a bad example. For me a bad sculpture is a sculpture that is only an object, speaking for itself and being very static. It is giving me no surprise, no questions. That is not how I work. I want people to move around the work. So when I start to work, I first make an investigation of the space – a complete analysis. In every space the upcoming mould or work is already hidden. For example: My first site-specific work was for the S.M.A.K. in Gent. The room was like a corridor. You would just walk through it. With my work in it, it suddenly became a public space. People were invited to stay in the room, to interact with the work. I think that is what sculpture should achieve.
Many people ask, is this painting or is this sculpture?
Looking at Ank's works you immediately start to wonder HOW he probably made them. That is already giving it an unexpected turn: You not only look at art, your thoughts are bringing it to life. We asked Stijn about the procedure and material.
I started experimenting with a lot of materials. The one material I got stuck with is plaster. After some years I started to make moulds, out of different materials like wood or aluminium, whatever I was working with. Then I casted in plaster and mixed pigments into it. The plaster came layer by layer. After the plaster was dry, I open up the mould and the result was a kind of a surprise. That's how I still do it. What I like about it, is although it weighs hundreds of kilos, it looks super light. Also it deals with the fact, that you cannot define if is are two- or three-dimensional.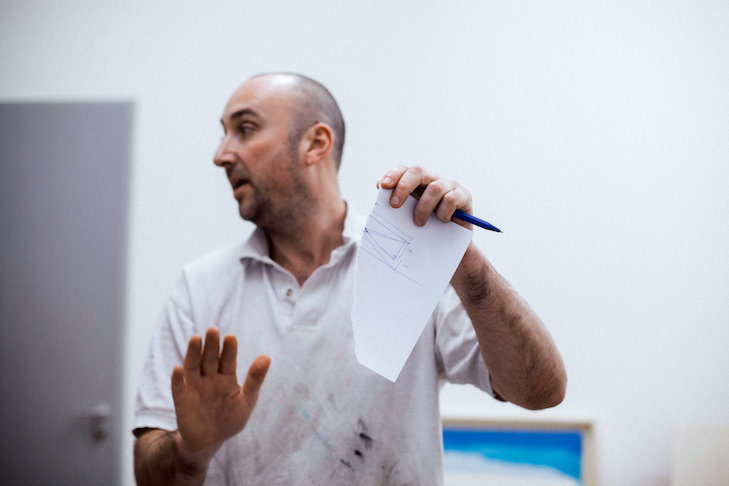 His works are a reflection of his architectural roots, in a way of showing the artist's thoughts on creating a new void being integrated into new surroundings. That is yet another unexpected turn. Art not only 'being' in a room, but becoming a part of it and establish a dialogue.
What are your thoughts about working at Bethanien:
When I was invited by Bethanien I gave myself the task to focus on the surface. So I bought a canvas, but didn't work on its surface but flipped it around. In the back of the canvas you have two centimetres of space. So I drilled a hole in the frame and casted plaster in it. Now I am doing the same with a fresco in space. It didn't take a long time, until I was sure where and how to build the mould. I wanted the work to be seen when you enter the room, but not completely. Because of the two columns in the room you don't see the end of the work. You have to walk a little to find out.
We decided to call it FRESCO because that is what it actually is: It's fresh pigmented plaster.
The word FRESCO brings us to its peak in the quattrocento, where it originally was a famous technique of mural painting. Water was used for merging the pigments on the fresh plaster. We only need to name Michelangelo, Raphael and Giotto to mark its meaning in the history of art. It is not easy to say why exactly this technique seems to be disappeared. But we are lucky enough to find a renaissance at Bethanien.
Here in Bethanien we decided to put the work directly in the space, not on the wall. For the work we will plaster six days non-stop. Only a very short time before the opening we will know what it will look like. It's a big process for something small in the end. Apart from the size, which should not be of matter, but just speaking from the material the one at Bethanien is the most challenging one so far. Very exciting!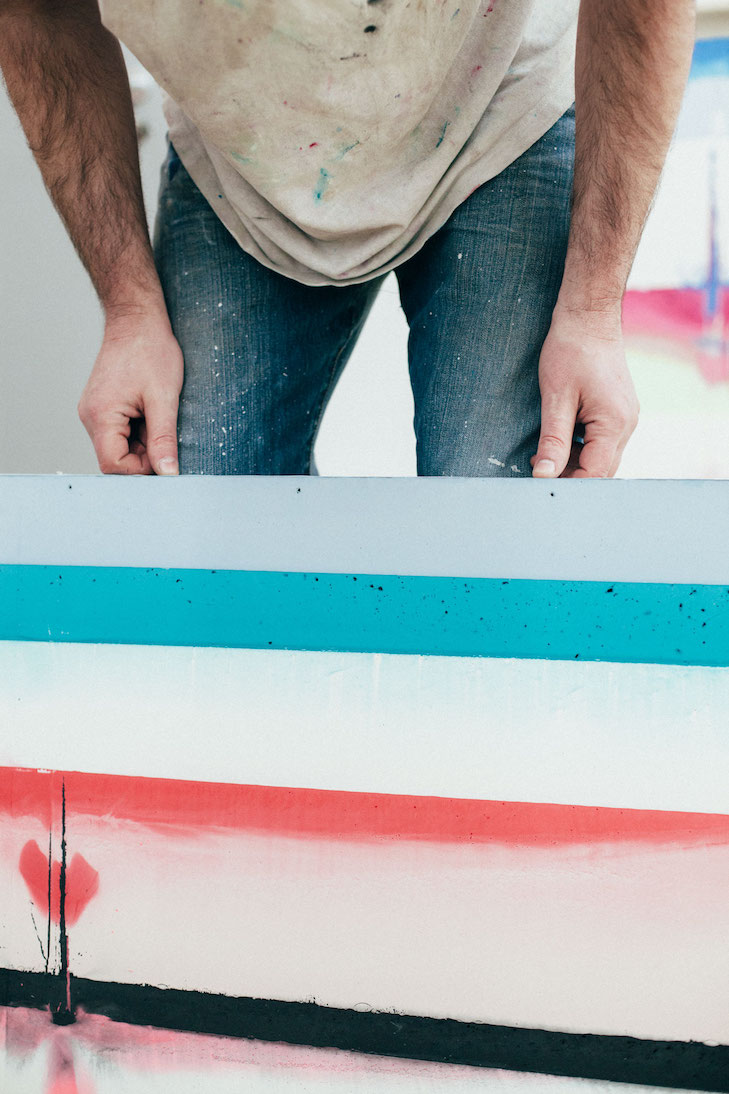 Stijn Ank masters the art of real expertise: Making something being technical, heavy and laborious looking light as a feather. Meeting the artist in person, it is soon undeniable that he is a passionate, experienced and sharp-minded person with the ability to create something that stays in the viewer's mind.
Upcoming Exhibition : FRESCO by Stijn Ank
Opening: January 19, 2017 / 7–10 pm
Duration: January 20 – February 12 & March 2–26, 2017
Location: Künstlerhaus Bethanien, Kottbusser Strasse 10, 10999 Berlin-Kreuzberg
Open: Tuesday–Sunday, 2–7 pm
A parallel solo exhibition by Stijn Ank can be seen at Galerie Michael Janssen, Potsdamer Straße 63, 10785 Berlin from January 21 – March 4, 2017.
Stijn Ank (b. 1977 in Belgium) lives and works in Brussels, Belgium and Berlin, Germany.
Author: Saskia Wichert
Photo Credit: Kathrin Leisch