We meet Tatiana Macedo at Künstlerhaus Bethanien
If there would be a master degree for subtle gestures, the film and photography artist Tatiana Macedo would own it.
I like to observe people and ask myself questions such as: How do their bodies react to a situation such as sitting still for long hours as a museum invigilator. Most of the time those gestures are not under conscious control, unlike the rest of the institution.
Watching her film debut, the experimental documentary Seems So Long Ago, Nancy that she shot in 2011 in London's Tate Modern and Tate Britain, creates this kind of goose bumps that you feel when observing others and realizing how much we resemble each other.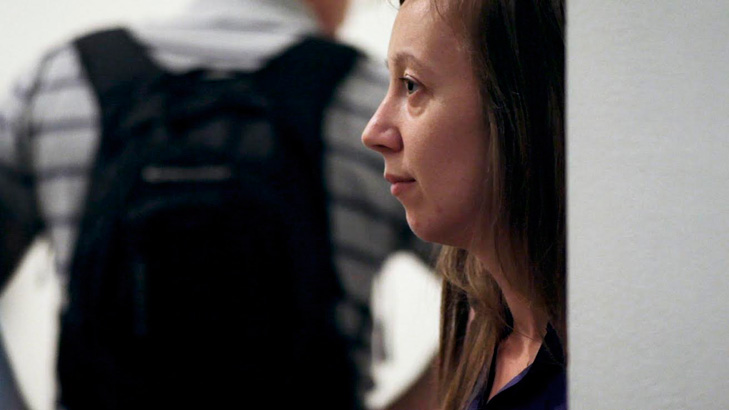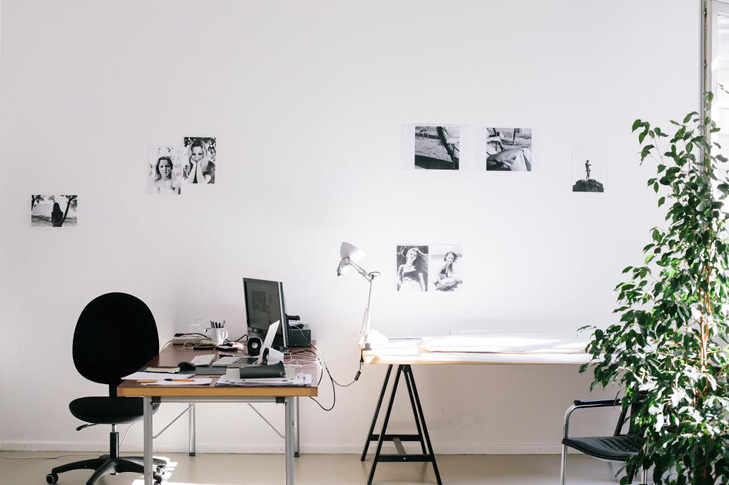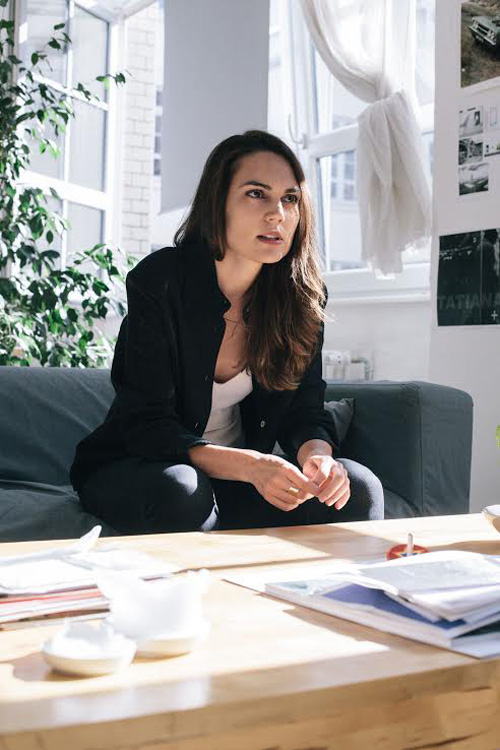 The Portuguese artist spent three entire months day after day in the exhibition halls, recording sound and images with small devices so she would almost be invisible for the museum staff and visitors. Her focus was on documenting what we usually don't see when we are looking at art: Tatiana Macedo filmed the small movements of the gallery assistants in the exhibition. A blink of an eye here, a shoulder shrink over there, a hidden sigh.
Once I was making a shot of a floor barrier, when a visitor came to me and said: It seems like you are filming empty space. I smiled and thought to myself: how can this place be empty if there is at least you and me here. One must never forget that there is always at least one person behind the making of an image like this, and that they can never be totally separated,
Tatiana Macedo tells us when we sit down for our interview in her artist-in-residence studio at Künstlerhaus Bethanien where she is about to prepare her next exhibition: Bela will have its opening on October 6th, 2016.
Tatiana Macedo's quest for silence and slowing time down
I am fascinated by museums as places of silence. The main action the staff has to engage in is being present. But of course presence is also a state of mind. On one of the many insightful conversations I had with staff members, one of them, a young graduating art student at the time, told me that he saw this job as the most "cold cut exchange between time and money", all he was asked to do was to "be present". As a reaction to this, he told me he used to exercise a state of meditation where you are present with your body but not with your mind. I think there are moments in my film where the spectator needs to address this body/mind dichotomy too.
I am very interested in slowing time down, I am fascinated by permanence, although I work a lot and on many projects at the same time, and for the past 16 years I have been changing my country of residence every four years or so. Usually my photographs and films need to exist for a while in my archive before I use them, they need to resist the test of time and distance. I need to be able to look back at them from a different place and perspective". There is no time outside of space.
Orientalism and Reverse
The contrast between permanence and impermanence marks also the inspiration for Tatiana Macedo´s recent works that she just had exhibited during Berlin Art Week at the gallery of the embassy of Portugal. Orientalism and Reverse is the title of her solo show and artist book where the artist closed up on the windows of Shanghai's tourist buses in one of their dusty and rough parking lots.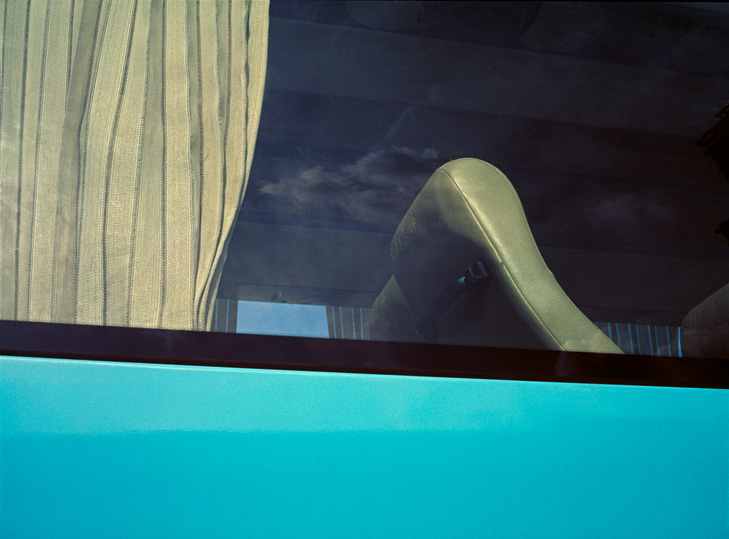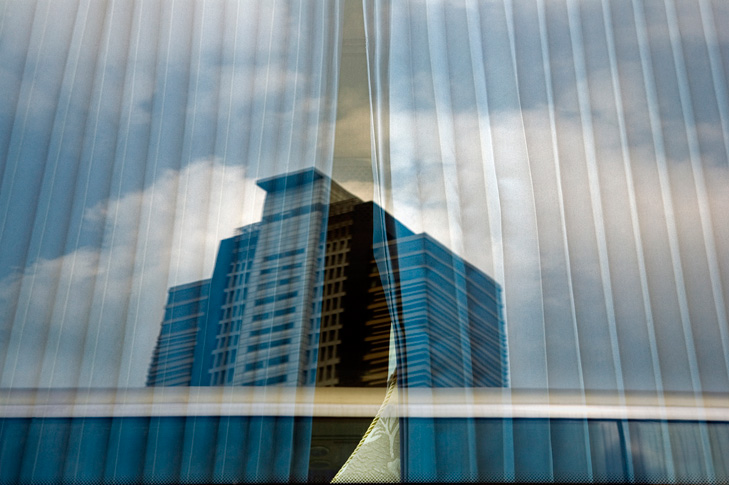 I was inspired by the tourist buses that bring Chinese visitors to the historical parts of town. By photographing the windows of the buses I am looking in, but through the reflections also looking out. The final images become abstractions of something very concrete and objective, like the drapery of the curtains that in Susanne Weiß's words act like a "transformation of something fluid into something solid, like an orientalist manifesto: simultaneously the object of desire becomes overtly clear and unclear. Collecting contemporary moments of collective Chinese identity produces a situation within which you lose your traces. E. W. Said writes in his book "Orientalism" (1978) that notions such as modernity, enlightenment and democracy, are by no means simple and agreed-upon concepts that one does or does not find
Using the print facilities of Künstlerhaus Bethanien, Tatiana Macedo printed all photographs by herself. The analogue photographs radiate in a mesmerizing color palette that the artist created by further working digitally on the analogue versions.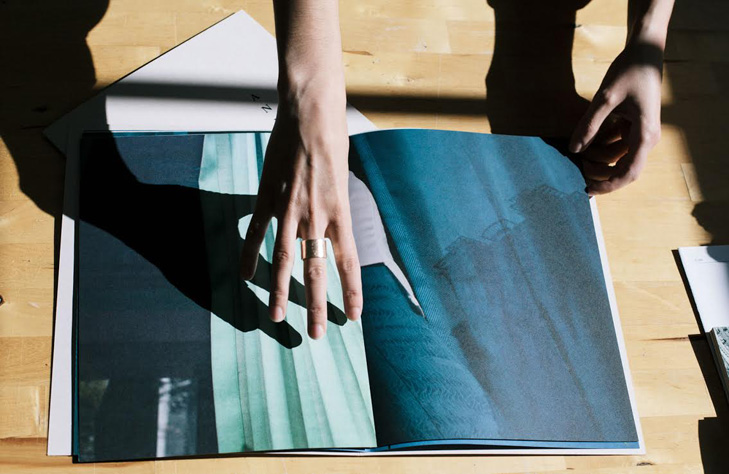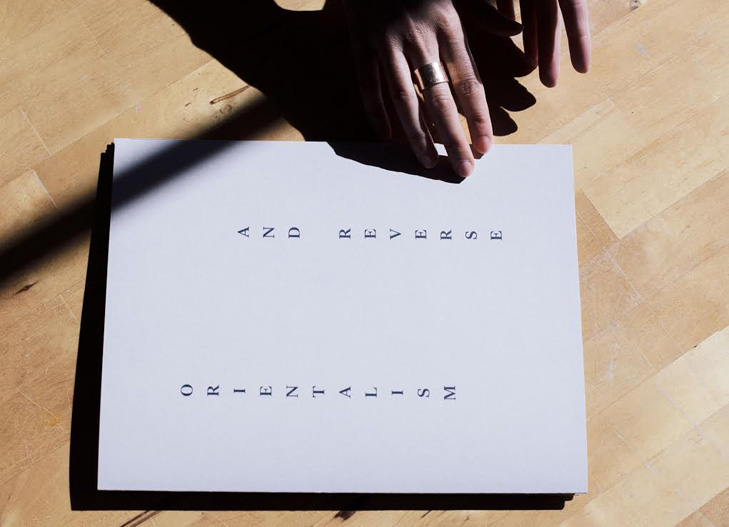 It may be Tatiana Macedo's fascination for going beyond the visible and into slowness that creates the depth and the success of her artwork. Since growing up and studying in Lisbon and London, the now 35 years old artist has ever since been working across mediums such as expanded cinema, photography and sound, in an exploratory, critical and enquiry way.
In 2015 Macedo won the first Sonae Media Art Award with the multiple channel video and sound installation 1989. It wasn't her first one.
Sound is important for Tatiana Macedo
At the time of our interview, Tatiana Macedo is working since nine months at Künstlerhaus Bethanien, reviewing her practice, having studio visits and producing and preparing her work for Orientalism and Reverse as well as the upcoming exhibition Bela. In most of her moving image work, sound plays an important role. During the Open Studios at Künstlerhaus Bethanien in July, she hosted a live performance concert with GNB, a band that she saw busking in the street in February.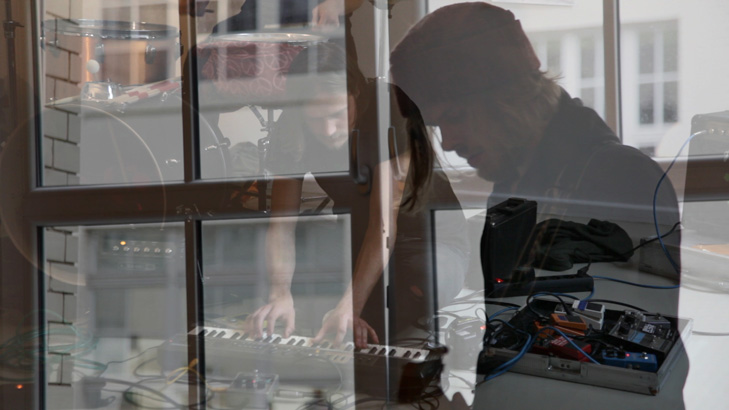 Music is so important to me, especially live music and improvisation, the feeling of something being created there, at that present moment, something you have no full control of, you don't know how its final shape will be, something that is in constant formation. And this is how I usually edit my moving image work, an essayistic approach that is rooted in free jazz and improvisation as much as in Adorno's idea of the "Essay as Form". I have been a DJ myself in the past (as a hobby), and everything is connected, shaping up my sensibility. My DJ sets were entitled Beuys Don't Cry.
Come and see Bela at Künstlerhaus Bethanien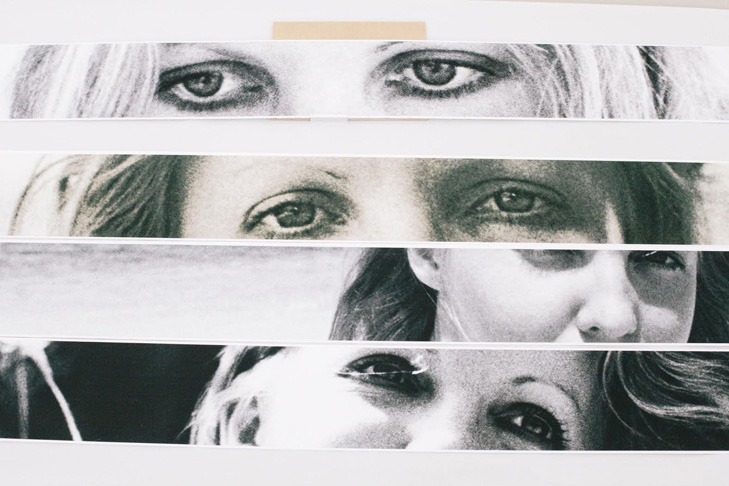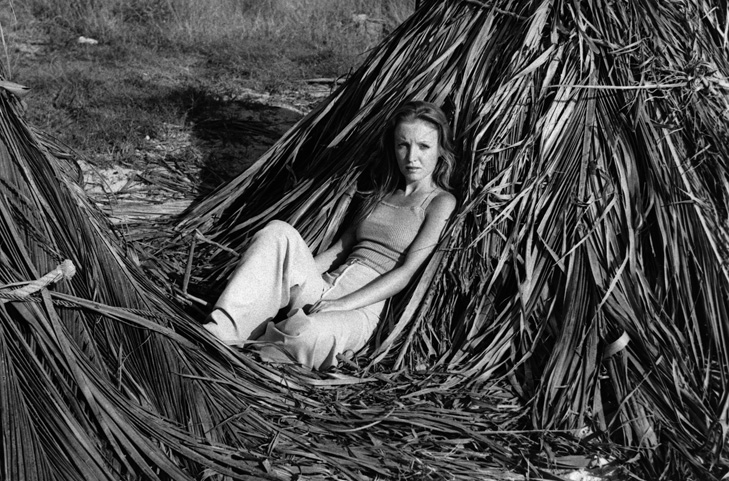 The next opportunity to encounter Tatiana Macedo herself and her newest work will be the opening of the exhibition Bela on October 6th, 2016. Bela is a partly autobiographical work as the artist worked with the archive of photographs of her aunt that were taken during 1973 / 74 in Luanda by an Angolan photographer. The photographer died shortly after and gifted her aunt with his archive of portraits he did of her, and their surrounding landscape.
Upcoming Exhibition : Bela by Tatiana Macedo
Opening: October 6th, 2016 / 7 pm
Duration: October 7th till 30th, 2016
Location: Künstlerhaus Bethanien, Kottbusser Strasse 10, Berlin-Kreuzberg
Tatiana Macedo: Biography
Tatiana Macedo (b. 1981) lives and works in Lisbon and elsewhere. Holds an MA in Visual Anthropology, FCSH New University of Lisbon (2012) and a BA in Fine Arts, Central St Martins College of Art & Design (London, 2004). In 2015 Macedo won the first Sonae Media Art Award, the biggest art award in its field, in Portugal. She works mainly with Photography and Film and their expanded forms. Her first film Seems So Long Ago, Nancy (2012) was shot entirely at Tate Britain and Tate Modern, London. The film was exhibited in international Film Festivals and Art Galleries including DocLisboa (2012), the Stedelijk Museum Bureau (Amsterdam, 2012) and Tate Britain (London 2012/13). It won the First SAW Film Prize by the American Anthropological Association – AAA (Washington-DC, 2014). Currently receiving a grant from the Fundação Calouste Gulbenkian, Lisbon, she is staying at Künstlerhaus Bethanien in the context of our International Studio Program.
A second solo exhibition by Tatiana Macedo, entitled Orientalism and Reverse, can be seen at present in the Kunstraum Botschaft of the Portuguese Embassy in Berlin (17.09. – 11.11.2016), an artist book was made to integrate the exhibition. A catalogue focusing on the artist's work from 2012 to the present and featuring text contributions by Birgit Hein, Uli Ziemons, João Silvério and a conversation with Emanuele Guidi, will be published later this year.
Further information: www.tatiana-macedo.com
Photos for ARTberlin: Kathrin Leisch