Invitation to the opening of the workspace and CFL Canteen
We are honoured to invite you to the opening of the workspace and CFL Canteen next Thursday, 19th November 2015. If you are a regular ARTberliner you might have read our call for emerging artists last month, to exhibit their work at the beautiful new co-working space in Mitte / Kreuzberg. On Thursday, November 26th. 2015 celebrates the official launch of the workspace and its café space CFL Canteen, where from 5pm-10pm, you will not only see the art selected for its first exhibition, but also get pampered with a selection of slow food finger food and drinks.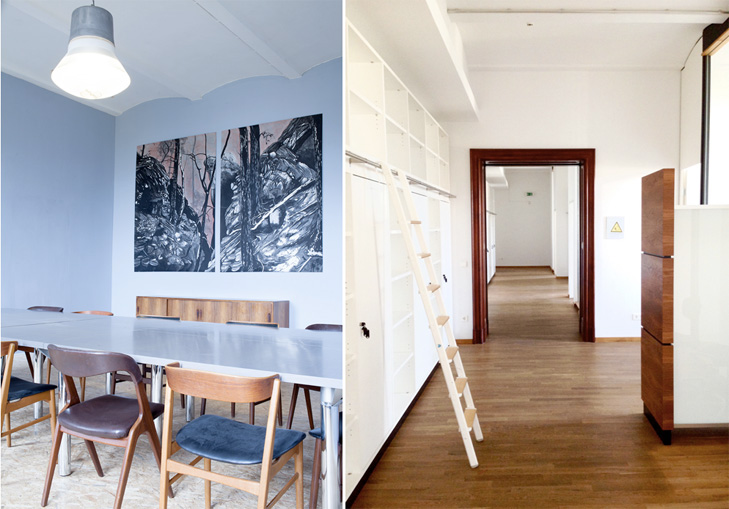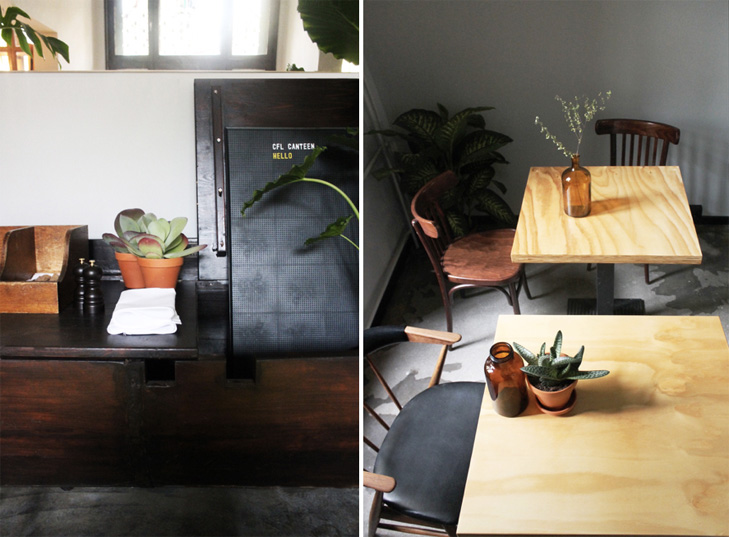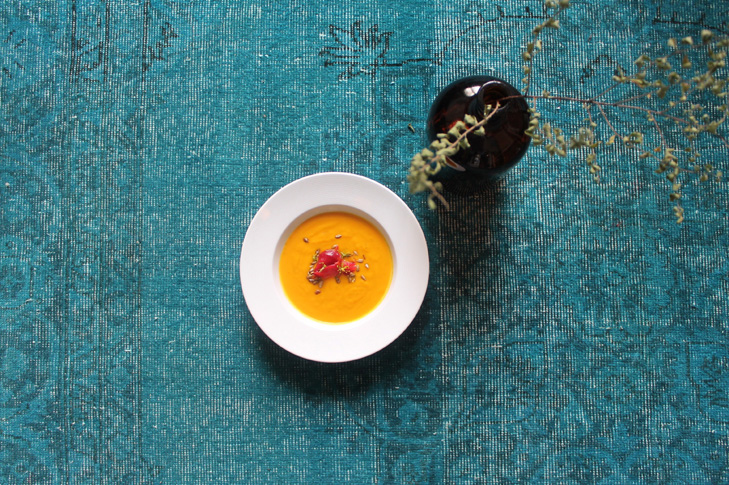 So, who are the two young artists that our jury decided for after an amazing response from over 50 talented young artists to our CALL FOR ARTISTS?
Sebastian Nebe
Young talented Berlin based artist Sebastian Nebe (*1982) works with oil on paper to create scenarios that couldn't be more realistic and at the same time mystical. His large dark paintings take you into the forest or inside neglected houses. They make you encounter abandoned cars, broken rooms, caves and empty huts. The way Sebastian Nebe paints feels almost like drawing and bursts from narrative story telling. Owning a double degree in graphic as well as in painting, he has a special gift to illuminate his black and white paintings with fluorescent colour. Nebe's works not only bring on associations with movie spots but also reflect memories of his own child- and adulthood in Eastern Germany. A time that feels like a no-time between presence and past. Today the artist lives and works in Berlin. His works are exhibited in numerous solo and group shows in galleries, exhibition spaces and museums.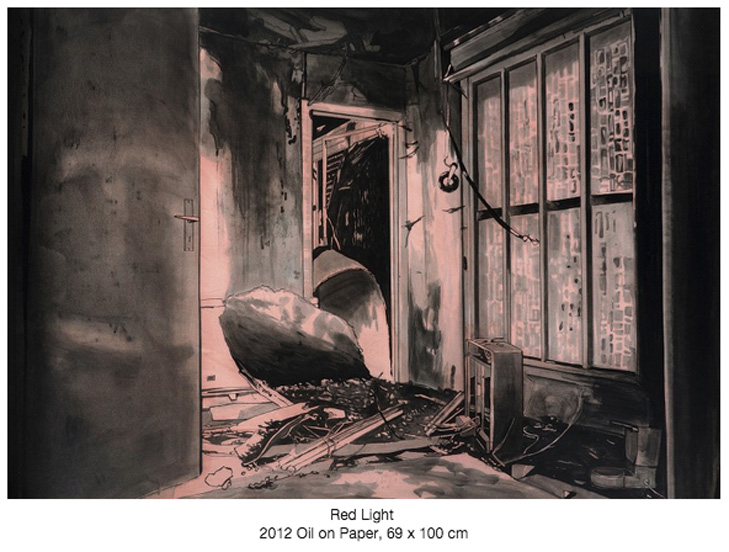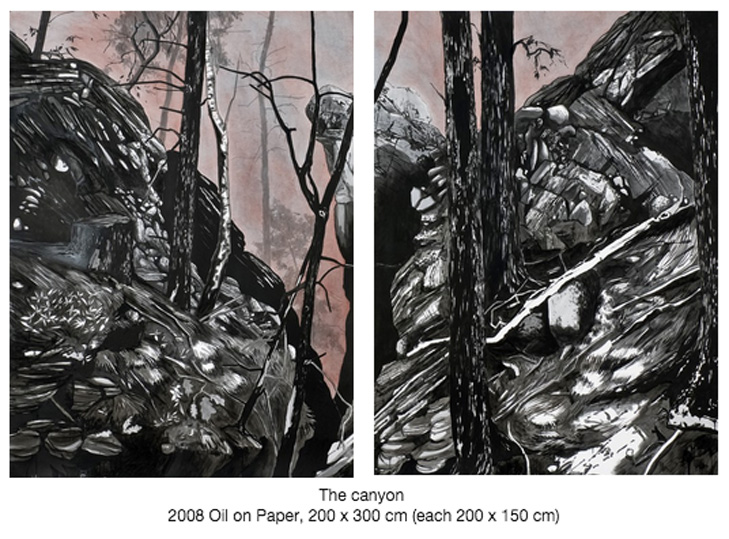 Klaus Storch
When we received the application of Klaus Storch, we were blown away.
HELLO. I AM KLAUS STORCH. I like drawing. For pleasure. But most of the time because I'm angry.
These initial words were followed by twofold paintings that indeed didn't look like peace and harmony. Storch had worked a thick irregular layer of black and red colour on two canvases that being installed next to each other looked like a book. A diary maybe.
Interestingly enough, he never displayed any of her works so far.
I show it to people when I'm drunk. I keep it to myself, because I don't like people talking about it. That's like judging over feelings.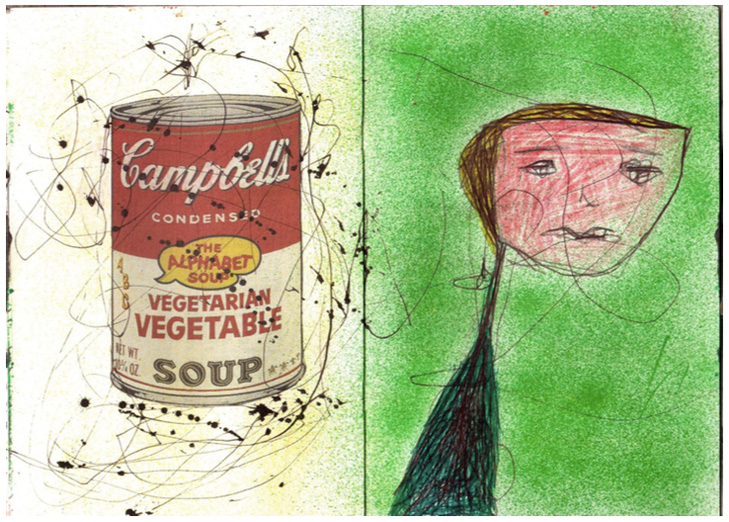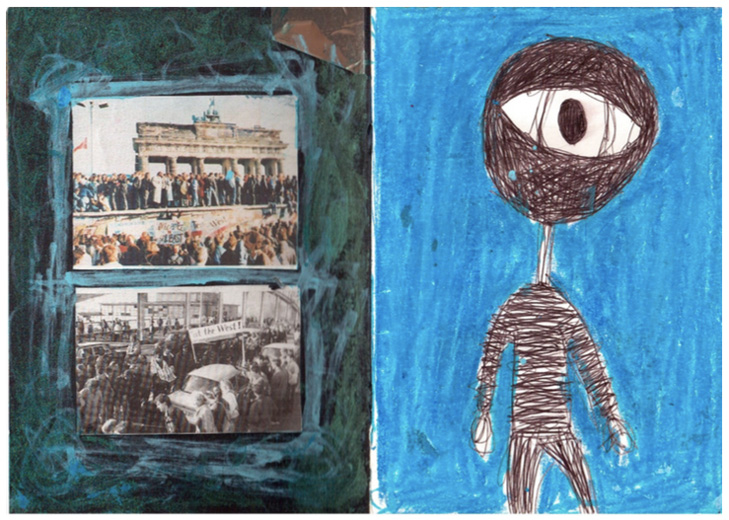 Adding to these abstract paintings, we found collages made of analogue photography also glued to book pages covered by pencil drawings. "No sex tonight" is one of them.
In his words this genre sounds like this:
You should have noticed by now, that I usually stick sth on a page and scribble around it … yeah right, that's that kinda shit REAL artists do.
If you want to experience his "crazy looking dudes with one eye" and explore an artistic mind, please meet this work and the artist himself at the opening.
Read more about the co-working space and its art concept: Call for young artists – exhibit at the workspace
Opening Details: the workspace & CFL CANTEEN
Opening: 26th November 2015 // 5pm – 10pm, please join the facebook invite here.
Address: the workspace and CFL Canteen / Lindenstraße 20-25 / 10969 Berlin
www.theworkspace.de / www.cfl-canteen.com