Berlin Art Prize
Opening: 11 November 2016, 7pm
Exhibition: 12 November – 10 December 2016, Tue–Sat 1–6pm
Award Ceremony: 10 December 2016, 9 pm
It's time for the Berlin Art Prize 2016! The nine nominated artists Martin John Callanan, Regina de Miguel, Stine Marie Jacobsen, Lindsay Lawson, Lotte Meret, Benedikt Partenheimer, Aurora Sander, Raul Walch, Lauryn Youden selected by this year's jury Karen Archey, Kito Nedo, Emeka Ogboh, Ahmet Öğüt and Susanne Winterling will be presented in an exhibition and catalog. Three of them will be selected as winners and awarded at the closing event with a trophy created by Tomás Saraceno, prize money and a four-week residency in Georgia. Definitely don't miss the legendary afterparty starting at 10pm! We will also introduce you to the team of Art Prize on ArtBerlin in an interview, so you can learn about their beginnings, struggles and visions for the future!
Kühlhaus Berlin, Luckenwalder Straße 3, 10963 Berlin
Gina Malek // UNDERLININGS
Opening reception: Friday, 11 November 2016, 6–9 pm
Exhibition: 11 November – 15 December 2016

When Magic Beans Gallery opened their doors earlier this year with the group exhibition "I sky you", it also displayed two works of New-York based artist Gina Malek which made us stop and stare. Her simple and powerful strokes stood out and immediately demanded our attention, before we could even "see" the picture itself. One can describe it like a friendly but still forceful annexation, visually and mentally. With her first solo exhibition Gina Malek will show a new body of work. And to say the least, we are excited about how the artist explores themes of confinement, the mechanics of the remembered self, and the impermanence of memory. Giving importance to the most common daily routines, Malek beautifully catches moments of intimacy and authenticity touching the viewer and at the same time giving them space to deepen into the subjects.
Magic Beans Gallery once more proves their sharp eye for young emerging artists and their talent to support them and to give each one a surprisingly unique frame.
Magic Beans Gallery, Auguststraße 86, 10117 Berlin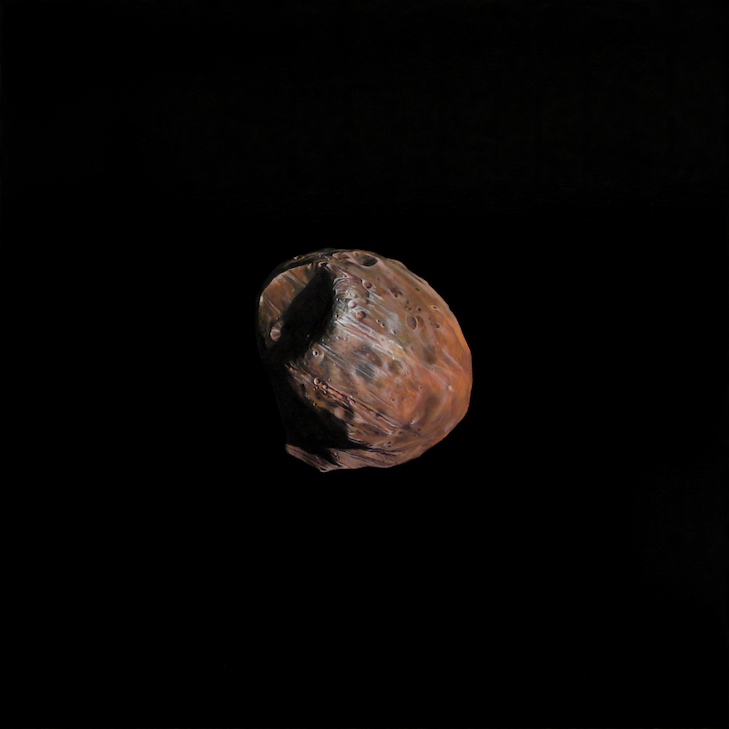 The beauty of disguise – Asking USA
Friday, 4 November 2016, 7pm – Saturday, 17 December 2016, 7pm
We need celluloid to apprehend and capture laughter. Light is bright but light darkens the celluloid negative. The more laughter is photographed the darker the stuff of film becomes. If one keeps taking photos the celluloid becomes so black that it begins to drip. Laughter drips black. One of our favorite positions in this groupshow with mixed-media comes from Berlin-based artist Frank Schäpel, who´s depicted celestial bodies are lying beyond of the range of the naked human eye. Therefore he was dependent on photographs taken by space probes like JAXA's Hayabusa. But he doesn´t view the asteroids and comets as foreign or absent realities, as we share the same space, galaxy and solar system. Through the presence of their painted images he is placing their physical reality into our cultural consciousness. It goes without saying, that this is only one of 20 reasons to visit Sprechsaal with their usual mix of lectures, discussions, performances, audio book evenings, music, and films in their own cinema and this upcoming exhibition!
Sprechsaal, Marienstraße 26, 10117 Berlin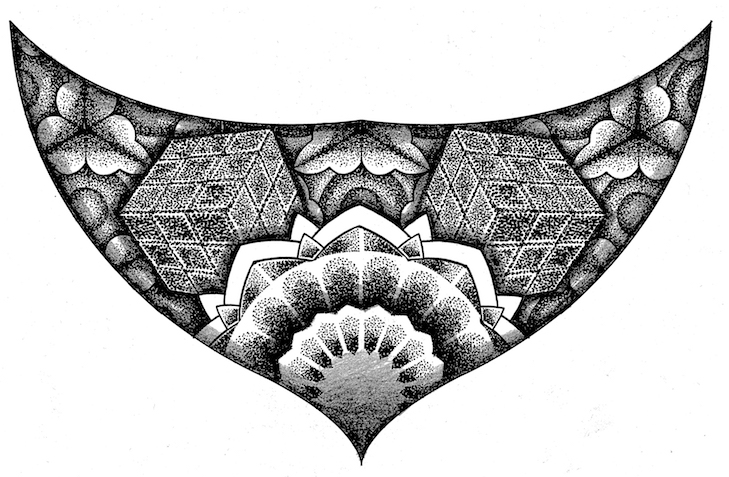 Grüße Aus Tätowierungen
Opening: Saturday, 05 November 2016, 8pm – open end
Exhibition: 6 Nov 3–6pm / 9 Nov 4–7 pm / 10 Nov 4–7 pm
Let´s face it, the art of tattoos and their impact on aesthitics in general is undeniable. But the truly fascinating part is how many people through all classes, backgrounds and sex are united and connected through tattoos and bond through them. Seriously, is there anyone left without having one these days? It has become more than ever an unique and fierce way of expressing onself nevertheless some say it became to mainstream, to normal. We believe it shows in a powerful way how important it is for the individual to express itself, to communicate non-verbal and to feel to be your own special version of yourself and the power and freedom that comes with it when expressing this version and vision. It is therefore no wonder that GAT which translates: "Grüße Aus Tätowierungen" and their annual exhibition gets more popular every year and is an absolute Must See for art enthusiasts and tattoo lovers alike. Around 110 German and international tattoo artists show their works for this year's theme "1980s" accompanied by motion-space-designer Anna Luft. It's gonna be wild!
Willner Brauerei Berlin, Berliner Str. 80-82, 13189 Berlin

Semra Sevin // Metropolitan Angel (Cherub)
Opening: 11 November 2016, 7pm
Closing: 16 December 2016, 4pm
Berlin, Los Angeles and New York: These epicenters of creativity and art are the subject of Semra Sevins photographic works and of the two series she will show which reflect upon the search for identity. Sevin who lived in Paris and Los Angeles before she settled in Berlin has the eye for reflections within her "subjects" and she always manages to catches those through her lens. In "Bodyreflections" she mastered this art completely. Her experimental, multi-layered images include personalities like Larry Bell, Johann König, Alicja Kwade, Dewaine Valentine, Anselm Reyle, Tim Eitel, Gregor Hildebrandt, Despina Stokou, Nick Ut and Ed Moses!
Gallery Carpentier, Meinekestraße 13, 10719 Berlin