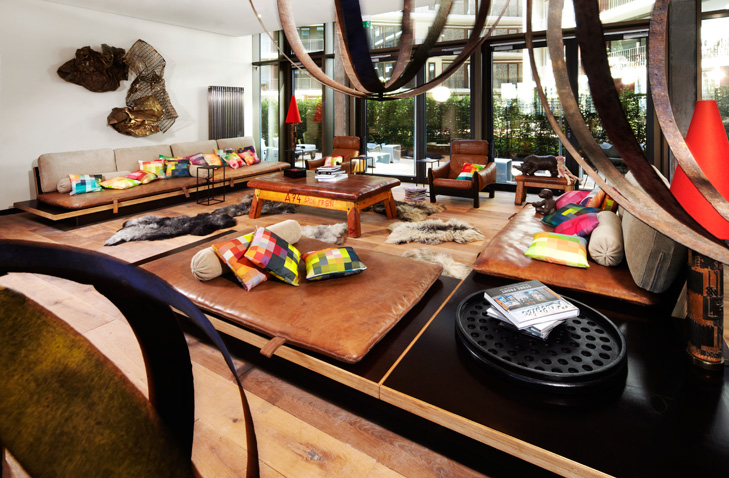 25HOURS HAMBURG: PREISE / RESERVIERUNG / ANFAHRT
Address
Überseeallee 5, 20457 Hamburg

Reservation
Telefon: +49 40 25 77 77 oder Email: hafencity@25hours-hotels.com
Webpage
Year of Establishment / latest renovation
2012
DAS HOTEL
Individuell, kreativ, man könnte fast sagen "verspielt" – ganz offensichtlich nämlich mit einer gehörigen Portion Designleidenschaft, Kompetenz und Spaß an individuellen Lösungen wurde hier ein ganz besonderer Ort geschaffen, der seine unmittelbare Nähe zu Wasser, Hafen und Schifffahrt in kleinen und großen, aber immer liebevollen und überraschenden Details aufgreift.
Gleich beim Betreten des Hotels spürt man wie im Design Hotel 25hrs mondäne Weltläufigkeit und Tradition ganz wunderbar aufeinander treffen. Die moderne Offenheit der Architektur wird durch Elemente, die alle eine ganz eigene Geschichte mitbringen gebrochen. Dadurch entsteht eine Art seemannsche Gemütlichkeit, die anderen im coolen Industrie-Stil gehaltenen Orten oft schmerzlich abgeht.
DIE ZIMMER
Statt gewöhnlicher Mini-Bar finden sich in allen Zimmern eine süße, extra geschreinerte Seemannskiste, die neben mit lokalem Afri-Cola, Fair-Trade Wasser und Hamburger Bio-Schokolade bestückter Bar auch den Schreibtisch und jede Menge Lektüre (zum Beispiel das Interview-Magazin) beherbergt. Und auch im Badezimmer ist der Nachhaltigkeitsgedanke und daraus geborgene Kooperationswunsch mit lokalen, umweltfreundlichen und verantwortungsbewussten Unternehmen spürbar – statt Standart-Hotel-Shampoo und Seife gibt es hier fruchtig-leckere Produkte des Hamburger Labels STOP THE WATER WHILE USING ME!.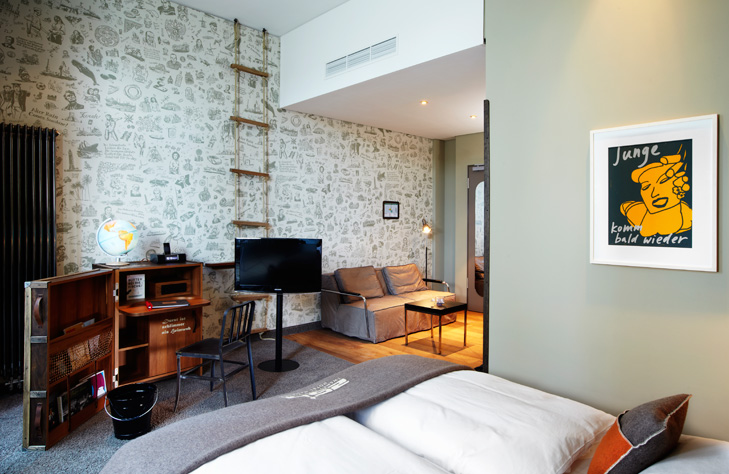 KUNST / DESIGN / ARCHITEKTUR IM 25HOURS
Lobby und Empfang
Auf dem Boden der Eingangshalle zum Beispiel – schwarz, mit an Logistik und Transport erinnernden gelben Markierungen und Richtungshinweisen – liegt im Bereich der Lobby ein in seiner Wirkung dazu ganz im Kontrast stehender graublauer Hanfteppich. Der ist nicht nur um Etliches mehr wert, als man auf den ersten Blick annehmen würde, sondern verweist in seiner geschichtsträchtigen Abgenutztheit auf seinen ersten Lebensabschnitt im orientalischen Antalya. Gleich hinter der mit hochwertigen Designer-Second-Hand Ledermöbeln bestückten Lounge findet sich dann beispielsweise ein alter Hapag-Lloyd-Schiffscontainer, in dem ein kleiner (und für Business-Sehgewohnheiten sicherlich außergewöhnlich liebe- und fantasievoll gestalteter) Konferenzraum untergebracht ist. Die lange Seitenwand des Containers kann aber auch nach oben gefahren werden, wodurch sich die Hotellobby um einen gemütlichen Lese-, Schreib- und Plaudertisch noch einmal vergrößert.
Offene Terrasse, Vinyl-Bibliothek und Mac-bestückter Arbeitsbereich
Das verfolgte Konzept aus Tradition und State-of-the-Art Elementen zieht sich angenehm unaufdringlich und doch überall zu entdeckend durch das gesamte Hotel. Es gibt so zum Beispiel einen Vinyl-Room im ersten Stock, in dem Gäste ungestört Platten hören, etwas trinken (leckere Bio-Tees des Hamburger Unternehmens Samova gibt es Rund um die Uhr, kostenlos und soviel man mag ) und sogar Rauchen (!) können. Im offen angrenzenden, an eine alte Schaltzentrale angelehnt designten Mac- und Internetbereich wiederum, kann man neben E-Mails-Checken und Co. (W-Lan gibt es im gesamten Hotel natürlich kostenlos) ein kleines Spiel-Päuschen an einem alten Atari-Computer einlegen. Allein der legendären Atari-Sounds wegen ist da ein entspanntes Lächeln schon garantiert.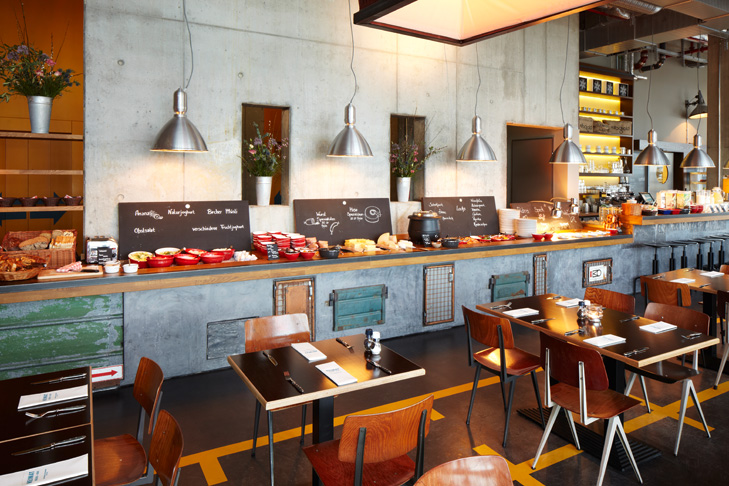 RESTAURANT
Hier gibt es Frühstücksbüffet und den ganzen Tag warme Gerichte á la Carte aus der saisonal angepassten deutsch-mediterran-amerikanischen Weltküche. Und obwohl natürlich in einer Wasser-Stadt wie Hamburg Fisch immer eine Richtige Wahl ist, sollte man sich im Heimat den unter Hanseaten berüchtigten Heimat-Bürger auf keinen Fall entgehen lassen. Mhmm, lecker… In diesem Sinne bon appétit – oder eben hanseatisch direkt: Hau rin!
THINGS TO ENJOY
Neben den ganzen Möglichkeiten, die das Hotel in seinem Inneren bietet, kann man im 25hrs kostenlos wunderschöne schwarze Hollandräder leihen. Und wer bei in Hamburg ja doch hin und wieder auftretender Schlechtwetterfront lieber mit dem Auto fährt, nimmt gegen hinterlegten Personalausweis einfach einen der vier hauseigenen Mini-Coopern. Und auch hier gilt erstaunlicherweise: all free – nicht einmal nachgetankt muss werden. Bei soviel Narrenfreiheit sollte die Umwelt aber natürlich dennoch nicht vergessen werden, sobald die Sonne rauskommt, also bitte ´raus aus dem Auto und rauf auf's Fahrrad.