Haus am Lützowplatz // Transactions – About the value of artistic labour
Opening: Wednesday, 31st  May 2017, 7 pm
Art and commerce have always been intricately intertwined, dancing around each other and resisting each others magnetic pull. Or have they? Capitalism has taken its toll on the purported autonomy of art such that "Contemporary Art" is now an economic commodity. Today financial issues twist and shape art production more so than ever before, calling for an exhibition dedicated to this at once productive and destructive relationship.
The selected artworks by Cercle d'Art des Travailleurs de Plantation Congolaise, Nadine Fecht, Ali Fitzgerald, Moritz Frei, Thorsten Goldberg, Christian Jankowski, Theo Ligthart, Michael Sailstorfer, Joshua Schwebel, Santiago Sierra, Jonas St. Michael and Pilvi Takala open up questions like: 
What are the conditions under which art is produced? How is it distributed and perceived? How is symbolic capital measured when determining the value of a work of art? Must you be creative as an artist? What parallels exist between the freelance artist and the independent entrepreneur? Can an artist be a start-up?
Haus am Lützowplatz, Lützowplatz 9, 10785 Berlin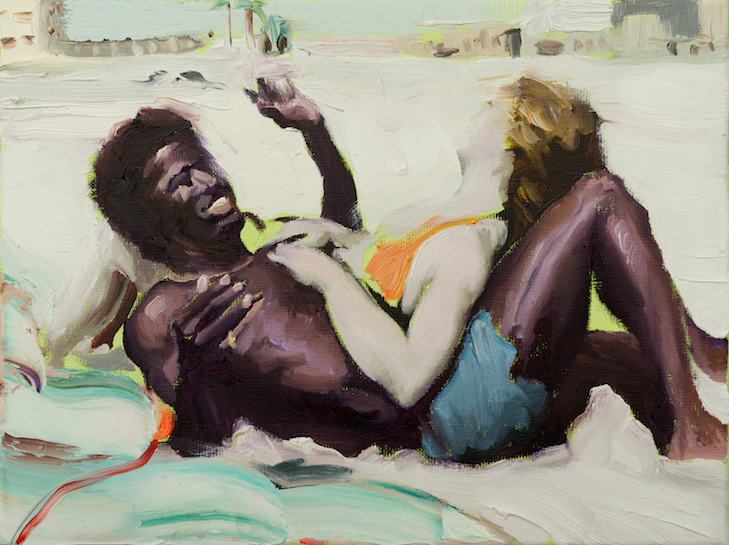 Magic Beans Gallery // Daniel Lannes: A Luz Do Fogo &
coGalleries // Jonas Aisengart: Pindorama remix
Opening at Magic Beans Gallery: 2nd June 2017, 6 pm ||  Opening at coGalleries: 23rd June, 6 – 10 pm
Refreshing non-western artistic positions are on view this month in Berlin, prompting us to conduct several interviews with these up-and-coming Brasilian artists and to call out an Brazilian month! Both painters, and from Rio de Janeiro, Jonas Aisengart and Daniel Lannes, reference their home country through either the use of typical lively, bold, expressive colours and by depicting uniquely Brasilian pictorial themes, such as religious imagery and Brazilian stereotypes. Luckily both are exhibiting in close proximity to one another in the area around KW. Perfect for combining the two exhibitions and staying for some drinks and Brazilian music at coGalleries!
Magic Beans Gallery, Auguststrasse 86, 10117 Berlin & coGalleries, Torstraße 170, 10115 Berlin &

Sprengel Museum Hanover // Produktion: Made in Germany 3
3rd June – 3rd September 2017
Every 5 years the three institutions Sprengel Museum, Kunstverein Hanover and the Kestnergesellschaft turn their gaze inward to examine Germany's own art scene within the globalised world. Thus the exhibition is highly relevant to us at ARTBerlin, although you will have to travel to Hanover to see the exhibition. I promise it's worth it! 
This time Made in Germany focusses on the process of producing art: Where? How? When? And who? For due to the upheaval in the socio-economic structures of the art world caused by globalisation and digitalisation, traditional art production has changed dramatically. Production is outsourced to other countries, or computer programs, networks of artists and assistants work together, questioning the romantic ideal of the sole author and the authenticity of an artwork. The authors of this years exhibition assemble the brightest young artists in or from Germany! (see image above).
Schinkel Pavillon // Marghuerite Humeau & Peter Wächtler
3rd June – 30th July 2017, Opening Friday 2nd June, 7 – 10pm
Shooting star Marghuerite Humeau has conceived a multi-dimensional project, which will manifest in sculptures, sound tracks, a book, frescoes and artificial intelligence. In her practice Humeau seeks to knowledge through speculation, finding possibilities in the absence of evidence. Previous works see her examining prehistoric animals, or bringing extinct animals or queen Cleopatra back to life using technology and a fair amount of artistic speculation. Riddles, the title of the new series of works, examines ancient forms of security measures and retrieves them into the age of information technology: The sphinx used to be a symbol of defence and was thought to shield the inhabitants of a building from evil. Updating this belief, the artist has created sphinx-like sculptures that use facial recognition cameras to identify the visitors, check for possible threats and trigger an alarm. 
Schinkel Pavillon, Oberwallstrasse 1, 10117 Berlin, Germany
Galerie König // Julian Rosefeldt: In the Land of Drought
23rd June –6th August 2017
After his fantastic show at Hamburger Bahnhof last year, the pioneering film artist Julian Rosefeldt is exhibiting in Berlin again. If you remember Manifesto, in which he staged the actress Cate Blanchett to reenact text collages from numerous 20th century artistic manifestos, Rosefeldt's video art cuts the edge between narrative and abstract, like a landscape painting of reality. 
In the Land of Drought is a film commissioned to illustrate Josef Hayden's oratorio The Creation. The piece is a celebration of earth, of god's creation. But instead of visualising the glory of nature and a world created by an omnipotent god, the artist shows panoramic drone images of places shaped by mankind: Industrial parks, parched river beds, ruined country sides. These locations clearly express the so-called Anthropocene age: the period in which human kind, and not god, are the dominant creative and destructive force on earth. 
Galerie König, Alexandrinenstraße 118, 10969 Berlin