Hubert Le Gall: Between artist and designer
Hubert Le Gall grew himself into an artist but was refusing to be called one. Then he became a very successful furniture designer who's works would not only be sold in design store and at design fairs but were also exhibited in art institutions such as the Palais de Tokyo among other museums, galleries and chateaux.
We met Hubert Le Gall on the occasion of his opening at Ruinart Pop-Up Gallery during the first Weekend of May in Berlin. LE CALENDRIER DE VERRE, the artwork Le Gall did for the famous house of Champagne is a 12-pieces sculpture made out of Murano glass. It is the first time ever he worked with glass as we talked about the piece and his inspiration for it here: Ruinart Pop-Up Galerie zeigt Hubert Le Gall in Berlin
As we sit down with the charming French artist we immediately get deep into the thoughts and identity questions that move him right now.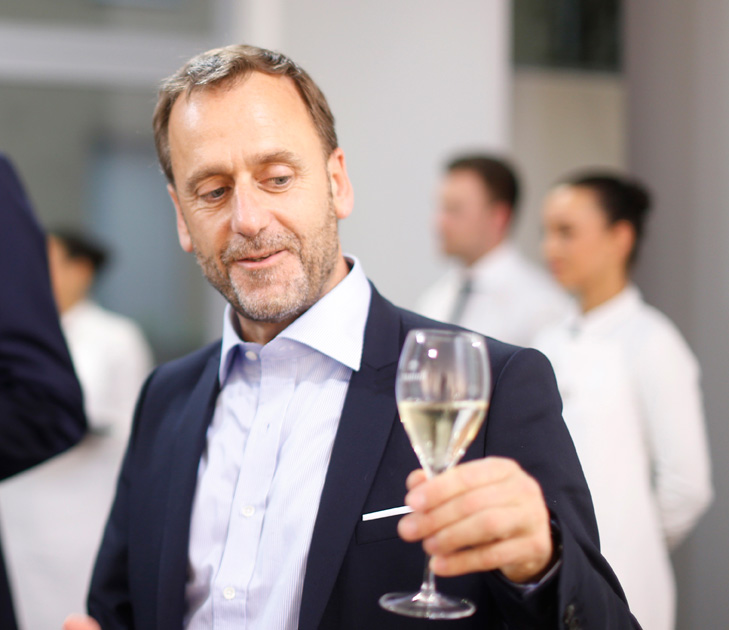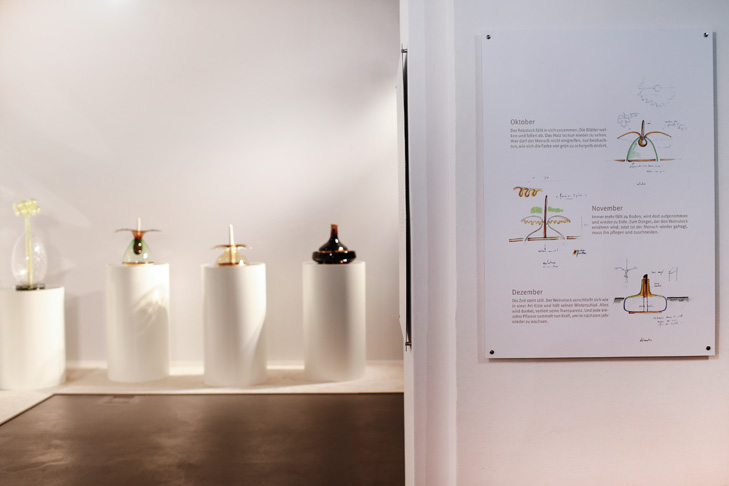 The challenge of creating art in collaboration with a brand
Hubert, how does an artist feel if he gets asked to create a piece for a brand?
I asked myself the question: How can I stay myself while expressing something that the first glance is not myself – the vision of Ruinart. I wanted to create a piece for the brand that I would really like to show around. One of the keys to solve this challenge was my desire to create an art piece that holds the notion of luxury. For me the quality of luxury is to make you feel moments of pleasure, free from any effort, free from any reflecting about the hard work behind it.
What made you decide to work with glass – a material and technique you never used before? Wasn't this as risk?
It felt very natural. It was winter, when I visited the vineyards of Ruinart in Reims and all I could see were the wooden sticks that would spread out over the mountains. It looked like Land Art to me and made me think about nature, the control that men take over it and the time that is needed to grow amazing grapes as Ruinart does.
In the beginning Ruinart expected one sculpture in bronze or metal as I usually work with those materials. But instead I decided for 12 pieces made out of glass and wood to reflect the times, the change of color of the grapes and the effort of work within this year of growing. Luckily I also was able to realize my longtime wish to go to Murano. My aim was to create something evident and elegant. To tell a story and to shine some humor. A journalist in Paris said to me when looking at the sculptures: It looks like a portrait of you. Voilà.
Is this the way you create art and design in general?
Yes. That is my way to find a piece. I connect to the piece and create a story for it. It sometimes feels like connecting to an animal.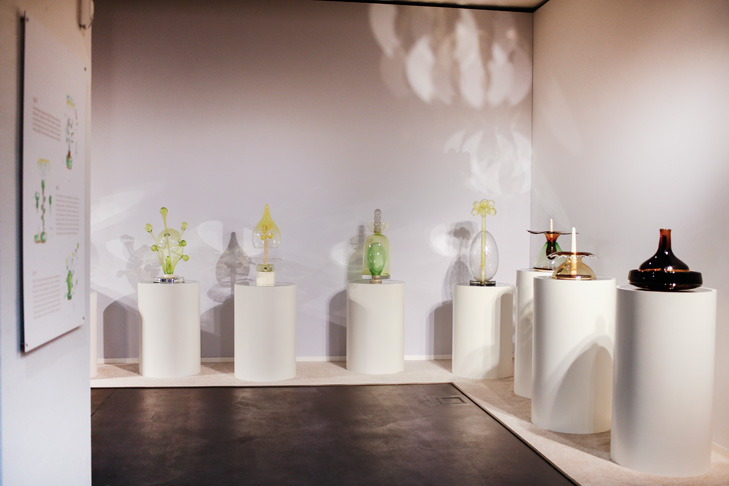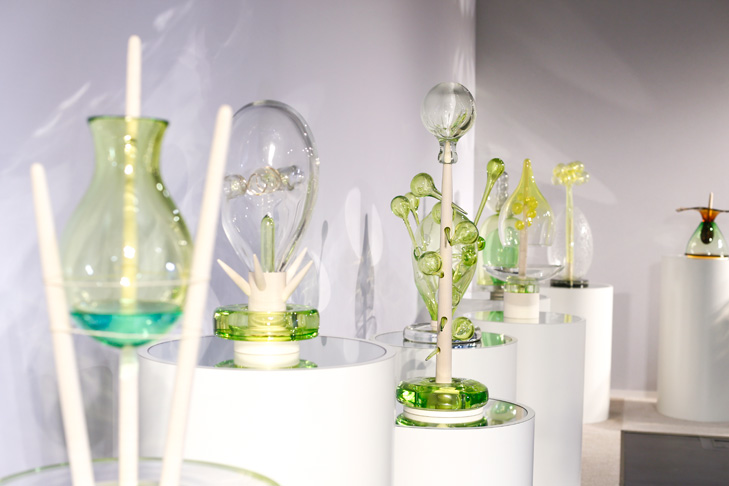 Artist kills Designer and vice versa?
How do you handle your life between being an artist and a designer? Is this a contradiction?
I am not sure of what is art today. I am also not sure if I want to know if I am an artist or a designer or both. You know, my art can also be considered decorative and on the same time I have an artistic way to draw for my design pieces.
The old definition of art to have no function is not true anymore. During the Wiener Secession all was art and Pop Art turned reality into art. Today you find design on art fairs and vice versa.
So you never struggled with one or the other identity?
When I was starting out to become an artist I was rebelling against the definition that art is not allowed to have any function. So I decided to be not an artist. I always created what I felt. Really. It also meant that I had to take the risk not to be accepted or understood. The longer I kept on doing what I felt the more I realized I had a real point of view on it. It also helped that I have seen a lot of furniture. I know everything about how to make furniture. So the challenge in art and in design is to stay myself, to protect myself from too many influences and express my emotion. 
How do you protect yourself from too much inspiration?
If I work on furniture I look at contemporary art but not on furniture of other designers. This is easier as the other way around as there is so much more contemporary art out there and then any new movements in the field of furniture design.
As creators we have to be open but we need to find within ourselves. Right now I just got out of a phase of inspiration and connecting on exhibitions, in galleries and travelling. Now it is time to go back to myself and create.
Article with friendly support by Ruinart