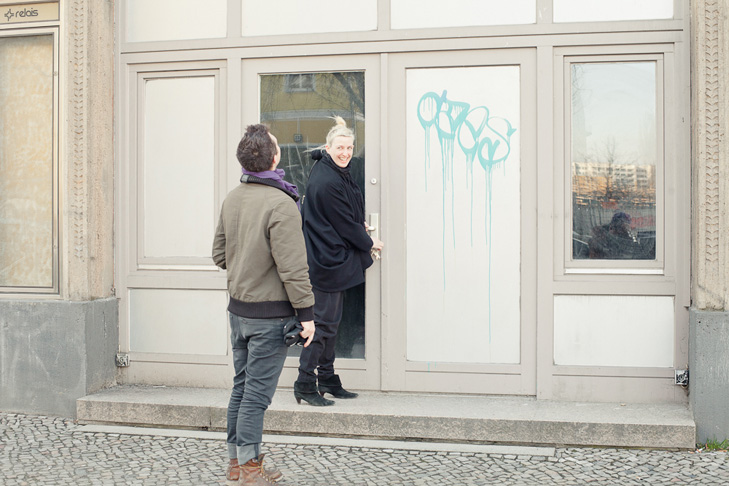 Nathan Peter in his new studio at PSM Gallery
A few weeks ago Nathan Peter received the keys for his new studio in Berlin Kreuzberg. It happens to be behind the new PSM gallery space that Sabine Schmidt just opened on the occasion of GALLERY WEEKEND BERLIN 2013. Above the heavy door you can still read the former function of the impressive building: THE ARCTIC PALACE used to house a trendy bar in an icy giant fridge. We enter a bizarre black circular room.
A few years ago there was a Iglu-Dinnerclub with Varietéshows in it but than the oversized freezer went bankrupt,
explains Nathan.
Nathan Peter combines traditional concepts of painting with contemporary ideas. Flipping through the oeuvre of the American but Berlin based artist on the ipad of his Berlin gallerist Sabine Schmidt, we encounter traditional still-life motives drawn into tar as well as works where the artist unravels the surface of the canvas or cuts patterns into it. The successful artist  loves to experiment the material he works with. At Art Basel Miami 2012, people were actually walking right into his room filling installation "Linen" (2012).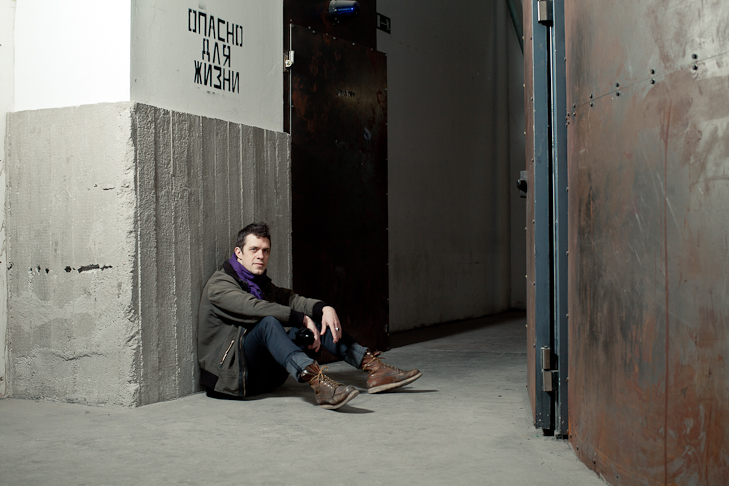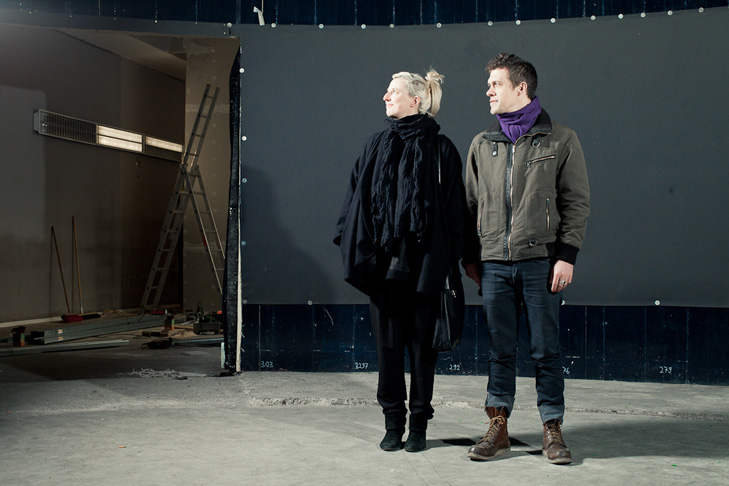 Nathan Peter: Paintings are about space and touch.
Nathan, what was your very first step in the new studio?
To start working as fast as possible. I've been going crazy as it's been since the end of November I haven't had any space to work at all. The first step was to create a big mess as possible. For me it's terrible to sit at my desk just thinking of what to do and working with a sketchbook – I just can't work without having everything around me.
How does your working routine look like?
It depends. If I have an exhibition coming up, I work highly concentrated all day long. But I also love and need those times that are more experimental and less hyperfocused. When I can play with material and colors. I treat the surface of the canvas to either make it really rough or really smooth. My work is very physical, very much about the surface and the kind of feeling of it. 
What is so exciting about surfaces?
I don't consider paintings as passive, simply like an image on the wall. I've always been gravitated to the physical presence of painting. It takes an active part to attract the viewer and should be able to change space. I enjoyed a very traditional education in painting and art history. But I wanted to find a way to make painting much more about space and touch.
Do you actually let people touch your work in an exhibition?
Yes, I do. A lot of my pieces are looking kind of beaten up inviting you to touch them. My latest installation "Linen" at Art Basel Miami Beach filled a whole room, like a jungle. The people ran into it – which was great.
Eye opening moments 
How did you find your experimental way of working?
I started to experiment with the concept of reduction already several years ago. But the real eye opener for me happened on this one day when I became dissatisfied with several paintings. I took the canvas out of the stretcher bars, rolled them up and left them in a corner. After a while, I started playing with the un-stretched paintings, cutting patterns into them. So you can say there was some aggression and frustration that became my motor. But then it got more and more refined like a distillation; I try to get the essence of things. But it is not about breaking painting apart or destroying it. My work always embraces a reference to the traditional painting as well.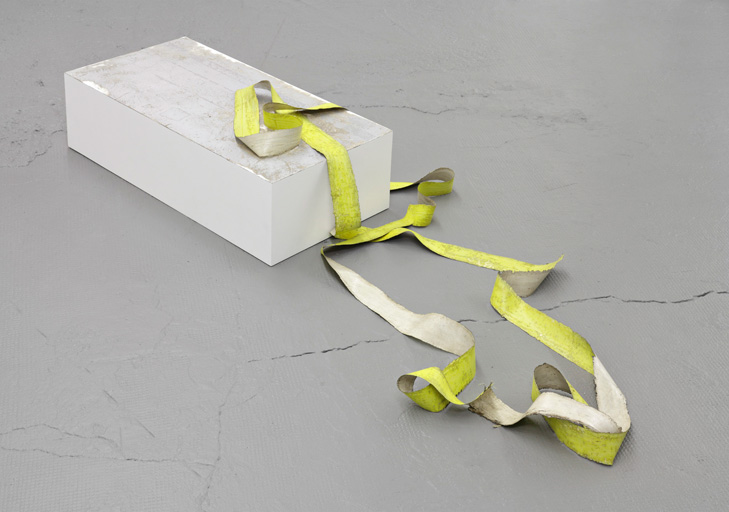 peel: bitumen laquer, enamel, linen, foil, and mdf dimensions variable. 2012
Can you give us an example?
Nathan shows us a picture of the work "Peel" from his exhibition Manifold at PSM, Berlin 2012.
I am fascinated by Dutch Renaissance paintings. In that period it was popular to show a lemon peel in still-life paintings. With "Peel", I translated this element into  an installation.
Sabine Schmidt is adding a completely different example, pointing to "lifelike" a piece by Nathan from 2010 where the artist worked turpentine into tar fighting against time as the tar dries super fast.
Sabine: This work reveals Nathan's classical education and expertise on traditional painting. When you look at this it is all about reduction. The less color you use the more difficult the process gets. Nathan brings it to the point where he doesn't even add it on. That is which I found very interesting.
Nathan: I only can create a small part of the painting – e.g. one flower – at a time. To start the painting I create an entire black surface with tar. I can keep it wet for 5 minutes and in that time I have to finish everything. The whole work takes several days and flows back and forth between drawing and painting. All the white you see here is the white of the canvas were I brush the tar or scrape it away.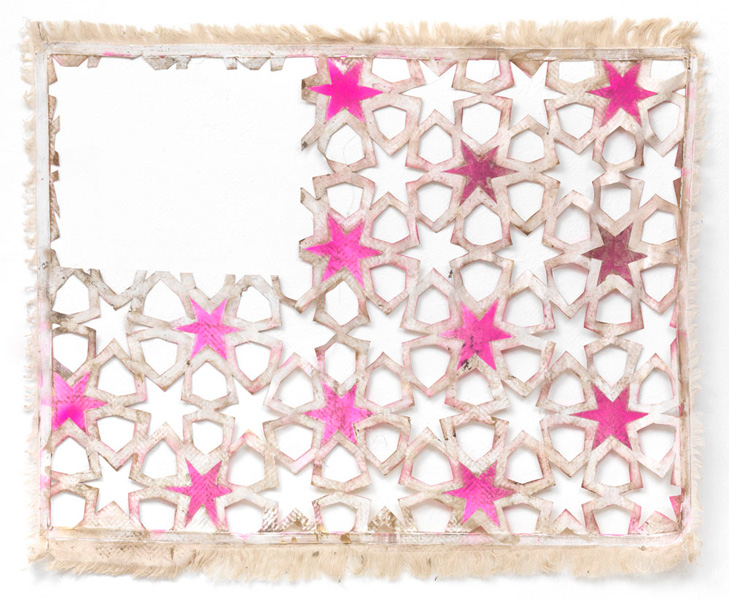 Nathan Peter: Untitled, 2010
Being an American painter in Berlin
Nathan did your well-known series of paintings playing with the American flag became like a signature look for you?
At the time I created the flags I was trying to understand myself, exploring what it meant to have a unique symbolism. I was reading history books about the American revolution. I discovered that the flag was a real personal statement before it became emblematic for the national state. During the foundation time each general, each state, each army they all had their personal symbolism. Inspired by that I tried to create my own flag.
Do you identify yourself whit the US? Are you sometimes homesick ?
It's been 14 years that I am away from the US and I don't imagine myself going back. But I still identify quite strong with being an American. I'm happy with the idea of having an identity here in Europe but I think the way that I see the traditions here is coming from a different perspective. Creating the flags was a way for me to play with the idea of what it meant to be an American painter in Berlin. I wanted to know if it means anything.
Why did you move to Berlin?
I was in London before which felt so hyper-conceptually. I had a hard time finding my voice there. So I moved to Berlin and to find time and space – to work.
Please dig into the works of Nathan Peter on his webpage: http://www.nathanpeter.com/