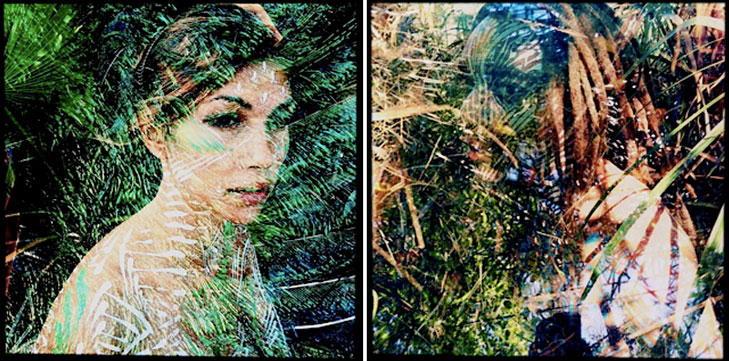 Meeting Oliver Halsman Rosenberg at the beach of Tulum
The wind from the Caribbean ocean is blowing heavily as I meet the artist Oliver Halsman Rosenberg for breakfast on a sunny day in Tulum. We are at Papaya Playa Project – the wild child of Design Hotels, which is attracting right now the music and art scene of Berlin, Paris, and NYC. In September 2012, Oliver was invited to participate in a pop up ashram project at the beach of the resort, offering Tibetan sound bowl meditations, and therefore a contemporary space for the ancient wisdom of spirituality.
The artist, who grew up in NYC, translates spiritual concepts into fine art, and he does it with paintings, installations, and on bodies, channeling Atlantian graffiti caligraphy onto people's skin in the Mexican jungle or at music festivals on Ibiza.
Our body is the real museum to wander around and get lost with-in.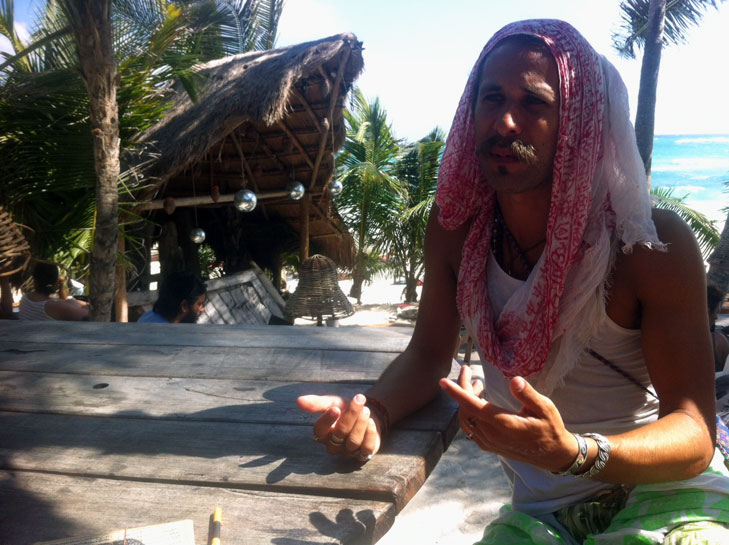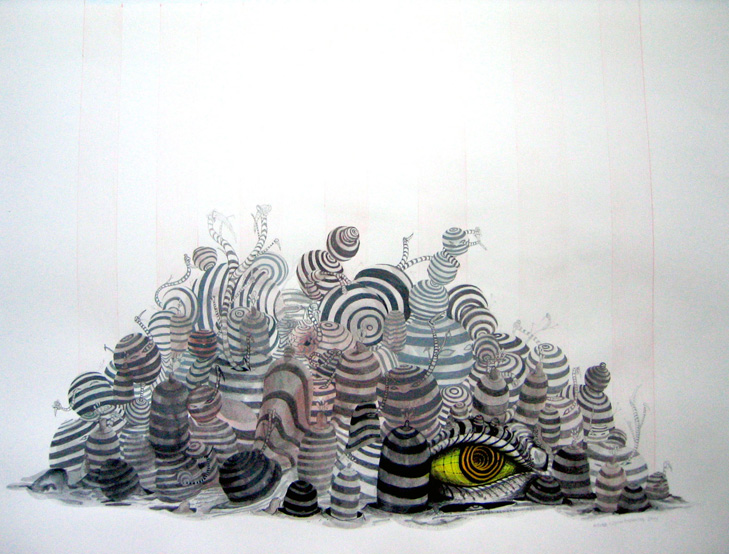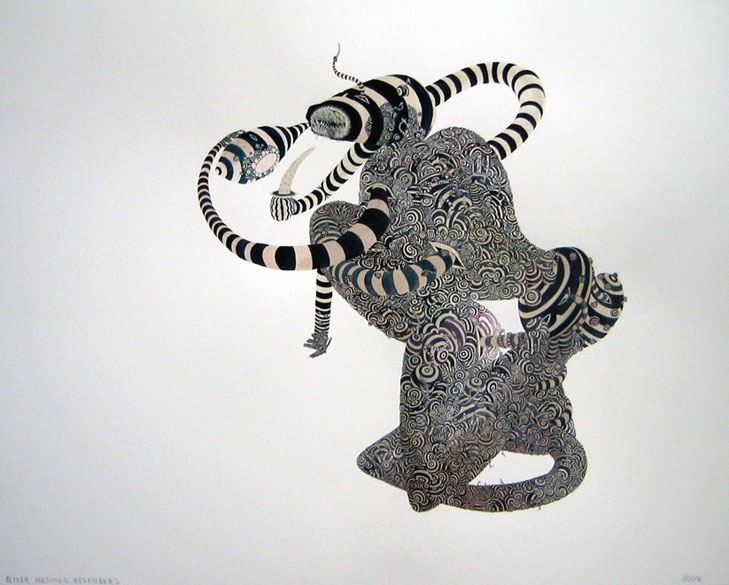 Spherism
Oliver Halsman Rosenberg's work ranges from site-specific installations that offer you a new sense of engagement, to intimate miniature paintings, often showing sacred wheels and his concept of SPHERISM, as his art work intimately explores a conjunction of philosophic/scientific/spiritual themes.
If you would like to nail his artistic mission down, you could look at values such as generosity, compassion, and the aim to create community, to get people engaged in their own life, and to develop trust in their individual power to change the world. But never at the cost of a light hearted playfulness.
All we have is the moment anyway
he says and sends a radiant smile
But that doesn't mean that the artist is letting things just happen:
I push an idea as far as I can. But why not also have fun while doing it?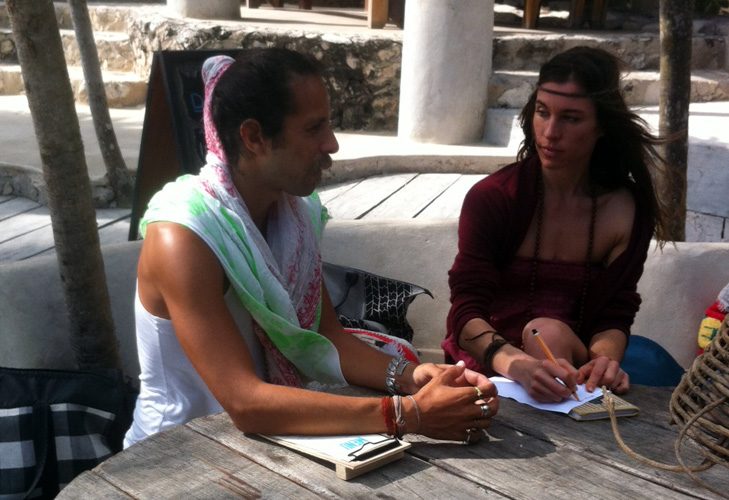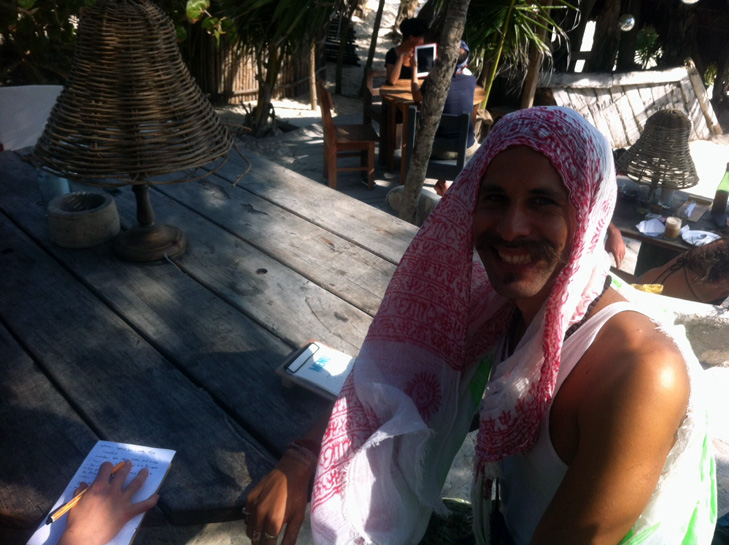 If you would sit next to me and Oliver right now, you would get a sense of his convincing, because of his super natural appearance of a traveller between time, space, art, spirituality and the contemporary world.
Oliver orders an omelet with mushrooms, he is a vegetarian, and watching him holding his hands over the steaming meal to welcome, appreciate, and activate the sacred geometry with-in it, you get the sense that rituals honoring life are an important part of his way to live his very own.
I am drawn to divine madness
he says, picking out some pieces of the spicy Mexican tomato salsa.
Working with a big art family heritage: The unkown Philippe Halsman 
Oliver is part of a family with a strong legacy in the art world. A fact that, as always, brings up the challenge for his own artistic career to step out of huge shadow, such as the one of his grandfather Philippe Halsman. One of the most innovative and celebrated photographers of the twentieth century, his iconic portraiture appeared on the cover of Life and other American magazines from the 40s through the 70s. 
A few years ago, Oliver dove for two full years organizing his grandfather's archive, and created a book that became an artwork of its own. UNKOWN HALSMAN (D.A.P., 2008) appears as a spirited monograph and an intimate conversation between grandfather and grandson. Oliver, with a history of making zines wanted to do it all by hand, illustrating quotes from Philippe Halsman in a unique brush font, inspired by Japanese calligraphy.
As we flip through the pages after dinner at a beautiful beach house of a friend in, it clearly shows the very artistic, sometimes bizarre, and overlooked side of Halsman's photographic work.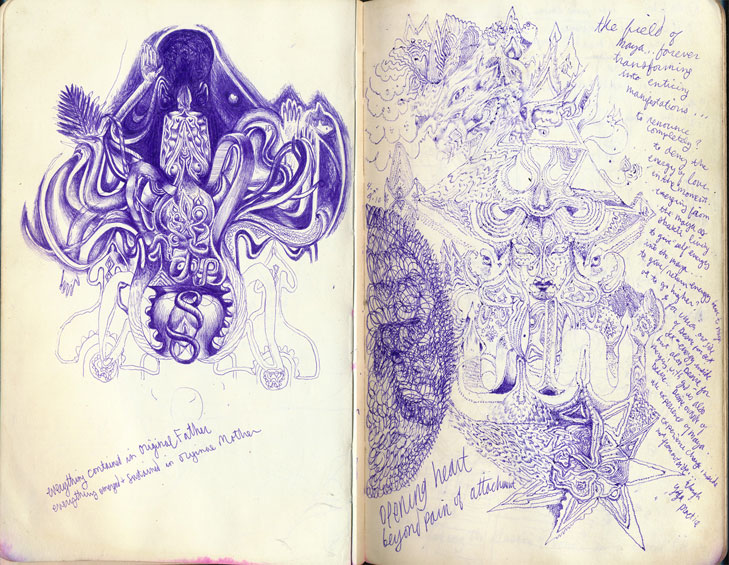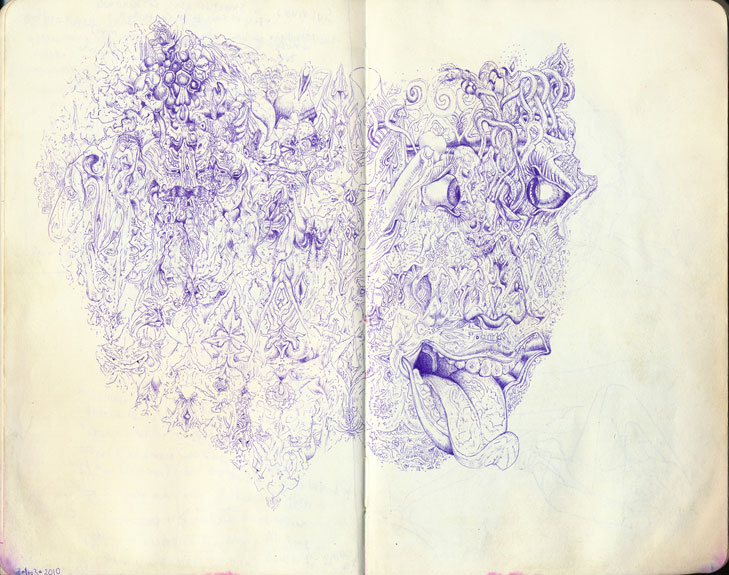 Travel: I am the king of buying one-way-tickets
An essential part of Oliver is travelling around the globe, letting places and experiences influence his art and techniques. The artist is never bound to only one material or medium, adjusting his expression to the message he wishes to share. The choice comes from a strong intuition, or let me rather say: connection.
Taking destiny as his tour guide, he has spent several years in India, living among ascetics, learning the art of vibration and sound with the Tibetan singing bowls, and creating new miniature paintings which are hybrids of abstract tantra and philosophical figurative, and sharing his experiences through photography on one of his blogs (www.daytg.blogspot.com).
India is all about G (generator) O (organizer) D (destroyer) [Brahma/Vishnu/Shiva], so my sacred spheres travel through the journey from the invisible to the visible
Like Cubism opened a portal to view reality in a new way, Oliver created a visual vocabulary he calls Spherism, as a way to reveal new possibilities of understanding the vibrational nature of the world around us, using art as the medium to transmit the concept.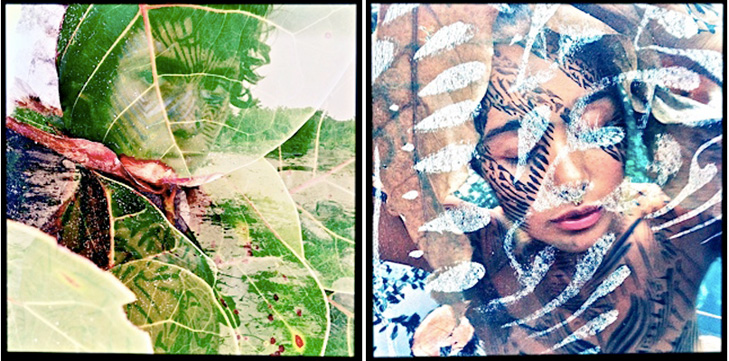 Oliver Halsman Rosenberg: Body Art shot by Polina Sirosh.2013
Body Art 
Curently in Tulum, he is working with talented photographer Polina Sirosh on an art book that beautifully and mysteriously captures his ornamental body calligraphy on Tulum's jungle beauties.
The body as the canvas. The material is ephemeral. No storage necessary. No studio. No archival concerns. No openings. No reviews. Just creation unfolding through one body onto another.
To see how this project already looks like and how it will enfold, just follow the artist on his body art blog.
Honestly: Does this sound too esoteric for you? Well, in my eyes, it is the pure expression on a high artistic level of a currently rising consciousness and the desire to understand the world and us a little better. That is what I consider connection to the divine madness.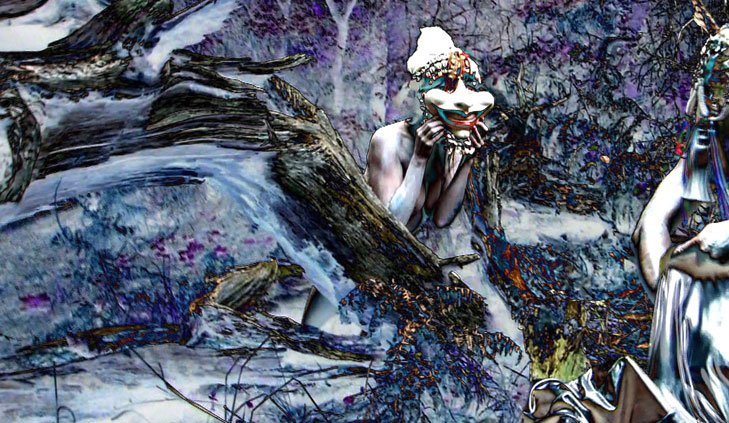 Upcoming exhibitions and projects
This year Oliver Halsman Rosenberg plans to reinvent the way people visualize the clock (via a new iphone app), release many 'print on demand' books of his past projects, participate in a group show at The Sacred Door Gallery in L.A. (May), and continue to be open to inspiration and unexpected opportunities.
Follow Oliver Halsman Rosenberg on his art blogs
(new art) http://oliverhalsmanrosenberg.blogspot.com/
(spherism) http://spherism.tumblr.com/
(pop up healing spot) http://inpraiseofthevoid.tumblr.com/
(body art) http://bodyglyph.tumblr.com/
(photo blog) http://daytg.blogspot.com/
Interview & Text: Eva Kaczor